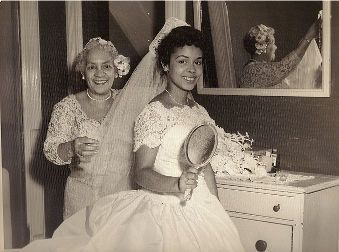 Wedding Day. My mom Shirley and her mom, Emeline.
Happy Mother's Day. I hope everyone has a wonderful one. Last week I wrote about the feelings of loss when your mom passes away, but time moves on, grief diminishes and we acknowledge a new generation of moms. In fact, just last night, Kate's brother and his wife became proud parents of a early arrival baby girl (I don't have clearance to put up pix yet, lol).
When I go through photos of my mom, particularly ones before I was born (her wedding album captures 1950s Brookyn finery on MacDonough Street in Bed-Stuy). But as adults, my mom and her sisters were fashionistas in their day.
I try to see myself in my mom; there's some resemblance. I definitely share the same body shape with my grandmother; I guess my mom was a more like a petite, graceful version of me; I'm more of a hobbit. But that's OK. I have no idea, however, how my grandmother produced 14 kids with her body. And quite a few of those kids were born during the Great Depression.
Anyway, I'm sure all of you have Mom stories to share!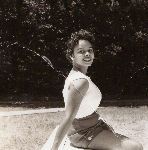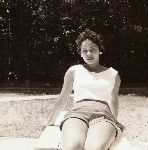 Above: Photos on the left and right were taken at some resort in the 50s; the center photo shows my aunt Sandra with my mom. I'm not certain but I believe this was from a trip to Europe.
***
Speaking of finery and fashion, on Saturday I was out and about, and we went into a store and the sales woman told me I looked like someone "out of the 60s". I didn't really think about it, but what I had on represented the usual "Blogmistress Bargain Basement" find. It was a Macy's Alfani Tunic from the clearance rack (why pay more!), originally ~$60; I snared it for $19.97:
Of course fashionistas robbed blind by copytrolls like Righthaven have to pinch pennies, but of course I've already been doing that for a long time. Hearing those Depression-era stories from my mom make it easy to have thrifty notions.
I have a little feature on Facebook, "What is the fashion today?", just making fun of myself; I upload pix of me and my eccentric wardrobe from time to time. I'm certainly not a glamour gal like my mom was, of course. Back in the day (1950s) they didn't leave the house to go to work unless it was in a dress and heels. Oy. I obviously know I'll never be a size 4 model, but geez, one can look decent on the cheap, even if you're "abundantly endowed," lol. As I said, I'm hobbit-sized (5'3″), so most tunics like the one above become short dresses on me. NOTE: I'm also bringing knee socks back into style!