Rick Santorum: adopting children is a privilege – and gays aren't entitled to it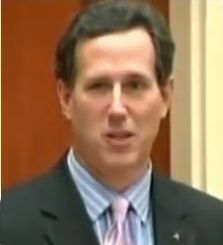 Rick Santorum, as we all know, is no friend to the gayz, but you'd think he'd at least try to pretend to give a non-answer on topics like this. No, the level of "family values" garbage is turned up to 11 in during an appearance in Iowa at a FAMiLY Leader conference. He declares that gay parents who wish to adopt are sh*t out of luck because adoption is a privilege, not a right and he and his fundies can say we're not entitled to it based on their say-so.
Igor Volsky of Think Progress/The Wonk Room had to sit through this flaming pile of…
A lesbian woman came up to me and said, 'why are you denying me my right?' I said, 'well, because it's not a right.' It's a privilege that society recognizes because society sees intrinsic value to that relationship over any other relationship.
Jennifer Chrisler, the Executive Director of Family Equality Council didn't hold back in her criticism of this garbage out of the piehole of the former senator from Pennsylvania.
"What planet does he live on?" asked Chrisler. "The simple truth is that today's modern American family is made up of all types of configurations. One in four children in this country is currently being raised by a single parent. Two and a half million families are headed by single dads and one a half million kids are being raised by grandparents. The only traditional family unit that exists is in the 1950's show Ozzie and Harriet and in Rick Santorum's head. How dare he question the ability of single parents to provide loving stable homes to their children? How dare he!"

As for LGBT parents, Chrisler added that the LGBT community will not be drawn into a debate with politicians who question their capabilities as parents. "There are 1 million LGBT parents in this country alone raising 2 million children," added Chrisler. "They are raising their children to love their country, respect their neighbors, worship a loving God and be valuable members of their community. There is now more than 30 years of research on this issue – all of which comes to the same conclusion – that children raised by gay and lesbian parents have the same advantages, developmental cycles and social and psychological adjustments as children raised by straight parents. Conservative politicians should stop trying to legislate some fantasy version of the American family and instead promote policies that support today's families.

Chrisler issued the response while in Washington D.C. to promote the reintroduction by Rep. Pete Stark (D-CA) of the Every Child Deserves a Family Act which would open up more homes to children waiting in foster care.