A fascinating, technical analysis of The Donald's comb-over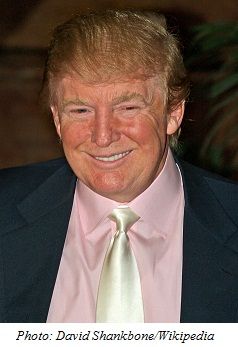 Bruce Handy at Vanity Fair has decided that Donald Trump's battle with baldness, the combover, needed a breakdown. It's hilarious, but also kind of sad, not that I feel sorry for the newfound birther and prospective 2012 GOP Clown Car occupant:
Thanks to the miracle of harsh lighting, the photo appears to reveal one of Trump's most tightly-held secrets. Look closely. See the cross-hatching in Trump's hair?

My baldly-stated thesis: this could be evidence of a rarely-sighted, possibly unprecedented "double comb-over." It looks as if a length of hair growing from the part on the left side of Trump's pate has been combed left-to-right over the crown of his head, while a second length of hair, growing from the back of his head, has been combed back-to-front over the first length of hair. Salon-strength hair products likely play a role in the final construction of this lattice-like structure-which could also explain the "ship's prow" look one sometimes sees in side views of Trump.
The effort required to manufacture this follicular construction is probably only achievable with the Donald's wealth, perhaps that's why he supports lower taxes on the rich…
Honestly, when you have national press doing an analysis of your combover, it's time to let it go. Eventually Giuliani gave in to the inevitable. Will Trump? I mean he could take a bit of time off and consult The Hair Club for men, or since he has the dough to throw around, get one of those expensive, natural-looking transplant if he's that afraid of everyone seeing his scalp.
***
Saying goodbye to your hair
Seriously, on the subject of baldness generally, I'm not quite certain why some men feel so insecure about this. My brother's hairline receded fast and furious in his 20s, so he just started shaving his head to avoid "the horseshoe." Besides with his very curly hair, that rendered a combover practically impossible. I suppose if you feel your head shape isn't conducive to the cue ball look, then you have to think of other options.
However – news flash – the comb-over is not the answer; it only draws attention to the fact that you can't let go of Mother Nature's plan for the top of your head.
For many women, baldness and thinning hair is fairly common over time. My hair was so thick as a child that it was hard to get any kind of comb through it. I was diagnosed with polycystic ovary syndrome (PCOS) in my teens, and at that point my hair started to thin a bit because of the hormones messing up the ovaries. My hair has also thinned quite a bit now; I wonder sometimes what it would look like if I shaved my locs off and started over with a short natural. I bet a lot more scalp would show.
Many women with PCOS start to have male pattern baldness after years with the syndrome. I ran a local support group for a year and heard many tales of insecurity, shame about hair loss affecting their confidence. I think that's why you're starting to see more visible marketing of products like Toppik and Joan Rivers Great Hair Day to women. I know women who swear by Toppik (JRGHD is a new product).
I don't see many women sporting a shaved head as a solution to hair loss, but I do see the equivalent in terms of failed attempts to fool people about the pliight. Sisters, if you don't have the dough for a good weave, give it up. I can spot a cheap nasty weave right away. If you've seen Chris Rock's documentary "Good Hair", you'll know what many black women will spend to 1) hide nappy hair, 2) instantly achieve long hair) and 3) make hair appear to be thicker. And it's not just black women either. Many celebs have been also sporting a weave for years not-so-under the radar – Lindsay Lohan, Jessica Simpson.
Perhaps the publicly unraveling of the fantasy came with the much-photographed Britney Spears during her meltdown period sporting horror weaves – unmaintained, trashy-looking dissheveled locs that clearly looked sewn/glued in.
Sigh. What we all do for vanity and the hairline. But the Donald, given his ego and wealth, clings to his solution with apparent nerves of steel.