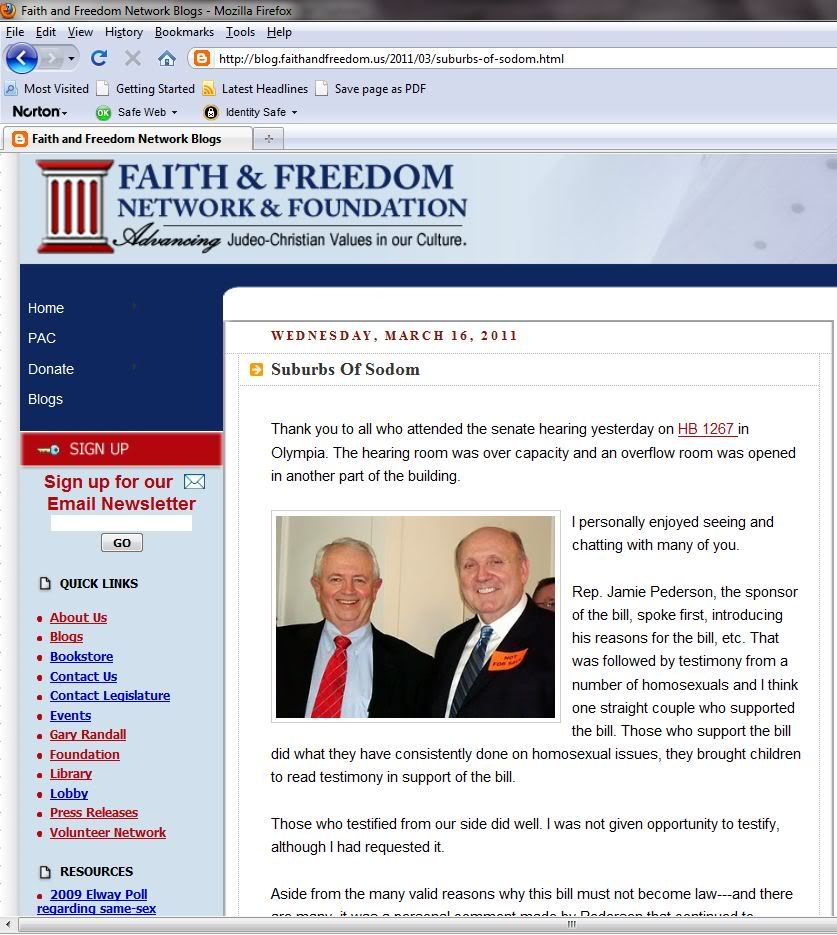 Sen. Dan Swecker (left) posing with Gary Randall just days before the betrayal.
Ouch! Gary Randall has been betrayed by yet another of his anti-gay "friends", and it's clearly shaken him to the core. Randall is president and executive director of the anti-gay Faith & Freedom Network. Randall's high level of distress is evident in his latest blog post where he forgets himself and actually acknowledges Pam's House Blend as "a national homosexual blog", the goes on to heavily reference one of my recent diaries (although he failed to link to the source).
Although Randall doesn't name him directly, the cause of his agony is state Senator Dan Swecker (R-Rochester). Last week, Sen. Swecker joined the strongly bipartisan majority of the Legislature in voting for Washington's out-of-state marriage recognition bill (HB 1649). Emphasis original.
And finally, she thanks and praises the Republican Senators who voted for the bill, saying her take away message was this:

"Never presume to know a Republican will vote on pro-LGBT legislation, no matter their history with other bills."

Friedes says the bill was "a wonderful development" and "progress".

While they officially call it a "technical fix," and some of us believe it, they celebrate the final steps to redefining marriage and family.
Updated Faith & Freedom PAC registry form naming Sen. Swecker to key roles.
With "some of us", Randall is referring to Sen. Swecker. Gary Randall and Sen. Swecker have been pretty tight for the past few years. In 2008, Randall's Faith & Freedom PAC donated to Sen. Swecker's re-election campaign. Early in 2009 Randall named Sen. Swecker both Vice Chair and co-campaign manager of that same PAC. Later that year, Sen. Swecker endorsed Gary Randall's anti-gay Reject Referendum 71 campaign.
Just last month, at Sen. Swecker's request Gary Randall dutifully posted Swecker's inflammatory anti-gay letter that called gay families unnatural and implied that if the bill updating the Uniform Parentage Act of 2002 (HB 1267) passed, gays will perpetrate forced pregnancy, human trafficking and slavery.
With a friend like that, could Gary Randall ever have imagined that he was describing Sen. Swecker when he said this?
With the elected shock troops of the homosexual agenda in Washington State politics—you know their names— we are seeing our culture redefined and destroyed.
Now Randall knows their names too.Note that Sen. Swecker's vote on the out-of-state marriage recognition bill was not a deciding one. The Senate passed the bill by a wide margin, 28 to 19. While it is not surprising that Randall disagrees with Swecker's vote, why would he take the disagreement public? Apparently Gary Randall is an anti-gay purist. Indeed he speaks often and with disdain about "moral relativism", throwing the term at the LGBT community and their allies as an insult.
So it seems that Gary Randall will not tolerate a single vote — even one that does not change the outcome — that deviates from the path of anti-gay purity. Unless it is Randall himself deviating from that path.
During the 2010 Census Randall was up in arms that same-sex couples were allowed to report themselves as married, whether legally married in their jurisdictions or not. "Under federal law, only one man and one woman are legally married. …This "policy shift" is another attempt to confuse the discussion about marriage," Randall said.
This was in contrast to his mantra during the Referendum 71 campaign to repeal Washington's domestic partnership law, when he insisted that domestic partnerships are marriage.
Randall can flip-flop like that on the definition of marriage but Sen. Swecker can't cast a non-deciding vote for good government?
Hypocrite.
Randall has had public disputes like this before, where he snipes at the former "friend" who betrayed him in a sort of passive-aggressive style. Early in 2009, Pastor Joe Fuiten calculated (correctly) that the Washington electorate would approve Washington's Domestic Partnership Expansion Bill of 2009 by approving Referendum 71 at the polls. Fuiten stated as much in a public flourish, a betrayal so bitter and embarrassing that backers of the Reject R-71 campaign like Gary Randall and Ken Hutcherson weren't above getting catty about it in public, even during the R-71 campaign (more here and here and here).
Incidentally, Randall ends the post about Sen. Swecker with a donation ask, saying:

We will be announcing an educational campaign within the next few weeks.
Perhaps he will. Perhaps not. Who can forget the big plans he hubristically reported to the Wall Street Journal in July, 2010:
In Bellevue, Wash., the Faith and Freedom Network plans to hire activists for about $10 an hour next month to promote statewide candidates with Judeo-Christian values for the fall elections, says Gary Randall, the group's president. Recruits will knock on doors and will be dispatched in large groups, hoping to draw media attention, he says.
Randall corrected the WJS in a July 19th blog post stating
The Wall Street Journal was correct, except that our campaign they referenced will be launched after the primary and will involve youth from various churches in selected areas. …Details on this aspect of our efforts will be forthcoming after the primary election.
Never heard another word about it.
###
Gov. Chris Gregoire signs the out-of-state marriage recognition bill in presence of Rep. Laurie Jinkins (left), Janice Langbehn and Josh Friedes
Related:

* Out-of-state marriage recognition bill passes in the Washington state Senate

* Joe Fuiten v. Referendum 71 Rejects

* Gary Randall and Joe Fuiten have embarrassing public spat