Blade: certification of DADT repeal could happen this summer; GOP anti-gays flounder
The trainings are already in progress, and the Pentagon says DADT repeal could happen as early as this summer. Washington Blade:
In a hearing before the House Armed Services personnel subcommittee, Undersecretary of Defense for Personnel & Readiness Clifford Stanley and Director of the Joint Staff Vice Adm. William Gourtney said implementation for "Don't Ask, Don't Tell" repeal is proceeding on track and troops are being trained to handle open service.

Stanley told the Republican-controlled panel that training could be sufficiently finished by mid-summer to allow for certification for repeal.
The elected opponents of repeal are starting to squirm uncontrollably; some choice quotes from the hearing; out comes the tiny violin: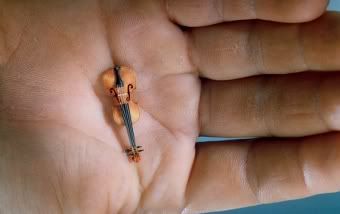 Rep. Joe Wilson (R-SC), chair of the subcommittee: "I felt the repeal was rushed through without adequate review and consideration of the extent of the full implications of repeal," Wilson said. "I believe the lame duck session was undemocratic and that dozens of defeated congress members adopted a law with significant consequences, but it failed to even pass a budget. It was a violation of the principles of representative democracy."

Rep. Mike Coffman (R-CO): "I think that this survey and study was a conclusion looking for a study," he said. "This is a political decision made by the executive branch and the military will follow it under whatever circumstances or ramifications it has to the combat effectiveness of our forces."

Rep. Allen West (R-FL) : "I remember going through the military, we took behaviors and we formed it to the military," West said. "Using a term that they have over in the Middle East, I'm just very wary of the fact that this could be the camel getting his nose under the tent."

Rep. Vicky Hartlzer (R-MO): "I'm very concerned that in a time of war in our country — we have men and women in harm's way — that we are making such a radical, major shift in our policy." The freshman Republican also took the Elaine Donnelly position, focusing on bunks and showers, saying, according to the Blade, that men and women don't bunk or shower together.