Blend baristas among the 13 DADT activists facing six months in jail for WH protest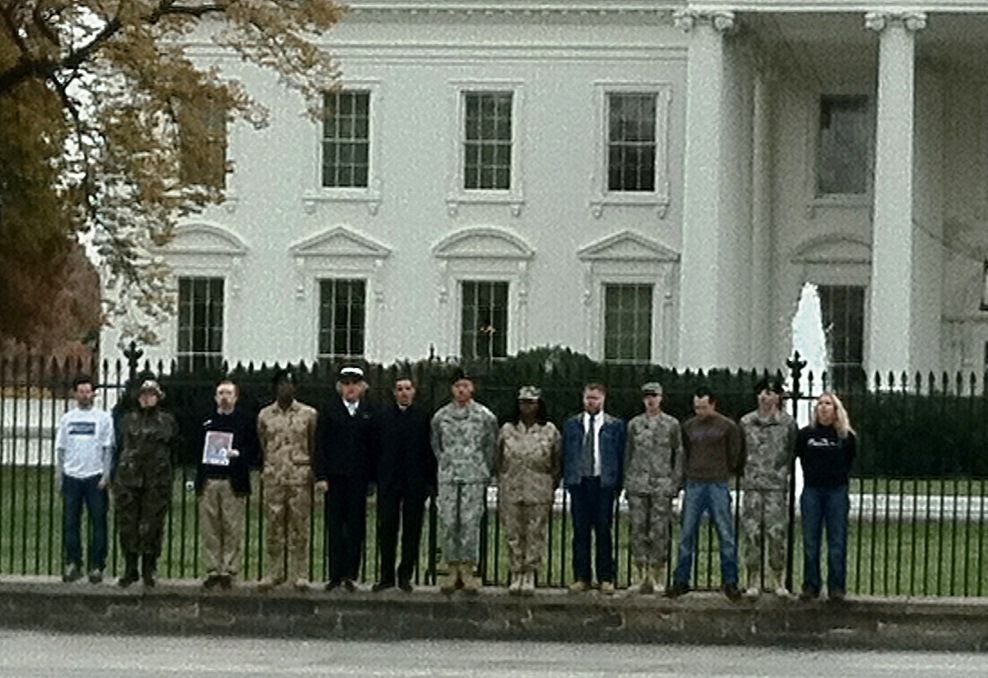 One thing you can say about Blend baristas is that they don't just serve the java and engage in keyboard activism. Two put their liberty on the line for protesting Don't Ask, Don't Tell. Tomorrow the legal proceedings begin regarding last year's arrests at the White House.
Autumn Sandeen and Scott Wooledge, as well as Blender Michael Bedwell are among the 13 veterans and repeal advocates that were arrested that day as part of GetEQUAL's action:
Lt. Dan Choi, Petty Officer Autumn Sandeen, Cpl. Evelyn Thomas, and Cadet Mara Boyd), who were arrested back in March during the GetEQUAL organized "Don't Ask, Don't Tell" act of civil disobedience at the White House fence demanding President Obama show leadership on repeal.
Robin McGehee, co-founder and director of GetEQUAL, and Dan Fotou, action strategist for GetEQUAL.
Former U.S. Army Staff Sergeant Miriam Ben-Shalom, who was discharged in 1976 for declaring and admitting she was a lesbian. She became the first-ever LGBT servicemember reinstated to her position in the U.S. Military, by a U.S. Federal District Court. On July 30th, 1993, Miriam and 26 other protesters were arrested at the White House fence for protesting then-President Bill Clinton's broken promise to repeal the gay ban – instead signing the "Don't Ask, Don't Tell" bill into law.
Former U.S. Marine Corps Sergeant Justin Elzie who, in 1993, became the first Marine ever investigated and discharged under the "Don't Ask, Don't Tell" law. Elzie was also the first soldier to be discharged under "Don't Ask, Don't Tell" to fight his discharge and win – resulting in his service as a Marine for four years as an openly gay man.
Former U.S. Army Arabic Linguist Ian Finkenbinder, who was discharged from the Army in December 2004 after announcing to his superiors that he was gay. Finkenbinder is an Iraq war veteran and was about to return for a second tour of duty when he was discharged.
U.S. Army Veteran and Repeal Advocate Rob Smith, who was deployed to both Iraq and Kuwait before being honorably discharged after deciding not to re-enlist in the U.S. Army due to the added pressure of living under the "Don't Ask, Don't Tell" law.
Father Geoff Farrow, a Catholic priest who spoke out against the church's official stance in support of California's Proposition 8, removing the rights of same-sex couples to marry. Because of his courageous stance against Prop 8, Father Geoff Farrow was removed as pastor of St. Paul's by his bishop and suspended as a priest.
Scott Wooledge, a New York-based LGBT civil rights advocate and blogger who has written extensively on the movement to repeal "Don't Ask, Don't Tell" at Daily Kos and Pam's House Blend.
Michael Bedwell, long-time LGBT civil rights advocate, close friend of Leonard Matlovich, and administrator of the site www.leonardmatlovich.com.
From the WaPo:
It's the first time since at least 2006 that protesters have faced the charge, according to Bill Miller, a spokesman for the U.S. Attorney's Office for the District of Columbia.

Mark Goldstone, the group's attorney, said his research suggests it's the first time prosecutors have ever used the charge against protesters at federal sites anywhere in the District.

"Of all the locations to get arrested at in D.C., one would think that the White House location would be where you're most likely to get prosecuted," but prosecutors are more likely to press charges against protesters outside the Capitol or Supreme Court, Goldstone said Thursday.
GetEQUAL's response to the prosecution (via press release):
"We feel like the prosecution is attempting to make a statement with this case," said GetEQUAL co-founder and arrestee Robin McGehee. "In our nation's history, non-violent acts of civil disobedience have often been necessary to achieve equality. Though we're disappointed that the prosecution has chosen to use creative legal means to prosecute our case, we welcome our day in court to bring attention to the issue of LGBT equality in this country and the victory these actions helped secure."

"This is a total waste of Government resources. After 'Don't Ask Don't Tell' was repealed, the United States Government will now continue to waste government resources to conduct a trial of 13 activists from all over the country, to prove whether or not they disobeyed an order by chaining themselves to the White House fence." Said Mark Goldstone the group's attorney. "These activists will go down in the history books as helping to repeal a discriminatory, un-American law. Rather than being prosecuted by the United States Government, the Government should be giving these heroes and heroines medals. They once proudly served their country in uniform and their activism is just another form of service."
There is a fundraiser for GetEQUAL this weekend, btw, as it celebrates its formation a year ago. Joe Sudbay of Americablog (who will host barista Scott Wooledge on his sofa tonight):
If you've been inspired by the work of GetEQUAL, donate here. They do an awful lot without the huge budgets of the DC-based groups. Also, there's a match underway so the value of your contribution is doubled.