Marriage Equality Action In New York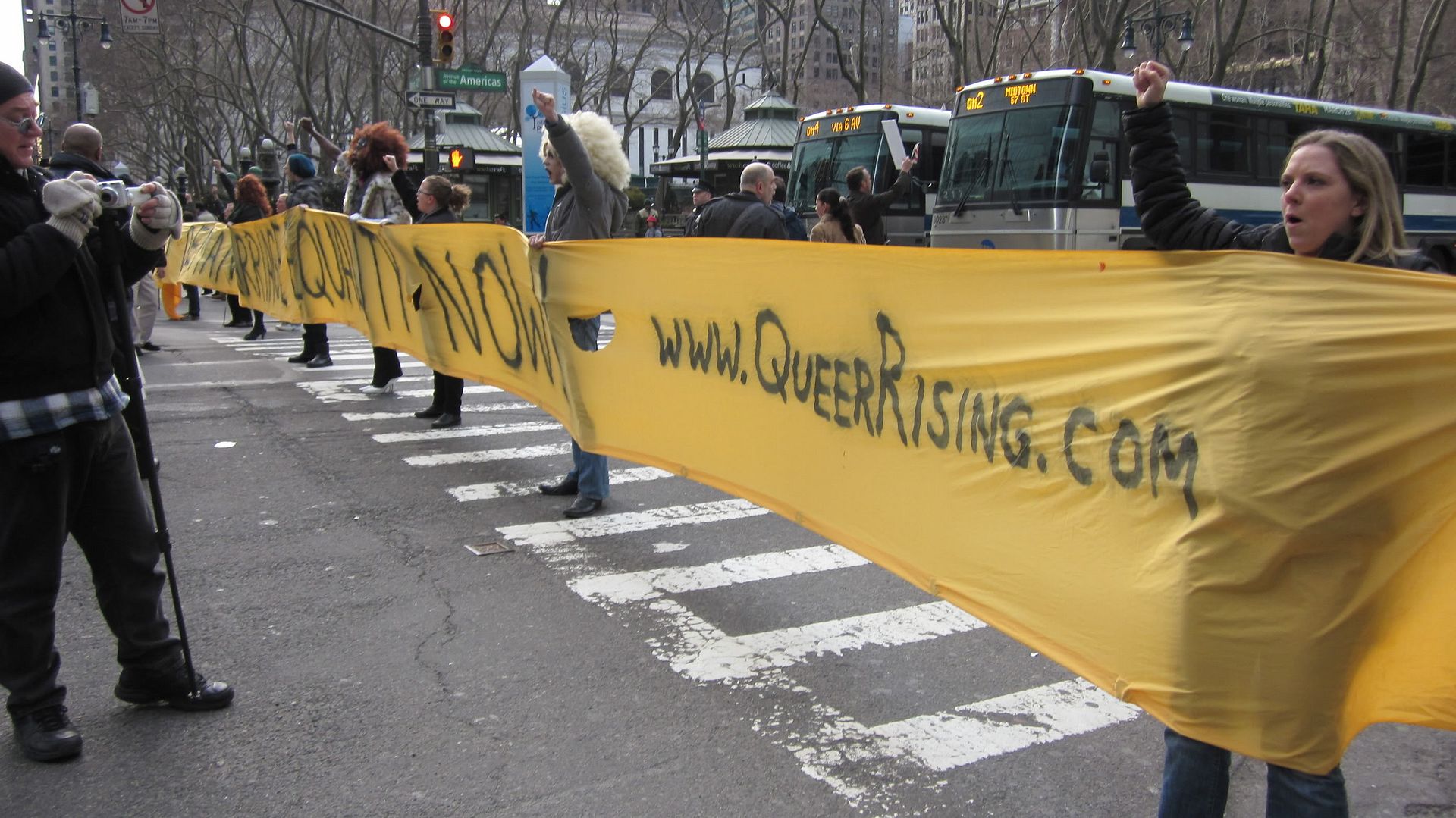 More news on gay rights activists that blocked traffic this morning in New York City, at Sixth Avenue and 42nd Street, calling on the New York State government to pass marriage equality in this session.The Press Release from Queer Rising:

New York, NY – The LGBTQ activist organization Queer Rising's protest against New York's discriminatory marriage laws ends in arrest after eight members refused to move from the intersection at 42nd St. and 6th Avenue. A 75-foot banner reading "NY DEMANDS MARRIAGE EQUALITY NOW!" was unfurled.

Unwilling to wait any longer for equal rights and protection from the state of New York, the eight activists refused to let Manhattan go on with business as usual while thousands of LGBTQ families live as second-class citizens. LGBTQ people throughout the state are no longer willing to remain silent until the unjust marriage laws change.

"It's a sad thing that I have to go to such extreme lengths for rights that others were born with," said Frostie Flakes, one of the three arrested drag queens.

The recent Quinnipiac University Poll shows New York State's support for same-sex marriage is at an all-time high, with 56 percent supporting and 37 percent opposed. Earlier this week, the Obama administration declared it will no longer defend the constitutionality of the Defense of Marriage Act, a federal law banning recognition of same-sex marriage. New York shamefully lags behind on providing equality for its citizens.

"We do not enjoy inconveniencing drivers on their hectic morning commute," said Jake Goodman, a member of Queer Rising and another arrestee, "but we less enjoy living without the 1,324 protections and rights granted by state-recognized marriage. We only hope others stop the routine of their everyday lives to join us and demand marriage equality now."

Those arrested were: Kevin Beauchamp, blind gay activist; Nora Camp, queer activist; Natasha Dillon, lesbian activist; Frostie Flakes (aka Adam Siciliano), drag queen activist; Jake Goodman, queer activist; Honey LaBronx (aka Ben Strothmann), drag queen activist; Eugene Lovendusky, gay activist; Kitten Withuwip (aka Caldwell) drag queen activist.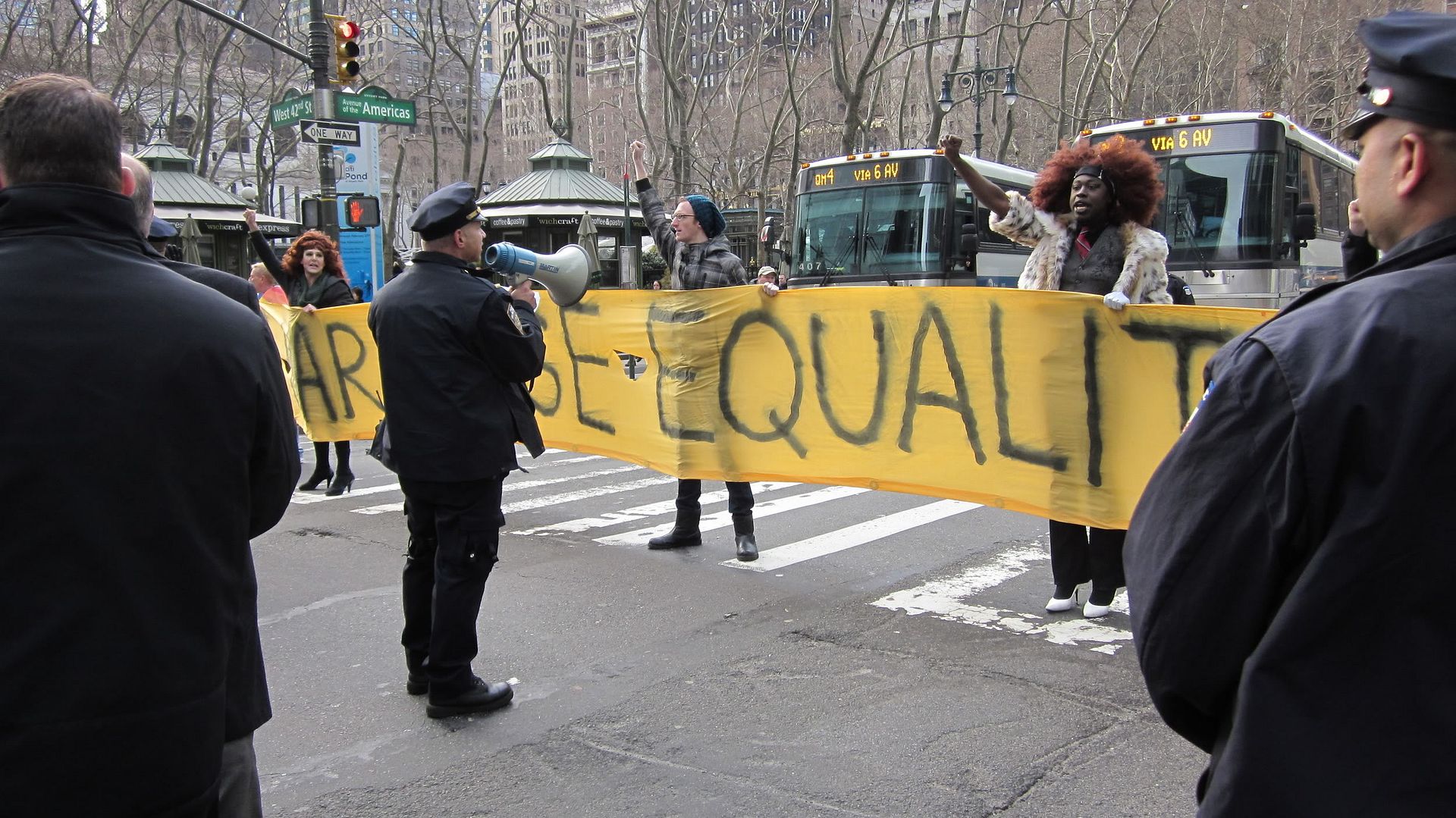 Steven Thrasher of The Village Voice posted this pre-action interview with participant Honey LeBronx, of Drag Queen Weddings for Equality.
Our gender-bending friends were there in 1969, at Stonewall, and here still today.
Indeed popular support runs high in the Empire State. Marriage Equality New York has run very successful educational and grassroots outreach programs.
Human Rights Campaign recently reached out and secured Robert F. Kennedy to tape a PSA calling for marriage equality. He joined a chorus of promient New Yorkers to lend their voice including Senator Kirsten Gillibrand, Whoopie Goldberg, Julianna Moore, Mark Ruffalo and even First Daughter Barbara Bush.
Transcript:
[Kennedy:] Hi, I'm Robert F. Kennedy Jr. and I'm a New Yorker and I support marriage equality. I grew up in the state of Virginia at a time when we had laws called Jim Crow laws that prohibited black people from marrying white people and a lot of people said if you change those laws it would be immoral. Well, my father was very proud that he was part of the battle to establish this country with a true constitutional democracy for the first time in its history. This is the last vestige of institutionalized bigotry that's left in this country and we need to get rid of it.

[Text on Screen:] New Yorkers Support Full Marriage Equality

[Text on Screen:] Do You?

[Kennedy:] Join us.
News on the marriage equality fight in NY has overall been quiet, but not not discouraging. When Erik Bottcher, LGBT community liaison to New York City Council Speaker, Christine Queen, was plucked for a cabinet position in the Cuomo administration, speculation ran high that this was a good sign. Governor Andrew Cuomo himself recently reiterated his campaign promise to make marriage equality "a priority" of his administration, from February 10, the New York Times:
Mr. Cuomo, who included legalizing same-sex marriage in his campaign platform, said Wednesday that he intended to ask the Legislature to take up the matter in its current session, which ends in June.

"We'll be working very hard to pass it," the governor, a Democrat, told reporters after delivering an encore of his budget address at Hofstra University on Long Island.
The New York State Senate is narrowly controlled by Republicans. Senate Majority leader Dean Skelos, personally unsupportive, has announced he does intend to allow it to come to a vote. Last session, there was no GOP caucus position on marriage equality, and Republicans were free "free to vote their conscience." Though none voted favorably in the Senate, and the bill was defeated, Republican votes in the Assembly House are not unheard of, in the several times it has come to a vote.
Previous bill's sponsor Democrat Tom Duane will carry the bill through the Senate. Though he announced his intention to introduce it "within weeks" in mid January, he has yet to do so.
The bill failed by eight votes in December 2009. Though Democrats saw a net loss of seats in 2010 elections, it's generally believed the Senate saw a 2 or 3 vote pick-up overall on the issue of marriage equality. But Republican votes will be essential and GOP party resistance remains the highest obstacle. It was said there were several Republicans who were prepared to vote for marriage equality in 2009, but backed out last time when Democratic coalition failed to hold. It is believed there are still GOP Senators that are friendly to the idea, but no names are publicly known.
It is also not unfair to say the Senate of 2011 may be be living in a whole new world of the failed vote of 2009.
There was a fairly significant sense of shock that resonated around the Empire State that "progressive, trend-setting" New York couldn't get done what New Hampshire, Maine, and others have accomplished.
And in the time since the last vote, we've seen both The Defense of Marriage Act and Proposition 8 struck down as unconstitutional, and the Department of Justice do a 180 degree turn on their opinion on marriage discrimination. With marriage equality moving steadily forward in Maryland and Rhode Island, it remains to be see if the wind on the east coast is blowing with enough force to bring this home in 2011. (Let us also not forget the "everything but marriage bills" that brought a measure of LGBT equality in Illinois and Hawaii, recently.)
The State Assembly, which is controlled by Democrats has passed marriage equality several times before.
Update: WCBS has a pretty good video of the action.
Marriage Equality Action In New York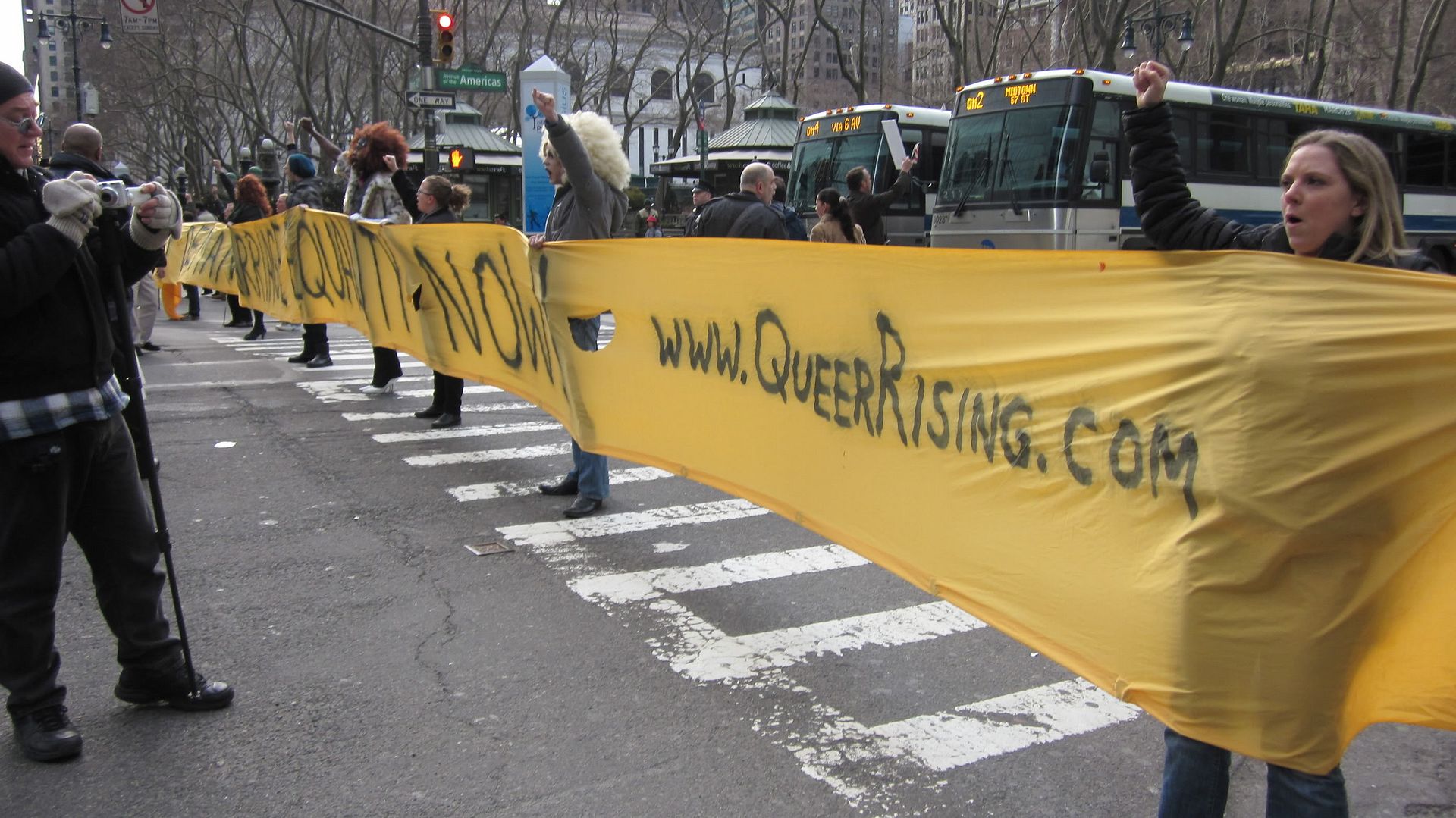 More news on gay rights activists that blocked traffic this morning in New York City, at Sixth Avenue and 42nd Street, calling on the New York State government to pass marriage equality in this session. (more…)