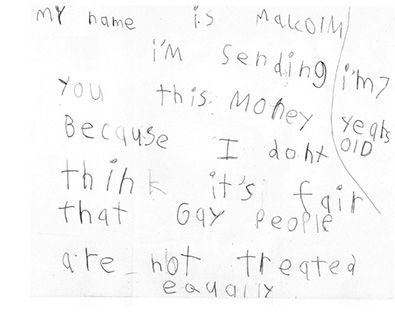 These activists are getting younger and younger! Stevie St. John of the L.A. Gay & Lesbian Center said this in an email:
I wanted to share with you the attached letter we received last week, along with a $70 donation, from a remarkable 7-year-old boy named Malcolm. It brought tears to my eyes, as it did to most of the staff here. His note and generosity really gives us hope for the future.

When we contacted his mom (who had included a note along with his), she gave us permission to share his letter and challenged us to raise $27K in his name.
And now the campaign has been launched:
"What we found in our mailbox has everyone here at the L.A. Gay & Lesbian Center buzzing," says Center CEO Lorri L. Jean.

His name is Malcolm, but we call him our "Littlest Champion." On a note that accompanied the check he wrote: 'I am sending you this money because I don't think it's fair that Gay people are not treated equally.'

…Malcolm's gift gave me such hope for our future. A hope that when his generation reaches adulthood, all of the homophobia, discrimination, and abuse we in the LGBT community face today will no longer exist."