Chat and share headlines you've seen today.
* First, to my fellow North Carolina LGBTs – Have you registered to meet with your state reps at Equality NC's Day of Action 2011? Sign up here. The event is Feb 15, 9:00 AM – 4:00 PM. If you can find the time to go to NC Pride, you can surely spare one day to meet with lawmakers who have the power to actually affect your civil rights. With a GOP-controlled Gen Assembly, we could face not only a marriage amendment, but the possibility of a roll-back of the hard-fought anti-bullying law. I hope to see you there!
* From the "you're sh*tting me" dept: House Republicans Consider Privatizing Medicare. Oh please try this Repubs; you'll lose the soon to be senior vote too. I love this grandfathering clause so they don't get punished right away: "current Medicare recipients would get to stay in the program. People within 10 years of eligibility – ages 55 to 64 – would also go into Medicare. But those now 54 and under would get a fixed payment from the government when they become eligible at age 65."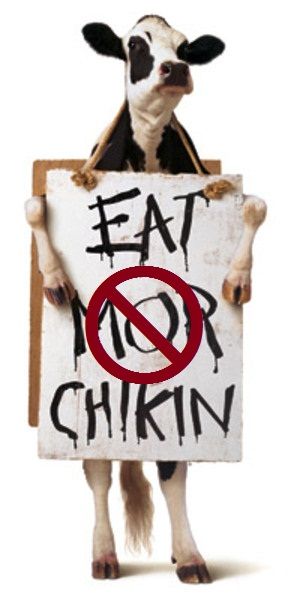 * Chick-fil-A Booted from Indiana University South Bend's Campus Over Anti-Gay Work.
According to South Bend television station WSBT, an LGBT group on campus petitioned IUSB to remove Chick-fil-A as a vendor after word broke that Chick-fil-A was supporting an event hosted by the Pennsylvania Family Institute, an affiliate of Focus on the Family and one of the leading anti-gay organizations in Pennsylvania. LGBT students and straight allies on campus wanted to send the message that if you support homophobia and anti-gay politics, you don't belong on the campus of IUSB.
* Meghan McCain: Michele Bachmann 'A Poor Man's Sarah Palin': Meghan McCain, daughter of Sen. John McCain (R-Ariz.), had some choice words Wednesday for Minnesota GOP Rep. Michelle Bachmann's secondary, Tea Party-sponsored State of the Union rebuttal, calling it the action of a "rogue," "poor man's Sarah Palin."
* This AfterElton post garnered a lot of reaction on my Facebook page – Brannon Braga on "Star Trek"s Lack of Gay Characters: "Not a Forward Thinking Decision". I loved TNG, but the reticence to deal with a gay character was ridiculously obvious in several eps. "This despite the fact that in 1991 Gene Roddenberry told The Advocate that the fifth season of The Next Generation would at least show gay crewmembers as part of ship life. Unfortunately, Roddenberry died that year and none of the subsequent episodes featured gay people at all."
* BBC: UK based lesbian says she is not safe in Uganda after the death of a gay rights activist. A great radio report/interview with Brenda Namigadde with her reaction to the murder of David Kato. She reiterated that if she is forced to return to Uganda she will be persecuted. Also see this report on LezGetReal.