Baltimore, MD: Twin teens on trial for torching of a pit bull puppy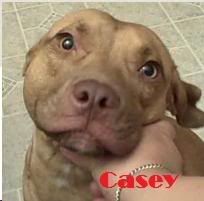 Regular members of the coffeehouse know that I'm a pit bull advocate, and in fact own a rescue named Casey.
This maligned breed has among its champions, The Dog Whisperer's Cesar Millan. I've written many posts, as well as a newspaper column that garnered many reactions along the spectrum, some based on fear rather than facts.
However one may feel about pits, no dog deserves what happened to a pit puppy in Baltimore. Sociopathic behavior by twin 18-year-olds has resulted in the tortuous death of poor Phoenix.
With nearly two dozen animal-welfare advocates looking on and more waiting in the hall Wednesday morning, Baltimore Circuit Judge Lynn K. Stewart set a trial date for teen-age twins Travers and Tremayne Johnson, who are accused of setting fire to a pit bull puppy in 2009, leading to the dog's death.

The 18-year-olds – one in custody on new attempted murder charges, the other free on bail in this case – are to appear Friday for a trial on animal cruelty and mutilation charges for allegedly dousing the pit bull, nicknamed Phoenix by rescue workers, with gasoline and setting her on fire. The dog was later euthanized.

"We're very concerned about the outcome of this case," said Caroline Griffin, who led the task force, which recently became the Mayor's Commission on Animal Abuse under Stephanie Rawlings-Blake. Griffin attended Wednesday's proceeding, along with representatives from the Baltimore Humane Society, the Baltimore Animal Rescue and Care Shelter, known as BARCS, and Maryland Animal Advocates.

Marilyn Hall, a volunteer at BARCS, grew emotional after Hankin asked her to stay away. She lifted her glasses, wiped away tears and said, "Whatever is best is what I'm going to do, so I'm not coming."

…"If you don't have respect for the animals, for life, for something alive, then you can't have respect for human life," Hall said.
The fact is that pit bulls are often on the receiving end of violence precisely because pits and pit mixes (or anything that looks like a bully breed) are often seen as valueless menaces, cast-off trash.
I weep for the innocent dogs we humans bred to love and live with us, so many who never have a chance to rise above their breed's reputation, in this case the long-forgotten rep of the pit bull as a "nanny dog" for its love of children. The dad in the video below recounts how his pit saved his child's life.
Related:

* NC Governor Perdue Signs Susie's Law

* My thoughts on the passing of Cesar Millan's late great Daddy the pit bull

* Say no to breed-specific legislation