Focus on the Family to House Repubs: investigate pro-homosexual DOJ over DOMA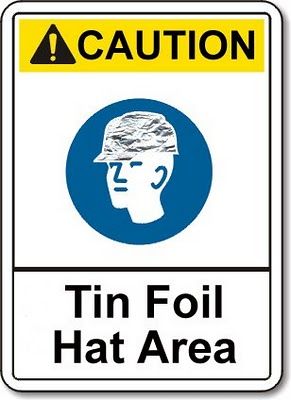 Boy you'd think by the hysteria over at Focus on the Bunghole that DOMA was about to be overturned by the Obama Department of Justice. The knickers are in a twist over the cases filed against the constitutionality of DOMA by Massachusetts Attorney General Martha Coakley and Gay and Lesbian Advocates and Defenders (GLAD). When the judge ruled it ungonstitutional, the right erupted and put on their stylish tin foil hats. (Right Wing Watch):
Tom Minnery, Vice President of Government and Public Policy at CitizenLink (formerly Focus on the Family Action), is insisting that House Republicans investigate the Justice Department over their handling of the Defense of Marriage Act, or DOMA, in order to fulfill the desires of the GOP's Religious Right supporters.

Infuriated by the judge's ruling, Religious Right activists were so assured of DOMA's constitutionality that they maintained that the Justice Department must have intentionally mishandled the cases and purposefully lost. Tom McClusky of the Family Research Council said that "in part, this decision results from the deliberately weak legal defense of DOMA that was mounted on behalf of the government by the Obama administration," and Mat Staver of Liberty Counsel and David Barton of WallBuilders recently discussed why they believe the Justice Department "threw the case."

Minnery's top-class Reynolds Wrap headwear has resulted in his declaration that the House Republicans were wusses the last time they were in control and that the social conservatives must have hearings to investigate the allegedly deeply pro-homosexual DOJ.
Will there be comprehensive hearings by House oversight committees on the unwillingness of the Justice Department to thoroughly defend, as the Constitution requires, legal challenges to federal laws? I have in mind the Defense of Marriage Act. The Justice Department has failed to provide an adequate defense against lawsuits seeking to tear away this law.