I started this piece on the plane ride from San Diego to Philadelphia, which was followed by a plane ride to Baltimore. In a few hours I'll be in DC for the DADT repeal bill signing ceremony — these were my thoughts while I was traveling on short notice today.

~~Autumn~~

---
Well, I received an early morning call from Dan Choi this morning (December 21, 2010). I'm writing this message of traveling to DC for the Don't Ask, Don't Tell (DADT) repeal bill signing as a direct result of that phone call.
I'm on a first fight of a two flight itinerary to Washington DC. I'll be attending the Presidential signing of the DADT repeal legislation passed by the House and Senate in recent days.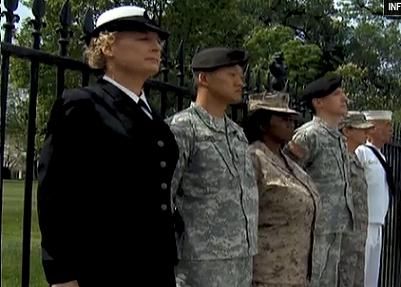 The passage of this compromise language legislation that the President will sign Wednesday, December 22nd is an extremely significant moment in lesbian, gay, bisexual, and transgender (LGBT) community history. It's the first piece of federal legislation that will actually further LGBT community equality, as opposed to federal hate crime legislation which holds the promise of federal response to hate violence.
But, of course, as I've written previously this is also a somewhat meloncholy moment for me. Although repeal of Don't Ask, Don't Tell forwards the LGBT community's interests, it only directly benefits lesbian, gay, and bisexual servicemembers, and future servicemembers, but won't result in transgender people being able to serve openly in the military services. And too, the more pressing issues for transgender community members in the LGBT community include employment and housing protections. Passage of a fully inclusive Employment Non-Discrimination Act (ENDA) would have addressed transgender people's community needs better than repeal of DADT.
I'm still happy for my broader community. I go to join with other activists in celebrating a historic moment. I'm glad I played a very small part in the DADT bill's passage in joining with other veterans and activists on the White House fence.
I'll be honored and humbled to be going to the bill signing with my friend Dan Choi. My hopes and prayers will be that Dan will be able to rejoin the Army very, very soon, along with all of the other veterans who were unjustly discharged from the military services who wish to again serve their country in uniform.
For me, after this legislative win comes work on employment opportunity for the LGBT community — one that is fully inclusive of our entire community. My efforts are in the coming years are going to turn to fighting for basic civil rights to include basic civil rights for all trans people.
If while working on basic LGBT civil rights, others in community comment that they think they should only fight for sexual orientation employment and housing protections to the exclusion of transgender employment and housing protections, I will remind them I went to jail to end DADT, and the repeal of DADT didn't result in trans people's ability to serve as openly as lesbian, gay, and bisexual will soon be able to serve openly.. My goal will be to remind them of my sacrifice for others in community, and will seek to inspire them — or shame them (I don't care which) — to also work for others besides themselves.
I intend to play that card as often as I feel is needed to make the point that basic civil rights isn't about me, it isn't about you, it isn't about our respective subcommunities in the LGBT community, or any other demographic characteristics about me, you, or our respective subcommunities. This is about us…all of us. If an issue is an issue for just one subcommunity of the LGBT community, then it is my issue — and it should be your issue too.
That means I hope that many LGB people — as well as many T people — will learn something from an example I hoped to set. And the something I wanted to show by example is one of treating my peers in community exactly how I want to be treated by those peers in community.
All these thoughts and a signing ceremony in the morning too. I wonder if in a few hours I'll feel meloncholy or joy at the DADT repeal bill being signed into law. My guess is I'll probably feel a bit of both, mixed in with a bit of jet lag on the side.