Via LezGetReal, the latest bigot eruption by one of the more homo-obsessive elected officials out there, Rep Louie Gohmert (R-TX), who represents the 1st district in the Lone Star State. I feel sorry for his constituents, because Gohmert clearly couldn't have been elected to focus on male homosexuality.
"I know when I was in the army at Fort Benning and a young man there in the barracks could not control his overt feelings of homosexuality, and so he misread indications from another person in the barracks and found out that he had misread when he crawled into his bunk with him late one night, and his advances were not met with the kind of affection that he had hoped. That's not good for the good order and discipline. When we had people who cannot control their hormones no matter whether it's heterosexual, homosexual, whatever. They're an impediment to the military."

You know, usually men who are this obsessed about male homosexuality end up getting caught in men's bathrooms like Larry Craig did. In fact, many of them seem to be really upset because the legitimization of homosexuality has resulted in them no longer being able to do things like go out and find brief hookups in men's rooms.
Below the fold are some reactions to Louie's steamy fantasy.From my Facebook page: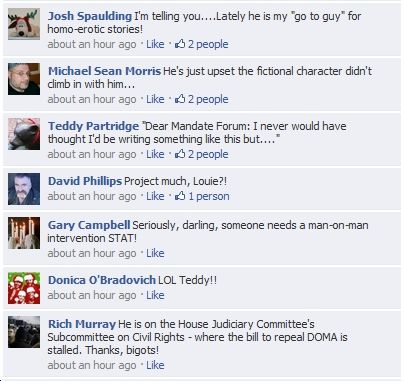 Related:

* TX Rep. Louie 'oriented toward animals…corpses' Gohmert destroyed on Rachel

* Gohmert: the Matthew Shepard Act holds soldiers' well being hostage

* Texas wingnut Rep. Louie Gohmert: demons are inside the Beltway