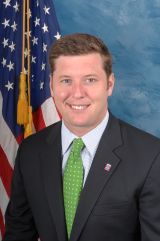 There are a lot of people to thank for the legislative repeal of DADT, but near the top of the list is Congressman Patrick Murphy (D-PA), whose leadership on this issue never wavered — and he lost his seat in the political tsunami of the 2010 midterms, but kept on fighting for equality.
A reminder of the Iraq war veteran's leadership — watch the classic takedown of the doyenne of DADT discrimination, Elaine Donnelly of the Center for Military Readiness during House hearings.
He's a real profile in courage — you'll recall that in the days leading up to the elections a number of folks in the movement urged people to support Rep. Murphy in a video because of his efforts toward DADT repeal.
Murphy, unlike many pols, is quite accessible. In 2009, I interviewed him at Netroots Nation (video and transcript here), and he came over to the Blend in October to discuss progress on DADT in a liveblog. We need more members of Congress with backbones like Murphy's.
Thank you, Congressman. If you plan to run for office again, you know where you can find support.
Here is a tribute to Patrick Murphy from the good folks at SLDN: