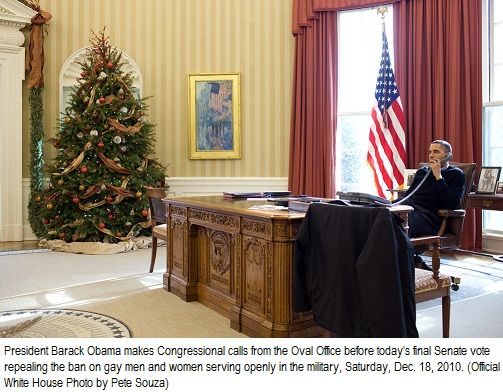 It's been a long historic day and the reactions have run the gamut from "you know it played out just as the President planned" (the brilliant 12 dimensional chess strategy meme), to "HRC claiming any responsibility for this is BS" to "it couldn't be done without "X" (as in there's a single reason for DADT's legislative repeal).
As always, I think the truth lies somewhere in the middle. I'm not sure why any one faction has to "claim" victory — that seems very Beltway, as opposed to the big picture that there was a win today, one with an incomplete asterisk next to it.
A promise to repeal the discriminatory policy of Don't Ask, Don't Tell is exactly that – repealing the impact of the policy itself. That was made quite clear — from SLDN's cautionary warning to service members not to come out yet, to HRC's victory post saying the same thing.
Here are two examples of viewing the glass of pre-victory from today. First, Brian Bond, Deputy Director of the Office of Public Engagement at the White House (a.k.a. the "LGBT liaison") has a post up: "Ending Don't Ask Don't Tell."
Today, I had one of those "once in a lifetime" moments. As I sat in the Senate Gallery with my bosses, White House Senior Advisor Valerie Jarrett, Deputy Chief of Staff Jim Messina and Director of the Office of Public Engagement Tina Tchen, I saw history being made as the US Senate voted 65 to 31 to pass the Don't Ask, Don't Tell Repeal Act of 2010. I am proud of the many leaders in Congress and all those who have worked to put an end to DADT. And I'm proud of the President for his leadership on this issue. It has been a long time getting here and it has been a struggle – but as the President has said many times, "Change isn't easy." But today we took a huge step forward to set right a wrong.

Last December about this time, I was at a small event in the Roosevelt Room. The President was just getting ready to leave for the Christmas Holiday. He walked over to me and without missing a beat, put his hand on my shoulder, and I will never forget what he said to me – unsolicited — "We are going to end Don't Ask Don't Tell. We have a little bit of work to do still, but we are going to get it done." A month later, in his first State of the Union Address, the President said, "This year, I will work with Congress and our military to finally repeal the law that denies gay Americans the right to serve the country they love because of who they are. It's the right thing to do."

Now I am sure that there will be many stories written about what happened and how we got here, but for me, the key part of the story that I will never forget is that commitment from the President. Nor will I ever forget the brave men and women who have served with distinction who also happen to be gay or lesbian. Throughout the course of this effort, I have been privileged to meet some amazing heroes who just wanted to serve their country. I will carry their stories with me for the rest of my life.
Dan Choi (who is out of the hospital and received his Blend "get well card" today), has a piece up at Huff Po — "Congress Repeals DADT" — and strikes a different tone.
No revolution towards justice ever went backwards. To all the supporters of equality and Don't Ask Don't Tell's death, I am so grateful. The road has not been easy. We have learned many important lessons about social justice, movements, supporting each other, and speaking out against discrimination.

The mission is not finished; it has only just begun. The most critical mission is supporting and encouraging closeted soldiers to finally access their full integrity, dignity, and humanity. This mission is in keeping with the first lessons learned at West Point or basic training. As the legislation signals a new chapter in our journey, we can be sure that our work has only begun. I call on all soldiers to gain the courage to come out. First come out to yourselves, then tell your trusted friends and family. Tell everyone who you trust and who deserves nothing less than truth. Stop hating yourselves as your country has signaled for so long. Furthermore, your coming out is not for you. It is for all those who come after. Military service is not about rank, pension or paycheck. Climbing the ladder is shameful without true purity of service and I applaud those who give up the superficial artifacts of career in favor of complete integrity and justice.

…President Obama, you are not off the hook. The compromise bill passed today puts the moral imperative squarely on your desk. Sign an executive order instituting a full non-discrimination policy throughout the military. If you do not, if you drag your feet and politicize this with your theoretical calculations as you have these past two years, you will be guilty of abetting those who loudly proclaim homophobia from their platforms and pulpits. Provide them no shelter or safe haven. Institute justice now.
Both points of view are personal, both stem from resolve to see equality happen, but there is no black and white to the struggle for equality, it involves many political shades of gray. For those who are so motivated by being "right" or on top politically, they don't want to see that there are many routes to success along the way, that the spectrum of ideas and tactics were responsible for today's step, not in spite of one viewpoint or another. That's pretty disappointing, but not unexpected. There are many battles ahead, perhaps people can get their heads together after popping the champagne corks this evening.