Damn them. Westboro bigot clan will picket the funeral of Elizabeth Edwards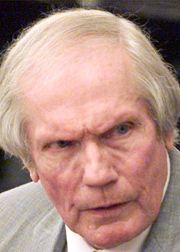 I have no idea whether the Rotting Cryptkeeper of Westboro Baptist "Church" will show up to defile the celebration of the life of Elizabeth Edwards, but no doubt Shirley Phelps-Roper will bring her self-styled hate along with the spawn of Fred to Raleigh on Saturday. (News & Observer):
Westboro Baptist Church, a group with a history of staging protests at funerals and issuing anti-gay statements, is planning to picket the Saturday funeral of Elizabeth Edwards.

The group said it will picket outside Edenton Street United Methodist Church in Raleigh from 12:15 until 1 p.m. when the funeral is scheduled to begin.
The purported reason for the Westboro Klan's selection of the Edwards funeral, according to its web site (no, I'm not linking), which says "GOD HATES ELIZABETH EDWARDS!" claims she allegedly "spent her life in defiance and disobedience to God" and "Flee her example."
Instead of focusing on those haters, watch what local residents had to say about the passing of Elizabeth Edwards…
There is a Facebook page up, Protect Elizabeth Edwards funeral from Westboro Church. "Let's create a human buffer between Elizabeth Edwards and the Westboro church."