Open thread: non-Prop 8 headlines I've been Tweeting/Facebooking today…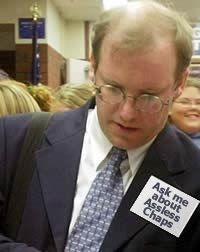 I'm definitely not up to speed yet on posting because of the surgery, but those who follow me on Twitter or Facebook know I'm regularly sharing links in spurts. Here are some choice ones you may want to click over to and comment on…
* Right Wing Watch on LaBarbera: The Peter embraces AFTAH's hate group status: "if you are not on the @splcenter hate list, you are not doing enough" Now that is priceless.
* Marriage In Middle America Is In Trouble. I thought the homos were destroying marriage. "New data indicate that trends in nonmarital childbearing, divorce, and marital quality in Middle America increasingly resemble those of the poor, where marriage is fragile and weak. However, among the highly educated and affluent, marriage is stable and appears to be getting even stronger."
* Think Progress: Rep. Steve King Calls For The Return Of McCarthyism In Congress: It's A 'Good Process' That He Would 'Support' Nice to see the clock rolling back.
* Right Wing Watch: Christian Conservative Must Replace Jewish TX House Speaker Because Christians "Do The Best Jobs Over All" A real WTF from Cook: "My favorite person that's ever been on this earth is a Jew. How can they possibly think that if Jesus Christ is a Jew, and he's my favorite person that's ever been on this earth?"
* Kerry Eleveld's View from Washington: DADT Repeal Is Likely Dead, and if so, the White House owns this epic failure.
* The Wonk Room's Igor Volsky: Reid Should Hold Debate On DADT Past Christmas To Call GOP Bluff On Process Objections
* Talking Points Memo: Tea Party Nation Calls On Sarah Palin To Run For RNC Chair. Please god let it happen – a Michael Steele/Sarah Palin match up – that's full of win.
* Help tell these stories of diverse families with LGBT children. FAP Family Video Series