Elizabeth Edwards is gravely ill; further treatment for cancer 'unproductive'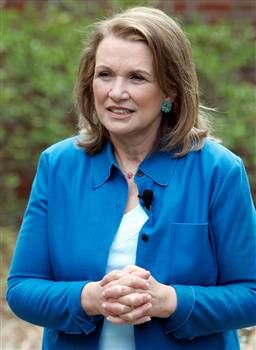 My heart goes out to Elizabeth and her family. She's been through so much, and shown so much strength to those battling cancer. (WaPo):
Elizabeth Edwards is gravely ill and doctors have told her she only has weeks to live, according to a family friend who is among those who have gathered with Edwards at her North Carolina home.

The family issued a statement Monday that said doctors have told her that further treatment for her cancer would be unproductive, and the family friend further described Edwards' condition to The Associated Press.

The friend said Edwards was briefly hospitalized last week and received treatment, but doctors have now told her that she may only have up to a couple months of life left. The friend spoke on condition of anonymity because of the personal details divulged.
The coffeehouse was graced with a visit by Elizabeth Edwards back in 2007 after I saw her with young ones Jack and Emma Claire (as well as her former husband and then-prez candidate) at the local Target one Sunday. Kate and I didn't approach them, figuring they were probably frequently mobbed. Elizabeth later dropped by to leave this note on the blog entry I wrote about it, titled "Presidential candidate in aisle 2 at Durham Target."
You should have spoken up

Pam and Kate, you should have spoken up. Although it wasn't too crowded, we did get a lot of people — all with smiles and words of support — as we managed to go down nearly every aisle: the usual trip to Target. Followed by lunch at the Food Court at SouthPoint and lots more friendly hellos.

---
May the rest of her life's journey be filled with love and support.