Durham winter wonderland open thread and a Q of the day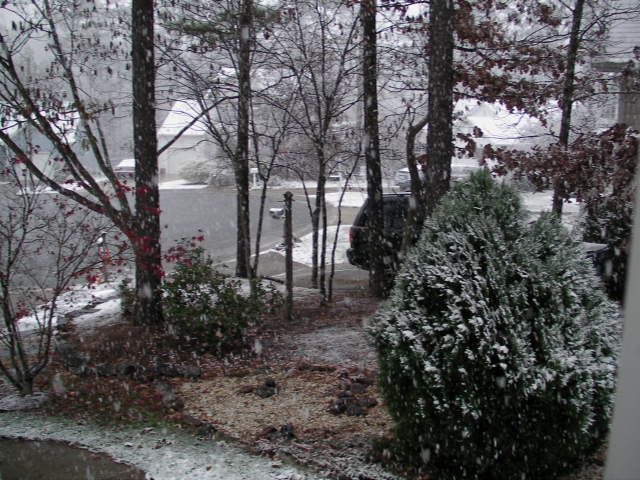 Kate took me out for so I could get my walk in for the day. Today we hit Kohls to look for a smaller pillow for me to put between me and the seat belt when I attempt to drive next week sometime if I am up to it.
Anyway, I'm not sure whether this is an indication of the sucky economy or not, but while there was brisk business because of an 6-hour sale there (big savings like 40%-50%, plus I had my coupons, of course), it was by no means as crowded as one might expect during holiday season. No waiting at registers, not a lot of knocked over, picked over merchandise strewn around after the crazy early birds came through.
While we were out it started snowing, it has been pretty steady, and the temperature dropped enough that 1) it was starting to stick and 2) the drivers around here went into panic mode, acting like asses trying to get to the grocery store, I suppose to hit the bread, milk and egg sections as usual.
So we're back and let the dogs out to enjoy the snow. Casey was more interested than Chloe.
That outing did me in, btw. Even with my new ab binder from Hystersisters, that short jaunt was enough to make me pretty sore and fatigued. The good news is it didn't cause any bleeding, which is the marker of overdoing it. Whew.
***
Q of the day…
1) Are you doing any holiday shopping this year?
2) If yes, are you doing it online or offline in the stores?
3) Online – have any sites you've visited crashed because of traffic?
4) Offline – have you seen any indications that shopping is up or down from last year?
5) Do you think there have been deep discounts or not?
On the few short trips I've made (not to holiday shop, just to walk or get necessities), I really think aside from passing by the insanity of the parking lot at the mall near us on Black Friday, it's not been packed like that again.
We've decided, particularly with this economy and I'm laid up sans a month's pay (still happy to be employed, of course), that we're just opting out of most holiday shopping save a few gift cards for a very short list of peeps. I haven't the energy or motivation to do it. Does that make me a Scrooge? LOL.