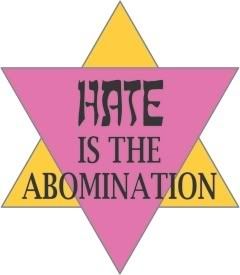 On November 16, 2010, just days after the 72nd anniversary of the Nazi's opening salvo against the Jews, Kristallnacht, the United Nations voted to remove sexual orientation from the UN resolution condemning extrajudicial, summary or arbitrary executions.
"This is a shameful day in United Nations history. It gives a de facto green light to the on-going murder of LGBT people by homophobic regimes, death squads and vigilantes. They will take comfort from the fact that the UN does not endorse the protection of LGBT people against hate-motivated murder," said U.K. gay rights and human rights leader Peter Tatchell.
Very timely then that Queer Rising and Congregation Beit Simchat Torah (CBST), New York City's synagogue for LGBTQ Jews, had just released this video.  The video draws parallels between Kristallnacht and the increasing, largely unchallenged violence faced by LGBTQ people around the world, and announces the upcoming action In God's Name: Hate is the Abomination.  
On December 16th, the eve of the 10th of Tevet, the National Remembrance Day of those who have died in violence whose names might not otherwise be remembered, the group will march to Prospect Park in Brooklyn and recite together the Mourner's Kaddish so that Jews and non-Jews may remember of all those whose lives have been destroyed due to anti-LGBTQ violence.  Event details below the fold.
Rabbi Sharon Kleinbaum, Senior Rabbi of CBST:

Seventy-two years ago, a lifetime away, state-sponsored terrorism chose to attack our people, the Jewish people in the lands then governed by Germany, but soon to be spread to counties all over eastern, western and southern Europe.

The significance of Kristallnacht is not only that 91 people were killed that night, or that close to 2,000 synagogues were destroyed forever – buildings, houses of worship which had been sacred in our community for hundreds of years.  Nor that 30,000 men were arrested and taken to concentrations camps, a thousand of whom died there.  Most were returned.

But the significance of Kristallnacht was not the just individual experience of Jews in those cities that night.  It wasn't just that the Nazis levied a tax on the Jewish people to actually clean up from the damage done that night by the hate-filled pogroms.  But it was that moment, that night on November 9 and November 10th that the words of hatred which had been fueling the fire since the rise of National Socialism in 1933 turned from language to violence.

From 1933 to 1938 there was a series of laws enacted which slowly and inexorably separated out the Jews from the rest of the German population.  The Nuremberg Laws made it impossible to Jews to own businesses, to hire non-Jews, to be hired, to go to certain theaters, to be in public spheres of life.

But what really changed on this night 72 years ago was that all that language that started to isolate Jews made it possible for neighbors who had been neighbors for hundreds of years to take up the machete, to take up the gun and to shatter these houses of worship and kill Jews.

After that there was no going back and in some ways we know that Hitler was using these moments in history to see precisely how the world would react.  Would there be silence, or would there be condemnation?  Would there be an uprising, an outrage from Jews and non-Jews from countries all over the world saying this kind of treatment of citizens would not be tolerated?  There was silence, and we all know the outcome of that story.

Hitler only gained more and more power in  attacking the Jews, and it was not far from this night of  November 9th and 10th, 1938 to the unrolling of the Final Solution itself in the 1940s.  

What we are doing here today is to first of all say words matter.  How words are used and how words target and isolate individuals and groups matter.  And as Jews we reject the idea that any language is OK in order to describe someone differently or in ways that are painful.  We reject that.

And most importantly, we will put our bodies on the line to protect those whose physical beings are at risk, not only their spiritual and their emotional beings.

So I'm proud to join together with Jake Goodman and with Queer Rising to make sure that 72 years from today, we can say we were among those who heard the glass shattering in our own cities, in our own states, understood it was our own kind of Kristallnacht happening, but we did whatever we could do to make sure the silence was shattered not just the glass.  To make sure that this would not go any further and that there would be those of us who would stand up with full voice and with full body to prevent anything from going inexorably on.

Join us in December and join us on this path.  Join us through the Queer Rising website or the CBST website.  Join in community as we fight these forces that depend on us to be silent.
LOCATION: People will gather on Ocean Parkway at 18th Avenue in the Flatbush neighborhood of Brooklyn (F Train to 18th Avenue) and then march in solidarity down Ocean Parkway to the Parade Grounds of Prospect Park (Caton Avenue @ Argyle).  Find additional information here.