GetEqual, LGBT vets and advocates protest outside WH secret 'Common Purpose' meeting tonight
Update from Autumn: Bumped back to the top for added information.
Below is video of Jim Messina, the current White House Deputy Chief of Staff, and future Obama Reelection Campaign Chair, entering the White House Common Purpose meeting of progressive organizations. You can see us demonstrators asking him what is the plan for repealing Don't Ask, Don't Tell — asked him as he went in to attend that secret meeting. This is the same Deputy Director who promised that Don't Ask, Don't Tell would be repealed before the end of this year.
And below is a powerful message that Main Steam Media doesn't seem to be picking up on, and that is the message that Cpl. Evelyn Thomas held:
Women Of Color

Highest Number Of Discharges

From Military
---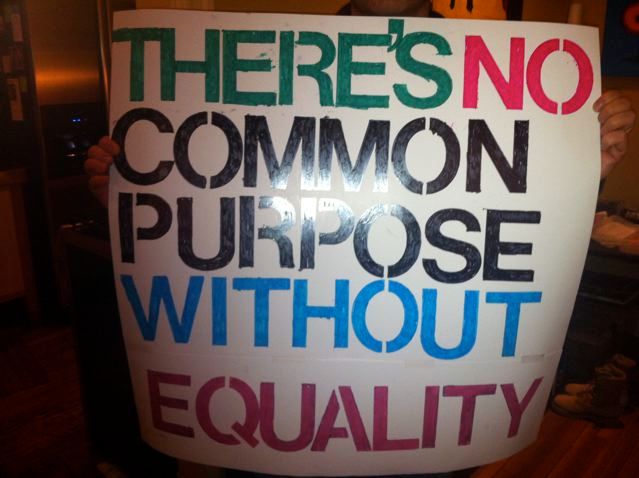 It's nice to see more exposure of the kind of underbelly goings-on inside the Beltway. This "Common Purpose" meeting is meant to to streamline messaging and to shut down criticism coming from progressive voices. The Politico has a piece on it. Take a look at who is on the invite list…members of those who purport to represent you — Gay, Inc.
This evening, seven of the original 13 LGBT veterans and advocates who were arrested yesterday at the White House fence, stood outside of the Capital Hilton (1001 16th Street NW) in Washington, DC to protest the White House's "Common Purpose" meeting, a mostly secret, low-profile gathering of White House officials and institutional, progressive organizations aimed at controlling the agenda and messaging around those issues, which includes lesbian, gay, bisexual and transgender (LGBT) issues. The invite-only meeting, first launched back in 2009 by White House Chief of Staff Rahmn Emanuel, White House Deputy Chief of Staff Jim Messina and others, has been previously criticized by liberal, progressive bloggers and advocates for its attempt to shut-down any resistance to the White House's strategy by instilling fear of retribution amongst the organizations invited.

Video of this evening's Common Purpose meeting protest will be available shortly at: www.youtube.com/getequal

The group of seven LGBT veterans and advocates stood outside the Capitol Hilton tonight in the rain, greeting attendees with a simple, direct message: "There's No Common Purpose Without Equality." Amongst the list of attendees to the Common Purpose meeting tonight were: David Smith, VP of the Human Rights Campaign and Rea Carey, Executive Director of the National Gay and Lesbian Task Force – two of the nation's largest LGBT organizations; and officials from the Center for American Progress (CAP), including Winnie Stachelberg, Senior Vice President for External Affairs, who has claimed credit for drafting the compromise legislation and strategy on "Don't Ask, Don't Tell" repeal, putting in grave danger the chances of repeal happening this year – despite numerous promises to the contrary.

David Smith, Vice President of Policy and Strategy for the Human Rights Campaign, Winnie Stachelberg, Sr. VP for External Affairs for CAP; Rea Carey, Executive Director of the National Gay and Lesbian Task Force, were greeted tonight by the protestors and asked to stand with the LGBT community and not attend the meeting. All three of them chose instead to cross the protest line and enter into the hotel. Smith refused saying, "I'm running late."

Also, White House Deputy Chief of Staff Jim Messina and White House Deputy Director of the Office of Public Engagement Brian Bond were also in attendance and greeted tonight by protestors who chanted "What's Your Plan?" and "Tell Obama to Keep His Promise!"

"We stand outside in the rain tonight because we have a simple message to deliver to the White House and those attending this meeting, 'there is no common purpose without equality'," said LGBT veteran Evelyn Thomas, twice arrested at the White House fence for protesting the "Don't Ask, Don't Tell" policy and a former Corporal in the United States Marine Corps. "From the White House fence to the steps of the U.S. Capitol or outside the entrance of the hotel holding your secret, low-profile meeting, we are prepared to go anywhere, at any time of day, until you deliver on your promise of equality for all Americans."

The group of LGBT veterans and advocates held signs at tonight's protest reading:

· There's No Common Purpose Without Equality;

· Messina DADT "This Year"?;

· What's the Plan? (referring to the recent answer President Obama gave to LGBT blogger, Joe Sudbay, that he had a plan to pass the repeal of "Don't Ask, Don't Tell" during the lame-duck session)

· Human Rights Campaign Stand With Us!

· DADT C.A.P. Compromise – What Did It Get Us, Winnie?
Americablog also has coverage.