Tee hee: Porno Pete and Ken Hutcherson: 'Pam Spaulding needs God in a big way'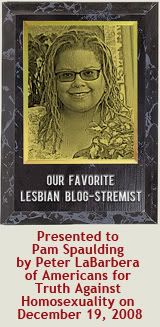 There's something kind of sad…no…hilarious about listening to two third-tier fundies jawboning about their activities. Peter LaBarbera will soon hold one of his sadsack Americans For Truth Against Homosexuality banquets and his headliner is none other than the well-known homobigot from Lurleen's part of the woods, Ken Hutcherson (you know, the paston and former NFL player who planned to take down Microsoft for being too pro-equality).
You blogmistress's soul has apparently on The Peter's mind, and my name came up during the circle jerk podcast. I spared you from having to listen to the entire program and boiled it down to two minutes of comic gold.
The Peter: He has been labeled by at least one radical web site as a homobigot. You're a homobigot (laughter), you know that Hutch?

Hutch: The best thing in the world, Peter, is to have the right people mad at you. (laughter)

The Peter: You know, that happens to be a lesbian activist named Pam Spaulding, and she needs God in a big way; she really does.

Hutch: It's Pom's Blend, I think…

The Peter: It's Pam's House Blend, Hutch and she has extra animosity for black leaders who are opposed to homosexuality

Hutch: Well, no doubt about it…just read some of her stuff…

The Peter: Yeah, she's black herself (Pam: so which is it? I was white earlier this week, lol!), and I think she's just…you know…I was perusing the web sites and actually put your name in Google and "homobigot" comes up high on the list there, Hutch…(laughter)…at least you don't have "Porno Pete" — that's what I've got…(laughter).

Hutch: Oh my goodness…

The Peter: Cause, you know, I've got this prurient interest in gay sex, that's what they say.

Hutch: They come at us all with that one…
And so on. You get the idea. I mean why would we come to the conclusion that Peter LaBarbera is obsessed with homosexuality? Wayne Besen:
I can think of no other straight man who rather be at a gay S&M gathering, than home with his wife. Such celebrations are fine, if that is your arena. If you are not into it, however, you don't go.

But, LaBarbera returns to such venues frequently and repeatedly. Each time, he takes the same exact "naughty" pictures and shares them on his website. There is never any new information, yet he still returns, year after year. Once he has the alleged smut, he posts the pictures online under a big "WARNING" sign – drawing more attention to the very images he claims no one should see.

…Unfortunately, LaBarbera no longer does get away with pushing his unique brand of perversion in the name of God. When he started in this "business", he could justify his behavior by claiming he was promoting "social issues." But, more than a decade later, most people – including many anti-gay activists I have spoken to over the years – believe he has "personal issues." I have been in television green rooms where LaBarbera's name comes up and conservative eyes roll.
Just do a search in the Blend archives…repeat coverage of International Mr. Leather, the Folsom Street Fair, surfing man-on-man web sites…all in the name of research. You can't make it up.
Thanks, Pete. I think my soul is well taken care of.
Hat tip to Jeremy, of Good As You.