Another year, another HRC Gala, still no results on the major issues promised by this President
The HRC National Dinner is being billed as "No excuses" this year.
Human Rights Campaign Announces WH Senior Advisor Valerie Jarrett as National Dinner Guest Speaker

14th Annual Event Tomorrow, October 9th at the Washington Convention Center

WASHINGTON – The Human Rights Campaign, the nation's largest lesbian, gay, bisexual and transgender civil rights organization, today announced that White House Senior Advisor Valerie Jarrett will be a guest speaker at the organization's 14th Annual National Dinner to be held on Saturday, October 9, 2010 in Washington, D.C.

"Valerie Jarrett is a tremendous addition to the event and we look forward to hearing from one of the President's closest advisors," said HRC President Joe Solmonese. "She and President Obama both care deeply about equality and are strong supporters of those of us fighting for LGBT rights."

In addition to Valerie Jarrett, the program will also include: Grammy Award winning artist P!nk who will be presented with the Ally for Equality Award by Bette Midler. The National Arts & Culture Award will go to the hit ABC series Modern Family and will be accepted by cast membersEric Stonestreet, Jesse Tyler Ferguson, and Sofia Vergara. Lee Daniels, Producer and Director of Precious and Monsters Ball will take home the Visibility Award presented by Precious star Mo'nique. Further event details will be made public as they are confirmed.

More than 3,000 people are expected to attend the event held in the Washington Convention Center, which is chaired by Marjorie Chorlins & Kirkland Hamill.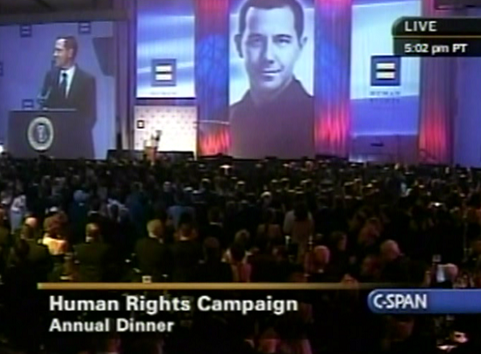 Right: from last year's HRC dinner…
I think we can expect to hear about these positive — though in most cases not permanent — policy changes:

The Office of Personnel Management, under openly gay John Berry, has made extended certain benefits to the same sex partners of federal employees that aren't affected by DOMA, of course;
Health and Human Services has directed those institutions receiving fed funds to allow hospital visitation rights for same-sex couples;
The Family and Medical Leave Act has been re-interpreted by the Labor Department of this administration to allow a caregiver irrespective of their biological or legal relationship to care for a child without losing their job.
The HIV travel ban has been lifted;
And for the transgender community there has significant change – appointment of open transgender staff to this administration, as well as implement the issuance of gender-appropriate passports that is essential when one is unable, because of state law, to present a gender-appropriate driver's license or birth certificate;
No doubt they'll try to coast on Hate Crimes yet again.
So yes, there will be something for Joe Solmonese to say up at the podium. And those changes do affect LGBTs around the country. The barebones truth though, is Joe will not be able to tick off a list that includes the major policy items that were promised to the community and donors as "done deals" all year long.
More after the jump.After last year's fiasco where the President spoke to HRC dinner attendees and had only hate crimes to pump up the volume, this year will be interesting. All those Cinderella Crumbs will be highlighted. What will HRC have to say about DADT, ENDA, DOMA, UAFA, or even fed domestic partner benefits? They got us a big GOOSE EGG. Will the tony donors in the room still cut HRC a big check for maintaining WH access without results promised?
Remember this —
2/27/2010: HRCs' President Joe Solmonese at the HRC Carolinas Gala I was there reporting for the Blend as he made these emphatic statements to the members of the LGBT community and allies from North and South Carolina in attendance at the Raleigh Convention Center about what was going to be accomplished this year.

1. "We are going to eliminate the tax that you pay on domestic partner benefits. We're going to get rid of that this year at long last."

2. "We are going to extend domestic partnerships to federal employees."

3. "We are going to get people living with HIV/AIDS treatment much earlier if they are on public assistance."

4. "And finally, finally this year we are going to bring down the discriminatory policy known as 'Don't Ask, Don't Tell'…once and for all."
Also, you might recall that after last year's dinner Joe Solmonese took to the airwaves on CNN and declared that the dinner attendees are 'more politically aware' and have 'better sense of what's at stake' than you. I said this in 2009 about the stark differences in perception of progress between the grassroots, the WH and HRC — see if anything at all has changed since then:
There are two realities, the Beltway reality, a myopic view that is so disconnected from the lives of everyday LGBTs (particularly Ts) that has us setting such low expectations. The reality outside the Beltway doesn't exist, the focus is on cultivating the relationships with power brokers with the secondary focus on obtaining "what's possible" politically, which of course is pretty subjective and dependent on whether there is professional peril in rocking any boats.

The reality outside the Beltway is often too impatient about the logistics of moving legislation in many respects, but the impatience is borne of the peril of losing a job, losing custody of children, or myriad other problems that will not be solved in their Red state any time soon. To see such inaction and promises and action delayed or deferred is disheartening — and very personal. For activists in this sphere, a speech like this is a reality check of its own — beautiful, empty prose telling us we are on our own for who knows how long.
I can't add anything more to this observation by John:

We don't have DADT, ENDA or DOMA. And at the rate things are going, we may not get them in your lifetime. Seriously. If we couldn't get them with control of the White House (and a president with a 70% approval rating), and a super-majority in the Congress, at a time when the Republicans were in disarray and our issues were at 70% in the polls, when exactly will we be able to get any of our top three issues passed? Until HRC comes to terms with the fact that our civil rights give our "friends" a collective case of the willies, nothing is going to change in this town, and very little legislation is ever going to pass.

Sadly, HRC seems to be getting exactly what it wants. Yet another White House official to show up at its dinner and help it raise money. We don't have our civil rights, but HRC can show the donors that it has access. And after all, isn't that what really matters? That, and the Easter Egg roll.

I wonder if HRC is going to ask Valerie Jarrett about her boss's ongoing, disgusting, defense of DOMA and DADT in court. Barack Obama is leading the charge against our entire judicial civil rights strategy. And HRC calls him our strong supporter? Barack Obama is the only human being I can think of who has ever gone backwards on a civil rights issue. He used to be for marriage equality. Now he's not. Who does that with a straight face? Seriously. Who does that? Who can you name who used to support a civil rights issue and now doesn't? He clearly made a crass political calculation about our most intimate relationships, our most intimate right, and he's our strong supporter? Seriously?
When will we see real change inside the Beltway that will result in actual change instead of speeches and promises?
Related and recommended:

* Chris Geidner @ MetroWeekly: State of Play –

As established organizations face new perspectives and groups, LGBT advocacy is evolving – despite setbacks and challenges