Open Secrets Blog: LGBT donations to Dems down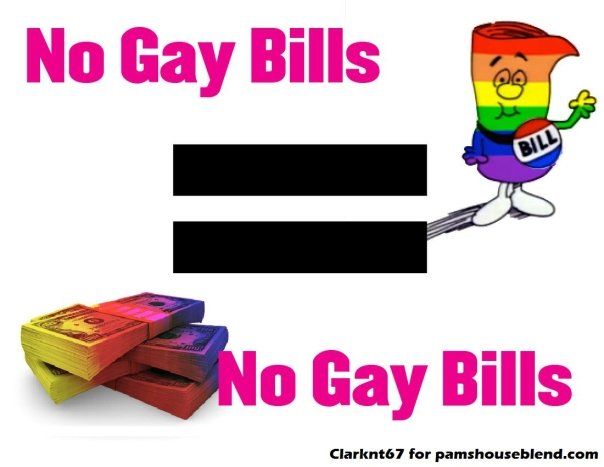 La dee da, la dee da. I wonder WHY. (Center For Responsive Politics' Open Secrets Blog):

GAY RIGHTS CAMPAIGN CONTRIBUTIONS DOWN IN CONTENTIOUS YEAR: Gay and lesbian advocacy groups have had a chaotic week. Gay rights advocates won big Wednesday with Florida overturning a ban on gay adoption for infringement of Constitutional rights. But on Tuesday, despite Lady Gaga's best efforts, a Republican filibuster blocked the Senate from repealing the "don't ask, don't tell" ban on gay military members serving openly.

Still, in an election cycle full of controversy over hot button issues such as adoption, "don't ask, don't tell" and California's Proposition 8 ban on gay marriage, donations to federal candidates from gay and lesbian interest groups are lagging. So far during the 2010 election cycle, people and political action committees associated with this special interest area have donated $744,040 to federal candidates, with 96 percent of funds going to Democrats. That's compared to more than $2 million contributed to federal candidates during the 2006 congressional elections and $1.8 million contributed during the 2008 presidential election cycle.

The Human Rights Campaign has donated a huge majority of the industry's funds going to federal candidates this cycle, contributing $625,272 to primarily Democratic candidates.
As you can see there is no reason given for the decline, but I'm sure you all might be able to come up with a few reasons why the gAyTM might be closed. I'm pretty sure donations to pro-equality candidates from LGBTs aren't flagging; I know I've not stopped donating to candidates I support. And I plan to show up at the polls.
Honestly it's the economy stupid — people out of work can't give. Perhaps instead of giving, some are volunteering for the candidates that they support. Those who have not been affected as harshly are still giving, but could be more discriminating about how their money is being spent. There are so many factors.
Yes, there are also people who are disillusioned an disgusted at the pitiful performance in the WH and on the Hill who have simply decided not to give at all.
And that as the WH considers the spectre of a bloodbath at the polls. A bloodbath they certainly didn't expect and certainly didn't plan for – despite warning signs that many constituencies were not happy with the political brushoff they were receiving. It's probably not just LGBTs keeping the purse strings shut.
***
Speaking brushoff, kudos to blogger Susie Madrak, who did a little accountability-holding herself on a conference call with White House Senior Adviser David Axelrod, who went on to be ridiculously patronizing. (Firedoglake):
Madrak asked, "I'm a blogger, and I don't know if you know this term, but are you familiar with the term hippie-punching?"

There was about a 15-second pause. "Go ahead," said Axelrod.

She continued. "Liberals and bloggers feel like we're the girl you take under the bleachers but won't be seen with in the light of day." She mentioned a series of incidents where the White House distances themselves from their base, and wondered how that helps Democrats regain enthusiasm from those same people. "We're not big numbers, but we raise money and we encourage people to vote and get involved. You have to help us help you," she concluded.

Axelrod tried to bring Madrak in on common goals. "Let me say this. I really believe this is the most consequential time in our lifetime… We are in a struggle, we are in a fight. We don't have to agree, but we all have to lock arms and move forward here."
Yep Axelrod goes right to the "just sacrifice for us, look at the big picture" which roughly translates into "Lie down here in the gutter — neatly please. I need to back over you slowly before Barry and Rahm hop in and I can gun it."