It's my first book! Sort of.
People keep telling me to write a book. Why? Because the MSM and much of the political establishment don't take you seriously, even if you've written multiple times the equivalent of a book on your blog. It's true. Ask any producer/editor for the skinny. There's still something "magical" about dead trees as the medium for the written word — and that's primarily because your work has traveled through the careful hands of an editor and given the stamp of publishing approval.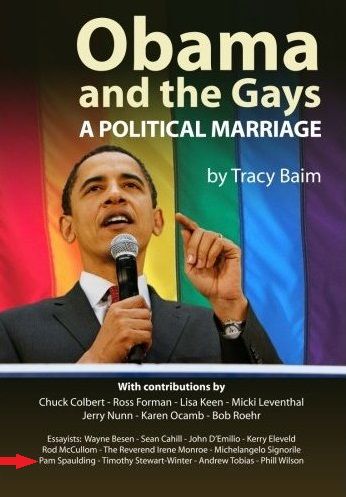 I don't have time to write a book, as regular Blend readers might guess, since I work a full-time job, and spend almost the equivalent of time on the blog. There's been no offer to pay me to take a sabbatical and write one; that's the only way it's going to happen.
But look — I've been published!
No, forget those big white letters that say "by Tracy Baim"…see that red arrow pointing to my name down at the bottom! YES!
OK. I was just having fun for about 30 secs…
Now on to the real deal about the book. Chicago-based journalist Tracy Baim has just dropped Obama and the Gays: A Political Marriage, available at Amazon (print and Kindle) and POD by Createspace.
Baim is publisher of the Windy City Times and she asked a good number of familiar names to contribute to the tome, including articles by Chuck Colbert, Lisa Keen, Karen Ocamb, Bob Roehr and others as well as essays by Wayne Besen, Sean Cahill, John D'Emilio, Kerry Eleveld, Rod McCullom, the Reverend Irene Monroe, Michelangelo Signorile, Timothy Stewart-Winter, Andrew Tobias, Phill Wilson, and your blogmistress. There are also dozens of interviews with Chicago and national gay movement leaders. Senior editors are Toni Armstrong Jr., Jorjet Harper and William B. Kelley. Kirk Williamson designed the book.
About the book:
DADT. ENDA. DOMA. These four-letter words are familiar to everyone involved in the struggle for gay civil rights. Like it or not, they form the core of the national "gay agenda." When Barack Obama ran for president, he promised repeal of the Don't Ask, Don't Tell military gay ban and passage of the Employment Non-Discrimination Act. He also said he would push for repeal of the federal Defense of Marriage Act, even though he was personally against same-sex marriage.

Obama and the Gays presents a clear, lively, in-depth review of Barack Obama's policies on gay issues, from the early days of his political career through his meteoric rise to prominence-all in the context of the political landscape of the times-and examines the role the gay community has played in Obama's victories. Obama and the Gays also documents the actions and reactions of influential gay organizations and gay community leaders to Obama's speeches, positions, and decisions that directly affect the lives of our LGBT citizens.

The website for the book is www.ObamaAndTheGays.com.
So now I can at least send my brother, a professor at UD who has been published many times, a copy of a book — something you can hold in your hand — that has my name on it. Until then my work's not real, right Tim?
He'll probably have to wait a long while before he sees "by Pam Spaulding" on the cover of a book, but this is the best I can do for now. 🙂