A Facebook ad to remember…from Sen. Harry Reid.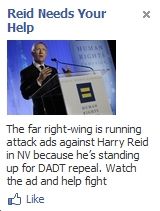 I am not sh*tting you — look at this Facebook ad that Harry Reid is running today. Sent in from a reader's screencap…
Reid Needs Your Help: "The far-right wing is running attack ads against Harry Reid in NV because he's standing up for DADT repeal. Watch the ad and help fight."
All he has been thinking about at this point is saving his *ss. It's politics, you know. Makes you feel like opening the gAyTM to help out. Any takers?
I'm sure he wants the LGBT vote after all that hard work and keen strategy, since Joe Biden said the WH tossed off a stop-loss in exchange for the votes, eh?
***
UPDATE: Looks like Harry has a "Joe Solmonese's promises at HRC Carolinas Dinner" moment of his own. Joe Sudbay pointed me back to a post on Sept. 2, 2009 (no video though):
Reid addressed almost all of the key LGBT issues in his speech. A full version of the remarks is after the break, but this excerpt is key:

The Senate will soon outlaw discrimination in the workplace by making it illegal to fire, refuse to hire or refuse to promote anyone simply based on his or her sexual orientation or gender identity. It's called the Employment Non-Discrimination Act, and I am committed to passing it out of the Senate and sending it to President Obama for his signature.

I also reiterate to you my pledge to work with Senator Gillibrand to end Don't Ask, Don't Tell. Permanently – once and for all.

A commitment for a vote on ENDA is key. The Senate hasn't addressed that issue since 1996. The pledge on DADT helps — and we're waiting for the Senate bill.
And how about this good old days knee-slapper from July 14, 2009:
"I would make it permanent," [Reid] added, suggesting that he would permanently suspend discharges.

Reid's comments gave a boost to an amendment that Sen. Kirsten Gillibrand is considering offering to the DOD legislation that would suspend investigations of soldiers suspected to be gay — thereby stopping discharges of soldiers under the "don't ask, don't tell" policy — until the end of the 111th Congress.