Monday: Veterans, Lady Gaga to Maine to press Sens. Snowe, Collins to break DADT filibuster
BREAKING VIA TWITTER: @ladygaga Meet me in Portland, Maine 2moro, 9/20 to help repeal #DADT. I'm holding a Rally + speaking live in Deering Oaks Park http://bit.ly/cO4cY9

— Lady Gaga to her 6.3 million followers today
And she is marshalling her forces with focus — on Maine, a state with two Republican senators — who may be convinced to vote with Dems to break any McCain filibuster on DADT repeal language in the Def Auth bill. (SLDN):
Servicemembers Legal Defense Network (SLDN), a national, legal services and policy organization dedicated to ending "Don't Ask, Don't Tell" (DADT), will be holding a grassroots rally with young people near the University of Southern Maine campus on Monday, September 20, 2010, at 4:00 p.m. ET, at Deering Oaks Park, Portland, ME, in a major Senate push to break the expected filibuster by Sen. John McCain of the National Defense Authorization Act, to which repeal is included. The key U.S. Senate vote is scheduled for 2:15 p.m. on Tuesday.

"The votes to break McCain's filibuster are not there. We need Sens. Snowe and Collins on board; they're key to us breaking the filibuster," said Aubrey Sarvis, Army veteran and executive director for Servicemembers Legal Defense Network. "With the vote less than 48 hours away, we need everyone supporting repeal to call the Senate. We're bringing gay and straight service members to Portland to help make the case. And we're proud to have the support of Lady Gaga to bring grassroots attention to repeal at a critical hour. Like Lady Gaga, all New England senators, indeed all 100 senators, Democrats and Republicans, need to engage in a real debate on this issue, and not just posture and spin this week over procedure and Senate rules."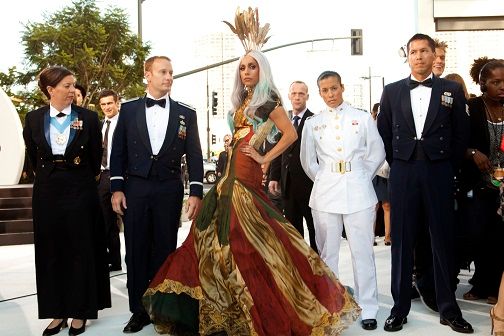 As we saw during the VMAs, Lady Gaga attended with service members affected by DADT (photo), and SLDN director of communications, Trevor Thomas, has acknowledged that the influence of Gaga on the lobbying process has made a substantial impact, and it's needed again to reach out to even more people in the next 48 hours. (via Kerry Eleveld):
"We know that Lady Gaga can move young people," Thomas said, noting that she has more followers on twitter than the president (@ladygaga edges out @BarackObama by nearly a million followers). He added that SLDN had been sending action alerts to its 80,000 subscribers asking them to call their senators for the past several weeks. Short of the Gaga intervention, he said his organization would simply be sending out the same action alert on Monday that it did on Friday.
The power of celebrity combined with the reach of social networking has changed the game for activism and spreading the word on short notice. It's a larger reach than a press release or mailing list when you've got a clock ticking down on a critical legislative matter like this. Lady Gaga deserves incredible kudos for harnessing the energy of young people out there to press allies — and potential allies — to act.
Note: 1,000,000+ watched Lady Gaga's call to action online; and 237,131 people visited SLDN's action Site as a result — 91.62% were first-time visitors.
For tomorrow's event, follow the Twitter hashtag: #4the14k – "For the 14,000": A Rally for the 14,000+ Discharged