NOM's desperation mounts as it tries to unseat pro-equality councilmember in DC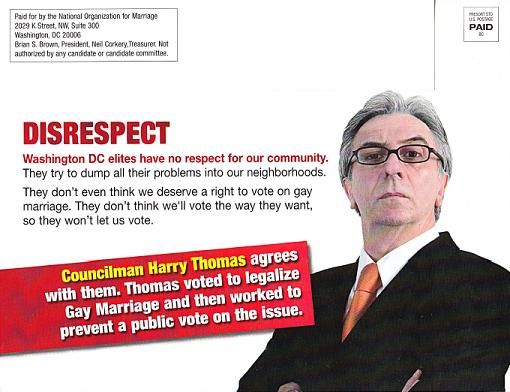 Brian and Maggie are really hard up these days after that flop-o-rama of a Summer of Marriage road show. So now they are thinking smaller and inevitably think they are going to be more effective by trying to unseat elected officials that are standing in their way of the master plan to take marriage away from "teh homosexuals" in DC. As expected, in a majority minority area, NOM plays the race card. Again. Peter Montgomery at Right Wing Watch:
As we've been reporting, the National Organization for Marriage has been pumping money into Washington D.C.'s Democratic Party primaries in order to make good on its threat to punish elected officials who supported the District's marriage equality law.

…NOM is pouring its resources into attacks on Ward 5 Councilmember Harry 'Tommy' Thomas. We recently noted the chutzpah it took for NOM, which has bragged about efforts to get "white suburban Christian Republicans" to fund anti-equality candidates in DC, to send voters a flyer complaining about a fictional flood of "outside" money from San Francisco and New York supposedly attacking Hunter.

NOM's latest flyer is even worse. It seems calculated for maximum divisiveness, featuring a rich, snooty, white guy looking down his nose at voters with claims that "DC Elites" are disrespecting voters in majority-Black Ward 5 by preventing a referendum on marriage equality. The flyer's theme fits with comments by Bishop Harry Jackson, who has worked tirelessly to inflame racial divisions over the issue.
I wonder if the man whose image is in this flier knows his visage is pimping bigotry?