GetEqual, LGBT advocates give Rep. George Miller, Nancy Pelosi agita over broken ENDA promises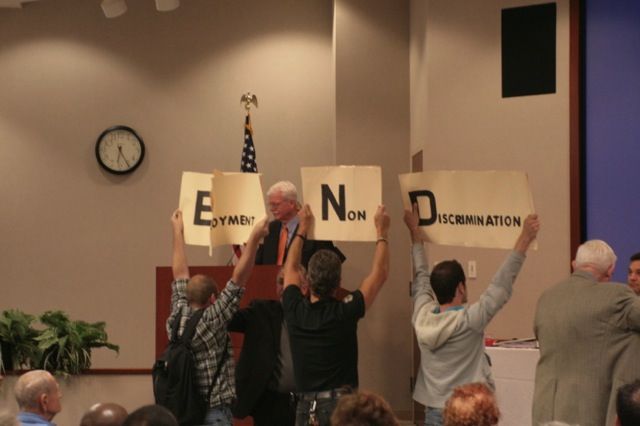 It's been a bit quiet on the direct action front and so I was wondering who/what GetEqual's next targets would be. This time it comes in twos.
George Miller Protest Last Night
Last night there was an action, organized in conjunction with One Struggle One Fight and AFL-CIO's Pride at Work (its LGBT group), where members staged a protest during the debate between Rep. George Miller (D-CA), chairman of the U.S. House Education and Labor committee, and his Republican opponent.
The debate at the Travis Credit Union Auditorium in Vacaville, CA was interrupted in an act of non-violent, civil disobedience demanding that Chairman Miller make good on his promise to pass the Employment Non-Discrimination Act (ENDA) before Congress recesses for the November, mid-term elections.
On March 18th, 2010, after GetEQUAL protested for the passage of ENDA in House Speaker Nancy Pelosi's (D-CA) office, Chairman Miller was asked by the Washington Blade, the Washington, DC-based, LGBT newspaper, when he would move the legislation through his committee. Chairman Miller replied to the question saying, "Right after healthcare". The ENDA legislation has still seen no movement in the U.S. House and healthcare reform passed Congress on March 22nd – nearly six months ago. (GetEqual press release):
"The ability to obtain or maintain employment should have nothing to do with someone's sexual orientation, gender identity or gender expression. They have nothing to do with one's ability to complete any job's objectives and under the law, that should be all employers are allowed to base hiring and firing of an employee on," said Robert Moore, spokesman for One Struggle One Fight.

The protestors reminded Chairman Miller that his campaign slogan, "Keep moving America forward.protect workers" also includes LGBT workers. During the 7-8 pm(PST) debate, the protestors silently walked to the front of the auditorium holding a sign that read: "Miller Markup Employment Non Discrimination Act Now"

"Chairman Miller stands for moving America forward and protecting workers. As co-sponsor of the Employment Non Discrimination Act and Chairman of the House Education and Labor Committee, he has the power to get the bill marked-up and send it to the House floor," said Dan Fotou, a California member of GetEQUAL and one of those participating in the protest. "He promised the LGBT community he'd pass ENDA out of his committee, "right after healthcare". Well, healthcare passed nearly six months ago and we're still waiting. It's time that ALL Americans were protected from the ugly reality of discrimination. Chairman Miller, your conscience and integrity are needed on this issue. Move the bill to markup and bring us one step closer to being fully-recognized, fully-protected American citizens.

In mid-July of this year, GetEQUAL released a timeline showing years of broken promises and excuses from elected officials that have led to the stalling of any federal protections being in place for LGBT workers. The timeline is available atwww.getequal.org/endatimeline. To read the entire email titled, "Fight Back Against the Broken Promises", go to: http://getequal.org/?p=449.
Today: House Speaker Nancy Pelosi targeted with shut-down of Market and Castro Street in her home district of San Francisco
GetEQUAL, One Struggle One Fight and Pride at Work Rally, To Close Down Market and Castro St. Targeting House Speaker Nancy Pelosi (D-CA): "Pelosi: When Jobs are Lost, the Market Stops"
Today, GetEQUAL, a national, direct action lesbian, gay, bisexual and transgender (LGBT) civil rights organization; One Struggle One Fight, an LGBT and allied civil disobedience organization; and Pride at Work, an officially-recognized, LGBT constituency group of the AFL-CIO, first rallied at Harvey Milk Plaza and then proceeded to shut-down Market and Castro Street in House Speaker Nancy Pelosi's home district of San Francisco. The act of non-violent, civil disobedience was the second protest this week targeting House Democratic Leaders to make good on their promise to pass the Employment Non-Discrimination Act (ENDA) that would protect LGBT workers from discriminatory employment practices. Lesbian, gay, and bisexual employees can be fired from their jobs in 29 states, and transgender or gender-nonconforming employees can be fired in 38 states.

At 5:00 pm (PST) a group of LGBT and allied advocates gathered in the historic Harvey Milk Plaza to remind Speaker Pelosi that they are making good on her July 24, 2010, speech at Netroots Nation, telling progressive activists that she wanted to pass ENDA but asked them to "build the mass to make me do it." At 5:30 pm (PST), after the rally, advocates marched from Harvey Milk Plaza to the corner of Market and Castro Street – in the heart of Speaker Pelosi's San Francisco Congressional District – where they unfurled a banner across the street, blocking traffic, that read, "Pelosi: When Jobs are Lost, the Market Stops."

"Why is the Speaker of the House, who hails from the gayest city in America, blocking legislation that protects lesbian, gay, bisexual, and transgender workers from workplace discrimination? Every day we live without the passage of ENDA is another day Congress turns a blind eye to discrimination against the LGBT community," said Gabriel Haaland, spokesperson for Pride at Work and city-wide elected DCCC Committee Member. "Most LGBT workers have no protections from workplace discrimination. ENDA would provide legal protection against discrimination nationally. Speaker Pelosi has repeatedly promised to schedule a vote on ENDA, but has yet to fulfill those promises. The time to pass ENDA is now. The overwhelming majority of Americans support it; the politicians promised it. No more broken promises. We demand that Speaker Pelosi stop blocking ENDA and schedule a vote, now."

"We pay taxes, contribute to the economy, and create American-paid jobs that provide products and services world-wide. Yet we continue to be treated unequal and Speaker Pelosi has the power to bring us one step closer to being fully-protected American citizens – and workers," said Dan Fotou, a California GetEQUAL supporter and participant in today's rally. "As Speaker Pelosi and other members of Congress are out campaigning to keep their jobs, they should know we have every intent of continuing our campaign to keep our jobs, too. Speaker Pelosi has said that 'our impatience is justified' – but what isn't justified is the unfulfilled promises she continues to make to the LGBT community. It's time for Speaker Pelosi to do the right thing and schedule an immediate vote on ENDA."

"GetEQUAL has promised that, as long as people's lives and livelihoods are at stake, we will not stop standing up for those LGBT workers in dozens of states across this country without a voice, without any job security," said Heather Cronk, managing director of GetEQUAL. "With the launch of our 'ENDA Summer' campaign, we told politicians that while they are back home campaigning to save their jobs, we intend on reminding them that their employment isn't the only one on the line. Millions of LGBT workers punch a clock every single day unsure if today's timecard could turn into tomorrow's discriminatory pink slip. The time to pass ENDA is now."