crossposted on Holy Bullies and Headless Monsters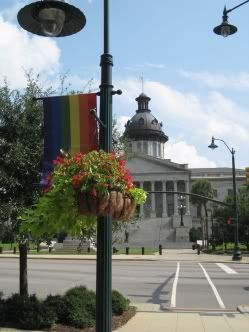 The upcoming SC Pride festival is what everyone is talking about in Columbia and a key move by the organization coordinating the festival is a good reason why:
Displaying a multitude of colors, the rainbow flag is now hanging from lamp posts on Main and Gervais Streets. The brightly colored banner is a sign of diversity and acceptance for gay, lesbian, bisexual and transgender citizens.

"It definitely will promote the event, but I also hope it makes people realize that there is a strong LGBT community that exists in Columbia," said Vice President of Center Operations Santi Thompson with the SC Pride Movement.

Thompson adds that for the first time in the organization's 21 year history, the rainbow flags will fly in downtown Columbia in celebration of this weekend's SC Pride Parade and Festival.

The flags not only had to be approved by the City of Columbia, but the organization also had to get clearance from businesses along the two streets.

"I think the flags being flown on Main Street and Gervais Street make people excited and will help them realize it's not as backwards as we think," said Thompson.
For many lgbt South Carolinians who have to live with the stereotype of our state being backwards, these flags and the increased visibility they bring are a like bursts of fresh air. It also reveals the steady pace the SC lgbt leadership has been working to make things better for our community.
The banners also caught local anti-gay leaders by surprise. Oran Smith of the Palmetto Family Council was asked about the banners and all he could muster is the following:
"I think the mistake the city has made is being knee deep in agenda for a specific organization promoting a specific kind of lifestyle,"
If you ask me, he is probably upset. Up until yesterday, he probably thought he had the easiest job in the state.
For more information on the SC Pride week, especially Saturday's festival featuring 80s diva Taylor Dayne, go here. Full disclosure time – I will be one of Saturday's speakers and will also be receiving the Order of the Pink Palmetto.