Update: Navy Chief accused of gay-baiting hazing likely to retire at full pay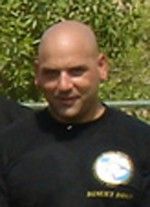 Last September we brought you the stellar reporting by Youth Radio about heinous cases of sexual harassment suffered by members of the U.S. Navy's Bahrain Military Working Dogs Division. Freedom of Information Act (FOIA) documents were released detailing the horrendous behavior of one Chief Michael Toussaint.
It was inside that Bahrain kennel in July 2005 that Petty Officer Joseph Christopher Rocha, then 19 years old, says he was being terrorized by other members of his own division. "I was hog-tied to a chair, rolled around the base, left in a dog kennel that had feces spread in it."

Rocha says that beginning six weeks into his deployment, he was singled out for abuse by his chief master-at-arms, Michael Toussaint, and others on the base, once Rocha made it clear he was not interested in prostitutes. "I was in a very small testosterone-driven unit of men," Rocha says. "I think that's what began the questioning-you know-'Why don't you want to have sex with her? Are you a faggot?'"

"Petty Officer Rocha and another junior sailor…were instructed to go into a classroom by Chief Michael Toussaint, who orchestrated the entire training. And Chief Toussaint asked them to simulate homosexual sex on a couch," Hogan says.
In an update by Youth Radio , it appears that Toussaint has been allowed to get away with this behavior with a full pension and a censure.
Since it was announced last October, the terms of Michael Toussaint's retirement have come under scrutiny that is unprecedented for an enlisted sailor. The senior chief petty officer, who from 2005 to 2006 led a Bahrain-based canine unit that was plagued by widespread documented abuse, denied much of his alleged misconduct in February during a retirement board hearing, a proceeding normally reserved for commissioned officers.

The case will soon go to the desk of an assistant secretary of the Navy, who faces a choice: to approve the unanimous recommendation of the three board members who said Toussaint deserves to retire with a senior chief's pension; or to take a harder line and reduce him to a lower pay grade, as government lawyers had sought to do during the hearing.

Deciding against the retirement board's recommendation would be rare.

"I've never yet seen one (a board recommendation) that was overturned by a higher authority," said Eugene Fidell, a professor at Yale University and President of the National Institute of Military Justice.
And in what is another case of Lucy yanking the football away from Charlie Brown, those who sought harsher treatment are left flat on the ground with zero hope of seeing justice for those harassed, or even to see the assailant receive more than a wrist slap.
But advocates for the sailors who were abused under Toussaint's leadership said Navy officials had led them to expect a harsher judgment from the board hearing, which according to Navy guidelines determines the highest rank at which a sailor or officer has served honorably.

"I was surprised," said Aaron Tax, legal director of the Servicemembers Legal Defense Network, "because we thought that the Navy believed this was someone who engaged in outrageous behavior." Tax said despite the board's recommendation, the Navy should lower Toussaint's pension to that of a first class petty officer, the rank he held before becoming chief of the Bahrain unit.
I guess anything goes with the big boys upstairs. Read more by Youth Radio here.