VA: nasty gay-baiting push-poll used against pro-equality U.S. House candidate Krystal Ball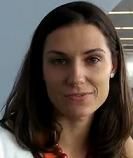 Pro-equality ally and Virginia U.S. Congressional candidate Krystal Ball attended her second Netroots Nation this year, and she's doing extremely well in the race to represent the 1st district in Virginia.
Her opponent, anti-gay Republican incumbent Rob Wittman, is a real bible beater.

As a member of the Values Action Team, I will continue to support pro-life, pro-family legislation. I will work in defense of parental rights, religious liberty, and the definition of marriage as a union between one man and one woman. Furthermore, I support efforts to curb internet pornography and obscenity.

Now one would assume, even with those fundie credentials, Wittman would not want his supporters or his party, given the state of the economy and how it affects his constituents, focusing on gay-baiting Krystal Ball.
Well how wrong is this – the Blend has learned that a push-poll in support of Wittman, dialed up voters in the district with lines of questioning that harken back to the 1990s-2004 gay-baiting bullshite of the highest order.
First of all, the lead-in statement is for the caller to tell the resident the questions are about "Krystal Ball's obsession" regarding support for "special rights" for the LGBT community. And then the caller is asked this (I sh*t you not):
"Krystal Ball has a strange infatuation with gays and lesbians. It makes one wonder what is in her past."
The caller is then asked if this concerns them in voting for Krystal.
WTF? There are so many things wrong with this garbage I don't know where to begin.
* How is it an infatuation to say you believe that all people are entitled to full equality under the law?
* Excuse, me, but the "what is in Krystal's past" statement is beyond belief — besides, what if she had a girlfriend in the past? What if she's bi, WHO THE FLIP cares? Will that information tell you anything about any candidate's position on job growth, the environment, the BP oil disaster. Is it any of your business? Why, push-poller, are you obsessing about this particular subject?
People might want to ask Rob Wittman, and the Virginia Republican Party if they support push-polling of this nature.
***
On The Road With Rob
Krystal's got a great video up addressing Wittman's absenteeism in his state. This is hysterical. I know that feeling – when we had Elizabeth Dole as our senator, she was always MIA.
After numerous complaints that your Congressman refuses to answer your emails, answer your calls or show up to explain his votes, we decided to bring Rob on the road so people across the 1st District of Virginia would finally have a chance to have their representative listen to their concerns. Buckle up and enjoy the ride!