The Peter's pecking order of hate pimps at his Truth Academy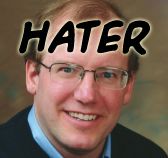 The hat tip (and link) goes to Right Wing Watch for publishing The Peter's roster of hate agenda pimps at his upcoming Truth Academy. This a three-day cornucopia of misinformation, lies, homoeroticism and bonding of the fringe as they attempt to "educate" hatemongers of the future.
You probably recognize many if not all of these names – it goes without saying that Peter's BFF Matt "Bam Bam" Barber is a featured instructor. The level of batsh*t crazy at this conference threatens to make the earth open up and swallow these people.
Truth Academy Instructors:

Matt Barber, Liberty Counsel ; Board Member, AFTAH
Cliff Kincaid, America's Survival; Accuracy in Media
Prof. Robert Gagnon, Pittsburgh Theological Seminary, author, The Bible and Homosexual Practice
Arthur Goldberg, Jews Offering New Alternatives to Homosexuality (JONAH), author, Light in the Closet: Torah, Homosexuality, and the Power to Change
Laurie Higgins, Illinois Family Institute
Robert Knight, Coral Ridge Ministries; author, Radical Rulers: The White House Elites Who Are Pushing America Towards Socialism, keynote presenter
Peter LaBarbera, Americans For Truth About Homosexuality
Prof. Rena Lindevaldsen, Liberty University School of Law
Greg Quinlan, Parents and Friends of Ex-Gays and Gays (PFOX); Pro-Family Network
Ryan Sorba, Young Conservatives of California

THURSDAY

Welcoming Remarks, Peter LaBarbera, President, Americans For Truth About Homosexuality: "From gay pride to gay tyranny"

10:10 – 11:10 – Prof. Rena Lindevaldsen, Liberty University School of Law: "History of modern 'gay' activism and the courts"

11:20-12:20 – Matt Barber, Liberty Counsel; Board Member, AFTAH: "Masculine Christianity: a non-defensive approach to the Culture War over homosexuality"

1:20-2:20 – Ryan Sorba, Young Conservatives of California: "The 'born gay hoax"

2:30 – 3:30 – Laurie Higgins, Illinois Family Institute: "Using reason and logic in answering pro-homosexuality arguments"

3:40-4:40 – Arthur Goldberg, JONAH (Jews Offering Healthy Alternatives to Homosexuality), author, Light in the Closet: Torah, Homosexuality, and the Power to Change: "Can gays change? Is gay parenting good for kids? Presenting the research on homosexuality"

4:50-6:00 – PANEL DISCUSSION and Q & A:

Theme: "Can the effort to 'mainstream' homosexuality in American culture be stopped?"

Panelists: Rena Lindevaldsen, Matt Barber, Laurie Higgins, Ryan Sorba, Arthur Goldberg, and Greg Quinlan, Cliff Kincaid; Moderator: Peter LaBarbera

7:45 – 9:15 – Greg Quinlan, Parents and Friends of Ex-Gays and Gays (PFOX); Pro-Family Network: "An Ex-Gay Christian Discusses Love, Truth and Homosexuality"

FRIDAY

9:00 – 10:00 – Prof. Robert Gagnon, Pittsburgh Theological Seminary: "From abomination to 'gay': answering 'queer theology' – Old Testament"

10:10 – 11:10 – Prof. Rena Lindevaldsen, Liberty University School of Law: "The zero-sum game: homosexuality-based 'rights' vs. religious and First Amendment freedoms"

11:20-12:20 – Laurie Higgins, Illinois Family Institute: "Corrupting children, politicizing schools: the homosexual youth agenda"

1:20-2:20 – Arthur Goldberg, JONAH (Jews Offering New Alternatives to Homosexuality: "The gender confusion agenda: 'transgender rights'"

2:30 – 3:30 – Cliff Kincaid, America's Survival, Accuracy in Media: "The battle over blood: 'gay' health risks and public policy"

3:40-4:40 – Prof. Rena Lindevaldsen, Liberty U. School of Law: "The legal strategy to stop homosexual 'marriage': triumphs and pitfalls"

5:00-6:00 – PANEL DISCUSSION and Q & A:

Theme: "Returning the debate to behavior – getting off the 'GLBT' playing field"

Panelists: Rena Lindevaldsen, Matt Barber, Laurie Higgins, Ryan Sorba, Arthur Goldberg, Cliff Kincaid, Robert Knight, Robert Gagnon, Gregg Quinlan; Moderator: Peter LaBarbera

7:45 – 9:15 – Robert Knight, Coral Ridge Ministries; author, Radical Rulers: The White House Elites Who Are Pushing America Towards Socialism: "From destroying DOMA to homosexualizing the military: Obama's radical homosexual/transsexual agenda for America"

SATURDAY

9:00 – 10:00 – Prof. Robert Gagnon, Pittsburgh Theological Seminary: "'Jesus Never Said Anything about Homosexuality'"; Answering 'Queer Theology' – New Testament"

10:10 – 11:10 – Robert Knight, Coral Ridge Ministries: "Destructive legacy: Alfred Kinsey and the (Homo)Sexual Revolution"

11:20-12:20 – Greg Quinlan, PFOX, Pro-Family Network: "The big, pink plan for a lavender culture"/"How to lobby effectively"

1:20-2:20 – Cliff Kincaid, America's Survival; Accuracy in Media: "Combating pro-homosexual media bias, confronting pro-gay 'conservatives'"

2:30-3:40 – Prof. Robert Gagnon, Pittsburgh Theological Seminary: "Agreeing with God: a truly biblical approach toward 'out and proud' homosexuality"

3:50-4:50 – Ryan Sorba, Young Conservatives of California: "Confronting the zeitgeist: new strategies to turn around younger Americans on 'gay rights'"

5:00-6:00 – Matt Barber, Liberty Counsel, AFTAH Board Member: "Don't Ask, Don't Bleed: stopping Obama's campaign to homosexualize the U.S. military"

6:00-6:20 – Closing remarks, Peter LaBarbera, Americans For Truth