Congresswoman Jackie Speier: ENDA Within 5-Years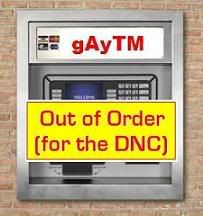 Voting a record number of Democrats in the House and Senate in 2006 and 2008, and voting in a Democratic President who described himself to us as a "fierce advocate" for lesbian, gay, bisexual, and transgender (LGBT) community has brought us to this reality; contributing all those gAyTM campaign dollars has bought us this reality: Democrats now appear not to be promising anything on the Employment Non-Discrimination Act (ENDA) this congress, and that passage of ENDA may take as many as five years to accomplish.
Via Cynthia Laird in the Bay Area Reporter's Speier: 5 years for ENDA:
Congresswoman Jackie Speier put a damper on hopes for swift House passage of the Employment Non-Discrimination Act, telling the Bay Area Reporter over the weekend that she doesn't see the LGBT workplace protections becoming law anytime soon.

Addressing the crowd of gay and straight political and community leaders at Sunday's Alice B. Toklas LGBT Democratic Club Pride breakfast, Speier said, "Speaker [Nancy] Pelosi is doing all she can to ensure a majority for next year so we can pass ENDA."

Asked later in a brief interview if that meant the House would not vote on ENDA this year, Speier told the B.A.R., "The rest of the year is in question."

"There's no question 'Don't Ask, Don't Tell' will be history this year," she said. "ENDA, we will have that law for sure within the next five years."
She said she was acknowledging reality; she said "I'm being realistic."
Lesbian, gay, bisexual, and transgender voters keep voting for Democratic politicians in large numbers, these politicians have received a lot of political donations from the gAyTM. I've got a dumb question here: Why do we, as the lesbian, gay, bisexual, and transgender (LGBT) community, keep doing the same thing over and over again and hope for different results?
It will be interesting to see how our national LGBT civil rights organizations spin this bit of "reality" from Congresswoman Speier. My guess is that they'll probably ask us for more money, just like the politicians will — our LGBT civil rights organizations will likely just say though that they need the money for lobbying. Again, expecting we in the LGBT community to do the same thing over and over again while hoping we won't notice that we're not getting any different results.