Exiled to Atlanta until I finish school, I must say how proud I am of my home state today, not just for nominating Elaine Marshall to take on Richard Burr. Not just for going blue in 2008, but for something else, something that defines our very humanity. Just a short while ago, Governor Beverly Perdue signed Susie's Law, followed by a stamp from Susie herself. This isn't the first time that Susie has met state elected leaders – during the debate over Susie's Law, she traveled to Raleigh to lobby on behalf of the bill's passage, showing members of the General Assembly the places on her head that were once ears and the scars on her body that were once wounds.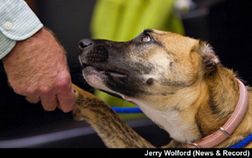 Susie isn't a person. She's a pit bull mix who bears the scars of torture. In August, 2009, Susie, just a puppy, was found by passers-by in a Greensboro park, badly beatened with her jaw and teeth broken, and with second and third degree burns on over 60% of her body. Maggots infested her wounds; maggots that had been there for two weeks.
What on earth would cause a human to do this to Susie? Apparently, her attacker went crazy after she licked the face of his newborn baby. He beat her, then sprayed her with lighter fluid before setting her on fire. His mother turned him in; he accepted a guilty plea and was sentenced under the state's burning of property law. He will be in prison for 6-8 months. Yep, months. He would have gotten the same punishment for setting a couch on fire and more for setting a mailbox on fire.
Susie's Law changes all of that. Starting December 1, in North Carolina, the malicious abuse of animals will be deemed a Class H felony, punishable by up to ten years in prison, even for first-time offenders.
Three days before Barack Obama was elected President, I found a tortured animal lying in the parking lot of my apartment complex. I posted about it then and Julien placed it on the front page. My cat, who is now known as the Duke of Windsor (he's royal, okay), lies on an old blanket, snoring as I write this. A few days beforehand, someone used pliers to rip out his front claws. Infection set in and I think he cashed in a few of his nine lives, but he made it. And he's doing quite well. He's made my life a little more fun and I love his resilient spirit. He's no stranger to anyone who comes through my door, smelling them thoroughly before he plops himself in their laps. In the first post, blenders from everywhere gave me all kinds of tips as the Duke stayed at the animal hospital, recovering from the infection and the seizures that followed.
I've been around animals my entire life. My mother was president of the local Humane Society when I was growing up. When I was about six, my mom took me to a neighborhood near our house to talk to people about the mysterious deaths of several neighborhood animals. A few weeks later, the culprit was discovered – one of the residents of the community was leaving out dishes of anti-freeze, killing the animals because they walked across her yard. A few years later, my mom began her own horse training business. I've seen horse after horse go through her barn bearing wounds to their spirits that are similar to Susie's. And yet they bounce back, willing to love and forgive. If only humans could be so smart.
Yet to our society, animal abuse remains "no big deal." Look no further than Michael Vick.
Well, it is a big deal. No living creature deserves torture. Let's hope that Susie's Law is the first of many across our land. Even though evolution has blessed us humans at the top of the ladder, we must always maintain our compassion. And as we give BP the hell that they deserve, let us also not forget our friends of the sea, the air, and the earth. While their wounds will tell their stories, it is up to us to be their advocates. In all of the uproar, let us not leave them behind.