crossposted on Holy Bullies and Headless Monsters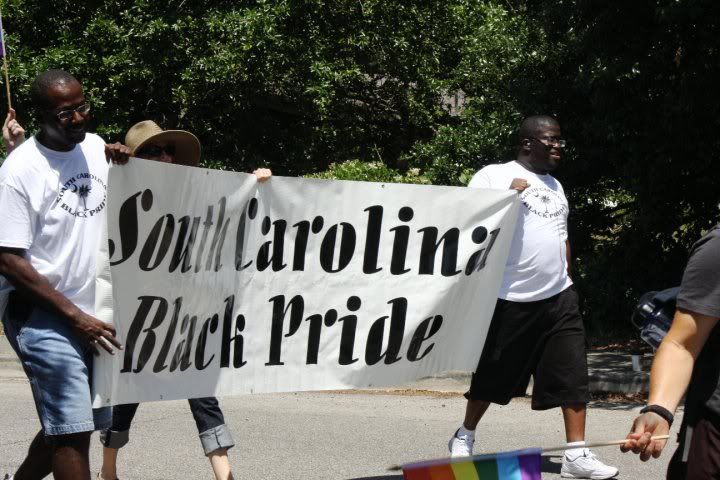 South Carolina's gay, lesbian, bisexual, and transgender of color community will be out and proud when SC Black Pride celebrate its fifth anniversary on June 24-27.
According to Sheila R. Hudson SC Black Pride Assistant Pride Director & Program Coordinator, the theme, "Nothing But Love" is very appropriate.
'The broad motivation for this year's South Carolina Black Pride is summed up by our theme, "Nothing But Love," she said. "Despite those who claim Black LGBT citizens are 'not natural,' we stand up for and are driven by 'nothing but love' in all that we do. We deserve 'nothing but love' for being who we are and for the enormous contributions we make to South Carolina and American society."
"Today is a life that we as a people have awakened to a new century, new ideas, new hope and new beginnings," said Niece Brooks, SC Black Pride Vice President & Pride Director.
This year brings new faces to the SC Black Pride Board as well as new ideas to unite the community, including fundraisers, a film festival, and a family fun day.
The Family Fun Day, to be held on June 12th at Woodland Park, is a new idea that addresses the needs of an under served segment of South Carolina's lgbt of color community – same gender loving households with children.
According to a report co-created by the National Black Justice Coalition and the Gay and Lesbian Task Force:
• many African-American same-sex couples are raising children, including biological and nonbiological children,
• black female same-sex households are as likely as black married opposite-sex households to live with a least one child of an adult parent, and
• Sumter, SC is one of the top 10 cities in the country for black same-sex households raising children.
Organizers feel that the Family Fun Day is crucial to show support to these families.
Pride Week in June will culminate with a Community Expo at the Columbia Metropolitan Convention Center and this will be a kind of a return to home for SC Black Pride because the organization held its first expo at the convention center. There will be food and entertainment, including a special observance of the late author E. Lynn Harris. Harris, who passed away last year, was the best selling author of many book dealing with the lives of the lgbt community of color, including Invisible Life, Just As I Am, and This Too Will Pass.
"Our purpose is to celebrate the often subjugated creativity, beauty, dignity, and brilliance of South Carolina's Black LGBT community," says Dr. Todd Shaw, Chair, of the SC Black Pride Committee. "The double whammies of racism and homophobia attack we same-gender loving sisters and brothers. And now's the time the Black community understand how much we contribute to the larger freedom struggle and the larger society understand how much we contribute as loving mothers, fathers, teachers, preachers, and young leaders."
For more information, go to www.southcarolinablackpride.com