(UPDATE: Wow. ABC News is on this story now as well.)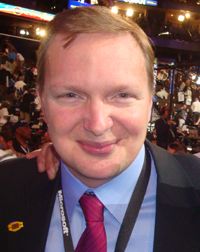 I'm sure some of you will ask, who is Jim Messina? He's White House Deputy Chief of Staff to the President, and was dubbed "The Fixer" in a WaPo feature last year. He reports directly to chief of staff Rahm Emanuel, and as far as the LGBT community goes, he is the point of contact for HRC and other groups re: the administration's policy decisions and strategy.
Joe Sudbay linked up to my earlier post, "The Department of Justice defends DADT, WH stonewalling on repeal plan continues," where I discussed Joe Solmonese's confident promise to donors at the HRC Carolinas dinner last month (see the counter in the upper right column of the blog), and noted that with little time left to make it happen — and the most likely tool would be to include it in the defense authorization measure — our lobbying liaison needs to use all its massive resources and access light a fire under this President.
Solmonese and his lobbying staff better get some lobbying done pronto if we're going to get repeal, as he promised. And, I'm not a lobbyist, but I think by most definitions lobbying doesn't mean just accepting what the powers that be tell you. It means pushing, demanding more and fighting back. For example, in the case of DADT, it would mean telling Jim Messina that the LGBT community expects the White House to follow through on the President's promise to end DADT "this year" — and anything short of that will inevitably cause problems at the polls. Getting invited to the White House conveys access. Kowtowing to the White House conveys weakness.

Pam also provides some context about the legislative process and poses some questions:

The defense authorization act — the easiest way for this administration to bury DADT this year is to include a repeal measure here, rather than send it out as a standalone bill. A no-brainer. And that's the question that needs to be asked and answered.

Bottom line – has this administration, with its continual playing of jackass footsie about paths and roads and other nonsense, already made its decision about inclusion in the defense authorization for this year — as in NO?

It's time to clear the air — yes or no? Has the decision been made and when and who decided it? Is it a done deal? A lot rides on this question – certainly more than what many of you are probably aware of.

See, most lobbyists wouldn't take NO for an answer without a fight.
Accepting a NO on inclusion in the defense authorization is a sign of utter failure to represent the LGBT community's seriousness about the issue, and that there will be consequences — at the polls, and with filling the coffers if it doesn't happen. In June of last year, Messina said this about LGBT issues:

"The president remains fully committed to advancing LGBT rights. His positions on all of these issues are well-established and well-known. His staff continues to work with Congress on a variety of LGBT issues."While we recognize that some in the community are anxious, the president's commitment has not wavered."

…He was walking through the men's room at the Beverly Hilton when Mike Bonin, an activist and former Obama campaign staffer who loves the president "the way Walt Whitman loved Abe Lincoln," confronted him.

"I told him I was disappointed that [Obama] talked about justice and equal opportunity and across the street stands Dan Choi, who's about to be booted out of the Army," he recalled of the faucet-side chat.

Messina, Bonin said, responded that the White House hadn't forgotten, and complained that the administration hasn't gotten enough credit for pushing for a ban on hate crimes against gays and lesbians, but was ultimately "noncommittal."
Non-committal. Sounds like the rest of the crew there; I'd be surprised, based on the attitudes and public statements coming out of the WH, that HRC, in order to prove its gravitas and leadership on this issue, will have to do more than send out a press release or hold a rally — it's about asking Messina himself about defense authorization inclusion. Has the Chief of Staff "fixed" the DADT issue for us or for his boss — and thus is already a done deal FAIL?
***
In related news, last night Rachel Maddow covered the incredible garbage of a defense of DADT by the Obama Justice Department, that uses Colin Powell's old quotes in support of the discriminatory policy when Powell has now reversed himself.
Visit msnbc.com for breaking news, world news, and news about the economy