Would he prefer that his org just be called "a fringe outlet of bigotry"?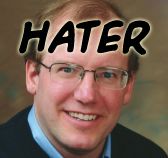 First, a bulletin from Porno Pete about a double dose of wingnuttery – he's got himself a radio show, and he plans to pollute the AM airwaves with guest mASSresistance's Brian Camenker:
Listen to the "Americans For Truth Hour" this on WYLL AM-1160 this Saturday at 11:00 PM Central! Listen this Sat., March 27th, at 11:00 PM Central on WYLL 1160-AM as AFTAH President Peter LaBarbera interviews pro-family hero Brian Camenker of MassResistance. (Note that the Michael Glatze interview has been moved to a week from Saturday, April 3rd.) WYLL is a 50,000-watt station In the Chicagoland area that reaches into lower Wisconsin and northwest Indiana. Go to AM-1160 every Saturday night at 11:00 Central, or listen to it streaming online at www.wyll.com.
Now on to the real business. Peter is so angry at the Southern Poverty Law Center naming Americans For Truth Against Homosexuality a hate group that he's challenged its director, Mark Potok, to a debate "about its politicized definition of 'hate'? Will the SPLC begin monitoring homosexual activists' hate-driven assaults against people of faith?"
And I swear to god, if Peter doesn't stop lying about how he's the tolerant one his nose is going to grow and pierce his glowing computer screen as he types in the dark of his basement, amongst his massive collection of man-on-man porno rags research materials.
What the SPLC has done in smearing AFTAH – and that's exactly what you have done by erroneously classifying us as "haters" – is a grave disservice to truth and honest discourse. I urge you personally as SPLC's director to reflect on this misguided action and reverse it. I would also ask for a public apology.

Am I and Americans For Truth opposed to homosexual behavior and any activism seeking to advance homosexuality/bisexuality/transsexuality as normative and acceptable? Absolutely. Do I "hate" people? Not at all. In fact, I am constantly responding to (often vicious) emails from pro-gay activists who write in to AFTAH via our website with my message that we can disagree with hating each other. That is the essence of civility and true tolerance, IMO [in my opinion] – i.e., tolerating opinions with which we disagree while continuing to aggressively debate our viewpoints.
Yeah, tolerating opinions in a loving Christian way — as in trying to get me fired from my job a few years ago? Nice try, Petey, no one believes that flaming pile o' c-r-a-p piety. BTW, he takes yet another opportunity to pay his respects to Joe and "his grotesque smears" (again, lol – what a pathetic soul):
What about the hateful rhetorical attacks against me and AFTAH and nasty shibboleths that come routinely from the Left? "Porno Pete"? Honestly, this is the type of malicious, hateful slander I experience on a daily basis (it is analogous in its ugliness to Phelps' use of the term "Fag"). It appears the SPLC has a glaring double standard that you are now defiantly telegraphing to the world: principled, religious conservatives qualify as "haters," while even the most vicious liberal activists get a free pass. On that point: has SPLC ever cited a homosexual activist group like ACT UP for "hateful" actions/assaults against religious groups? Have you investigated malicious websites like Joe Jervis' "Joe.My.God." blog – which revels in grotesque smears against AFTAH and other Christian conservatives?