Reader poll on best tactics to front-burner LGBT issues in Washington
The Victory Fund's Gay and Lesbian Leadership SmartBrief had a reader poll that presented in interesting results. It's by no means scientific, but it gives you some insight into the conventional wisdom that relying on "the professional gays" to get our issues onto the front burner in DC is by no means the best way to be effective.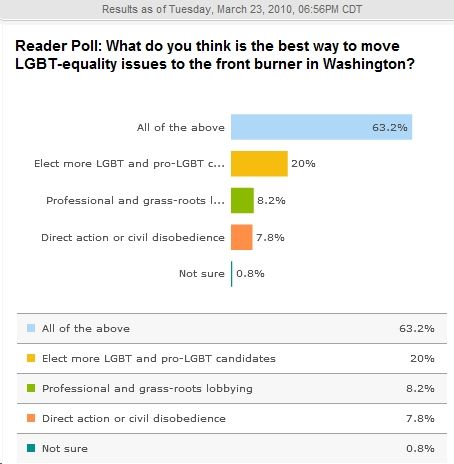 As you can see, putting more LGBTs into office is a great way to change the landscape, and more notably, direct action is effectively tied with letting the professional gays and grassroots activists do the heavy lifting. The element of surprise and action does have a positive impact and breaks movement inertia.
We have an arsenal of effective ways to effect change. Each of us can and must find and use the avenue that is most effective to help the equality effort — just do something.
We cannot rely on someone else to move Congress or the White House; the reality is that we have more freedom to act because we don't have relationships to maintain with the White House or elected officials on the Hill.
They work for us and it's time to treat them that way. If they don't listen, then it's time to ratchet up the pressure. We, as peons without access, don't have to worry whether we are going to be invited to the next tea or cocktail party at the White House. We're not on the invite list anyway so there aren't any social or political bridges to burn.
It's not about being liked, it's about obtaining our equal rights denied us by our government — progress blocked by purported allies who are paralyzed by political homophobia and CYA mentality.
Break the gridlock…
That's what Dan Choi, Jim Pietrangelo, and Robin McGehee did.
That's what the Pelosi ENDA 8 did.
That's what young Constance McMillen did in Mississippi when she wanted to attend her prom with a girlfriend, facing scorn from her bible-beating community and peers.
That's what coming out in a community that doesn't think it has gay neighbors does. It's more powerful than any gala or gladhanding to be out where you live.
Focus on visiting with your state and local elected officials — they are much more bound to feel beholden to you than your federal reps (who do care about visits at local offices when they are there), and you can develop relationships that can move the ball forward. That's what I did, and plan to do again this year, hopefully with more people of color ready to show lawmakers that we are serious about our rights and plan to hold them accountable.