Additional coverage of yesterday's Choi/Pietrangelo arraignment and GetEqual ENDA action
There are two reports over at Metro Weekly to surf to if you want to catch additional quotes and coverage about the direct action events by Dan Choi/Jim Pietrangelo at the White House and GetEqual's ENDA protest.
Speaking to Metro Weekly, Pietrangelo said he's been advocating for action against DADT for several years.

"I've been pushing for moving on from the talking phase to the action phase for a long time, and I personally feel that we're not going to get equality unless we do it with the protests, civil disobedience and marches. This was just one way for me to put that into practice."
Outside the DC Superior Courthouse yesterday, Choi said to the press:
"There was no freer moment than being in that prison," Choi told supporters outside the courthouse following the arraignment.



"It was freeing for me. I thought of all the other people that were still trapped, that were still handcuffed and fettered in their hearts," Choi said of those restrained under the DADT policy that demands gay servicemembers hide their sexual orientation, while standing next to Pietrangelo.
MW's Yusef Najafi asked me what I thought about Dan's statement (my full video of him here), I said:
"I think Dan Choi is an American hero, because it's one thing to think in the abstract what 'Don't Ask Don't Tell' has done to the military and to gay rights overall," Spaulding told Metro Weekly. "To have him chain himself to the White House fence, to risk his career, his freedom, because he could be in prison, is something that no one in the gay community who has so far protested this has done in such a dramatic way. We need that kind of activism. …

"There's nothing wrong with advocating for your rights by speaking to your reps on the hill, and there's nothing wrong with direct action. Civil disobedience is still a part of the civil-rights movement. And this is still a civil-rights movement."
On the ENDA action, GetEqual activists arrested at Speaker Nancy Pelosi's office on Capitol Hill on Thursday — Chastity Kirven, Jay Carmona, Michelle Wright and Samantha Ames, as well as Robin McGehee (also arrested during Thursday's White House action) were present yesterday at the courthouse in solidarity with Dan Choi and Jim Pietrangelo.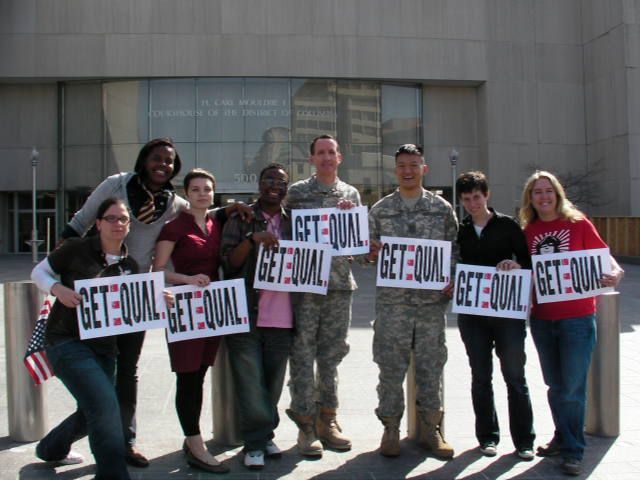 With high-profile arrests in front of the White House, a sit-in at House Speaker Nancy Pelosi's offices in Washington, D.C., and a coordinated sit-in at her San Francisco offices that both led to arrests and citations, Thursday, March 18, saw some of the most significant direct actions from LGBT activists in recent years.

…After an official with Pelosi's office informed the activists that the office would be closing at 7 p.m., four of the eight remained in the office. Capitol Police informed the activists that they would be arrested if they did not leave. About 7:30 p.m. a group of nearly 10 officers entered the office and restrained Ames, Janine Carmona, Chastity Kirven and Michelle Wright. The officers led them out of the office building and into a police van.

The four were released later in the evening and will face a hearing on their unlawful entry charges on April 6.
Interestingly, the demonstration at Pelosi's San Francisco office, led by Get Equal organizer Kip Williams, also faced jail, but according to David McElhatton, one of the protestors there, he Tweeted "After threatening us with a weekend in jail, we've been cited and released."