Breaking: Lt. Dan Choi chains himself to White House fence during DADT protest; arrested
UPDATE 2: Via JMG, HRC's statement regarding the Choi WH civil disobedience that was not attended by either Joe Solmonese or guest speaker at HRC's rally, Kathy Griffin.

"Today more than 1000 people showed up at a rally – 500 of which signed up to become more involved in the fight to repeal 'Don't Ask, Don't Tell.' Joe Solmonese along with Eric Alva and others felt it was important to stay and engage those at the rally in ways they can continue building the pressure needed for repeal. This does nothing to diminish the actions taken by Lt. Choi and others. This is the nature of social change and everyone has a role to play."
Earlier Robin McGehee of GetEqual (one of those arrested today) Tweeted that at the HRC rally with Griffin, Joe Solmonese was asked if Choi could speak at the rally and he rebuffed her, telling her it was Kathy Griffin's rally. Choi spoke anyway.
UPDATE (2PM): Just amazing. Several bloggers are on the ground at the DADT events today and the demonstrations have reached the White House. @JoeSudbay from the scene:

Lt. Choi and Capt. Pietrangelo have been put into the police van. The crowd applauded. These guys are HEROES.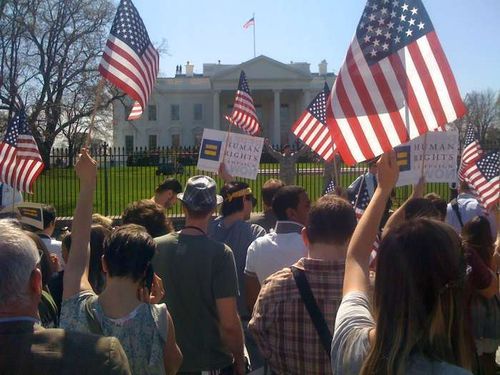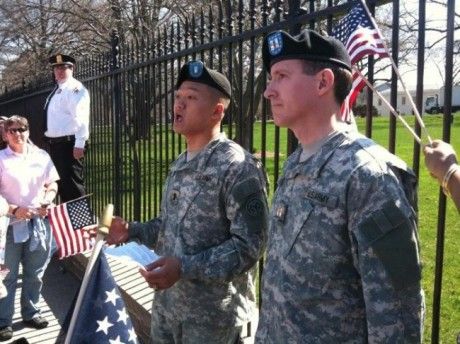 Dan Choi has chained himself to the WH fence, and yellow police tape is being put up around Dan — Secret Service agents are standing with him. Follow @DCAgenda, @getequal, @JoeSudbay on Twitter.
DC Agenda says it "seems to be a standoff" between Dan Choi and security. No effort is being made to arrest Choi.
Two secret service officers are now interacting with Choi and Pietrangelo. It's not clear exactly what's happening.
And some backstory that says it all about gay politics vs. activism in DC. (via Towleroad):
According to Tweets from Robin McGehee at GetEqual (see stream below) reporting from the Kathy Griffin – Human Rights Campaign "Don't Ask, Don't Tell" rally, McGehee, who is traveling with Lt. Dan Choi, asked Human Rights Campaign President Joe Solmonese if Choi could speak at the rally and he rebuffed her, telling her it was Kathy Griffin's rally.

Choi took the stage anyway, told Griffin DADT is not a joke, and announced that he was marching to the White House. Choi then began leading hundreds on a march to the White House. Reports are now coming in that Choi has chained himself to the White House fence.

"Until we have full equality," Choi reportedly says.
Kerry Eleveld at The Advocate confirms this:
Choi was speaking at the HRC rally at Freedom Plaza when he asked the group's executive director, Joe Solmonese, if he would march to the White House. Both Choi and Pietrangelo were discharged from the military under DADT. Choi is the founder of Knights Out, a West Point alumni organization supporting LGBT soldiers.

"You've been told that the White House has a plan," Choi told rally protesters. "But we learned this week that the president is still not fully committed. … Following this rally, I will be leading [the protest] to the White House to say 'enough talk.' … I am still standing, I am still fighting, I am still speaking out, and I am still gay."

Kathy Griffin, who was in Washington at the behest of HRC to meet with members of Congress about DADT repeal, was also at the rally. When asked by Choi if she would march with him to the White House, Griffin responded, "Of course!"

Neither Griffin nor Solmonese was seen at the White House protest, however.
Joe Sudbay of Americablog is there: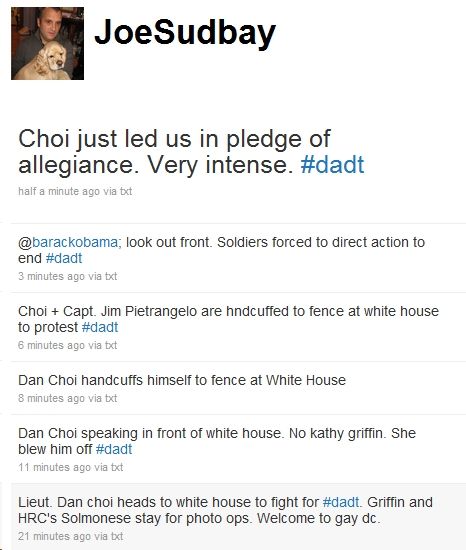 What Dan said prior to his civil disobedience action at the White House (From EQsquared press release – email: Brandon Hatler, (212) 691-2800 or hatler@sunshinesachs.com):
After participating in the Human Rights Campaign march on Freedom Plaza Thursday afternoon, former United States Army Lieutenant Dan Choi made a public statement and marched over to the White House to demand the Obama administration take a firm stance in repealing Don't Ask, Don't Tell.

Joined by former U.S. Captain Jim Pietrangelo, honorably discharged in 2004 under Don't Ask, Don't Tell, Lt. Choi made a public call to action in front of the White House. Their actions are a result of a general unrest among the LGBT community after Congressman Barney Frank confirmed this week that the White House has been "ambiguous" about repealing Don't Ask, Don't Tell this year.

The following statement was read by Lt. Choi outside Freedom Plaza before he set off to the White House:

"Hello. My name is Lt. Dan Choi. I am being discharged from the US Army because I am gay and dared to say it out loud.

Today, I am here on a mission with Capt. Jim Pietrangelo, and we are asking you all to join us. We're calling you to action because we are at a turning point — a moment in time where talk is no longer enough, and action is required.

Equality is not going to happen by itself.

You have been told that the President has a plan. But Congressman Barney Frank confirmed to us this week that the President still is not fully committed to repealing Don't Ask, Don't Tell this year.

And if we don't seize this moment it may not happen for a very long time.

Some may tell you that I am one of the lucky ones. I have been welcomed back by my unit with open arms. And it would be easy for me to stay quiet and hope that change will happen.

But what I was taught at West Point and learned in war is — hope is not a strategy. As officers, James and I both find it a dereliction of our moral duty to remain silent while thousands of our brothers and sister are not allowed to serve openly and honestly.

Capt. Pietrangelo was honorably discharged under Don't Ask, Don't Tell in 2004 and I will be subject to the same shortly. As officers we are here today fighting for those in the ranks, and we need our Commander in Chief to do the same.

Our fight is not here at Freedom Plaza, it is at the White House. We are walking to the White House right now to send the President a message. So…take out your cell phones and your cameras. Document this moment. Join us as together — we make history."