NC: U.S. Senate campaigns – updates on web site LGBT issues and candidate Blend liveblogs
Liveblog news below the fold.
As you might recall, Durham for Obama held its U.S. Senatorial Candidate Forum on Monday night here in the Bull City (see my coverage w/video), and four of the candidates – Cal Cunningham, Ken Lewis, Elaine Marshall and Marcus W. Williams presented their positions on several topics.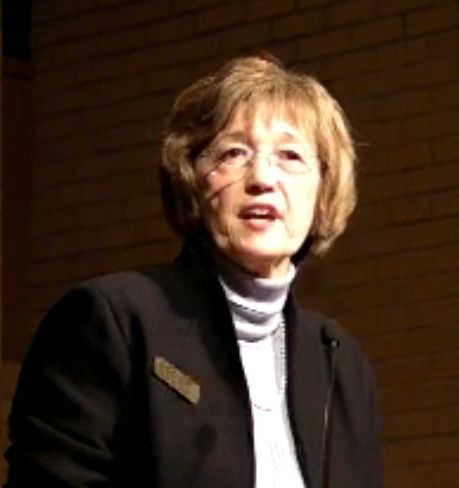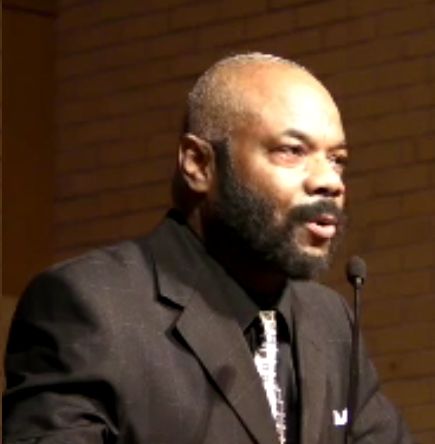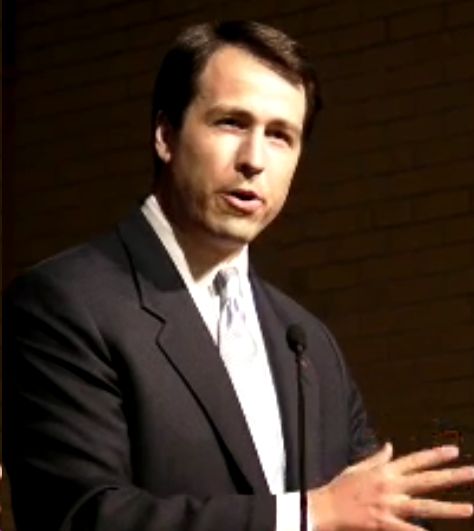 There was a straw poll after the well-attended event. The results:
Ken Lewis 58%

Elaine Marshall 32%

Cal Cunningham 8%

Marcus Williams 2%

Because Durham for Obama had set the threshold for an official endorsementat 70%, no candidate was officially endorsed.
Marshall has held a healthy lead in polls up until now, but this blowout by Lewis in Durham is significant, since it's critical that any serious primary contender must win here. And the polls have now tightened (as you see below), probably more to do with name rec of the other candidates going up than anything else, but a tight race means every voter — and voter base counts.
One question that was not asked during the forum was about the candidates' positions on civil rights generally, or LGBT rights specifically (in the pre-forum survey they were asked about it – though as of 6AM on Wed, the answers are no longer at that link).
So the obvious place to look for information would be the candidate web sites, something I did prior to the forum. There have been some interesting developments since that time. Screenshots below the fold.I am attuned to candidate responsiveness to LGBT issues this time around, because in 2008, we had clear avoidance by future Senator Kay Hagan during the campaign; she refused LGBT media requests to discuss specific issues or positions. In 2010, all of the Democrats seeking to unseat the horrible, Richard Burr have been much more accessible and forthcoming to the questions about the matter.
Prior to the DFO forum, the only campaign that had any reference to LGBT rights at the time was the Ken Lewis web site, which had a lengthy pro-LGBT statement in its Justice section.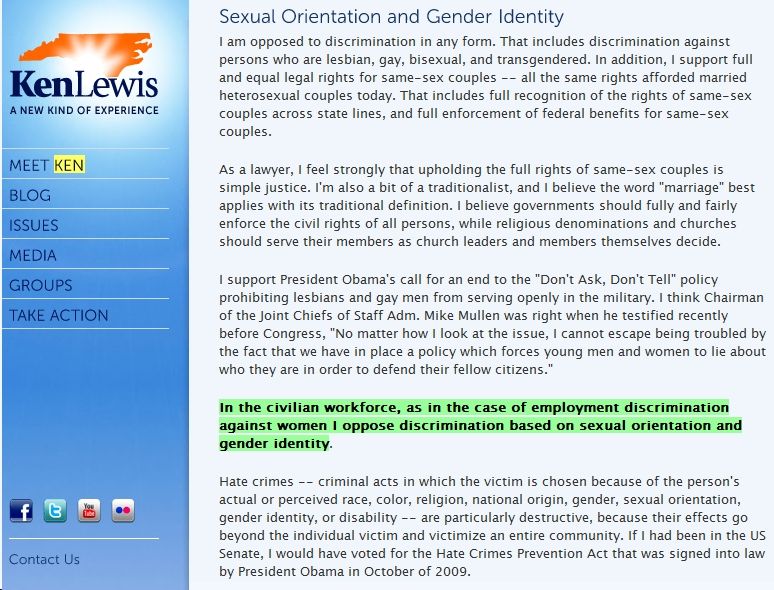 Interestingly, after the forum, the Lewis site underwent a few changes (the above was from a Google cache, btw), including a more general declaration of support for myriad civil rights, with the sexual orientation and gender identity breakout removed and references now "reshaped" into a series of bullet points. NOTE: there is one paragraph missing from the screenshot below – no references to LGBT rights in it – that you can see here.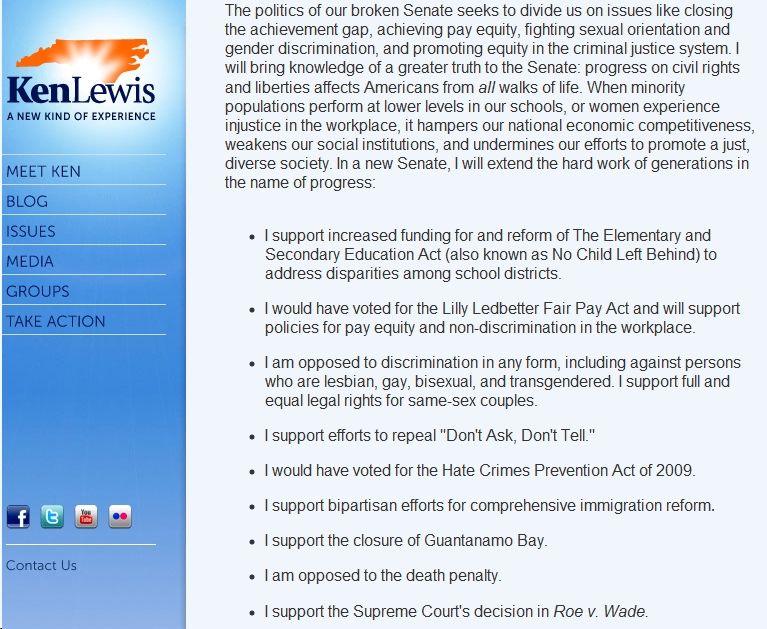 In reviewing the Elaine Marshall campaign site prior to the forum, there was no reference to LGBT or social justice issues.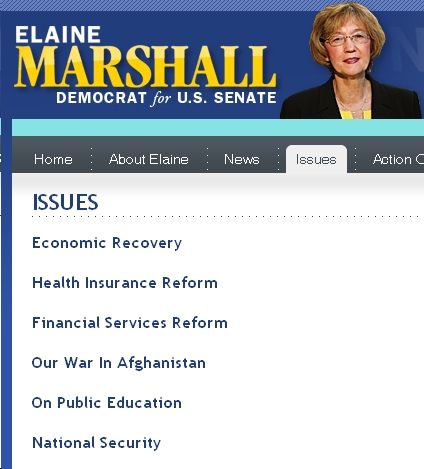 After the forum, I mentioned the lack of information on any civil rights to a campaign worker there, as well as to campaign consultant Mike Nellis, (who is also Blend reader, btw), who saw the request as well. The next day, the language was approved by Sec. Marshall and up it went.
Mike is also following up to get ENDA there (and more). ENDA is the one piece of legislation that will positively affect the rights of the most LGBTs in NC. Our general assembly is not going to give us statewide protections related to employment any time soon; it will need to happen at the federal level.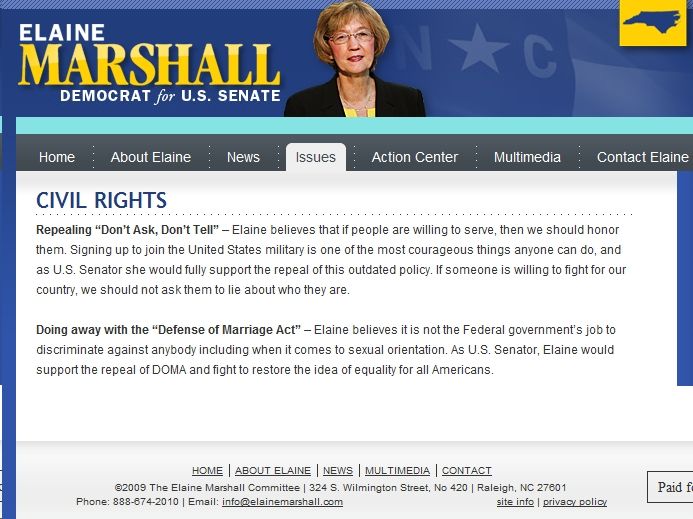 Cal Cunningham's website section on The Issues prior to the DFO Forum was bereft of anything related to social justice or civil rights.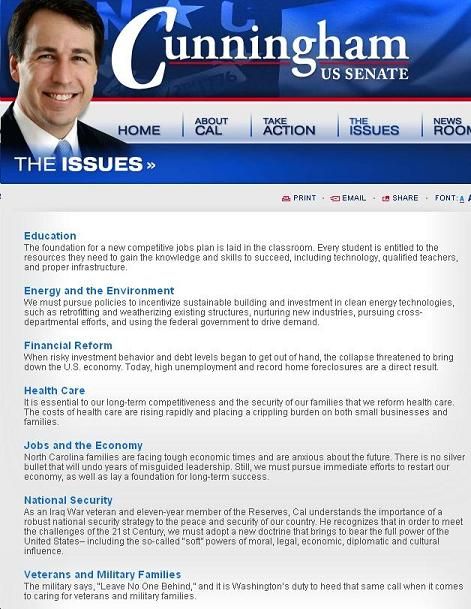 No need for an "after forum" screen cap, since nothing has changed since then. I've spoken to Cal and members of the campaign team about this lack of parity with the other two major campaigns, so we'll see what happens.
The poorly-designed Marcus Williams site did not have a section on LGBT rights before or after that I could find.
">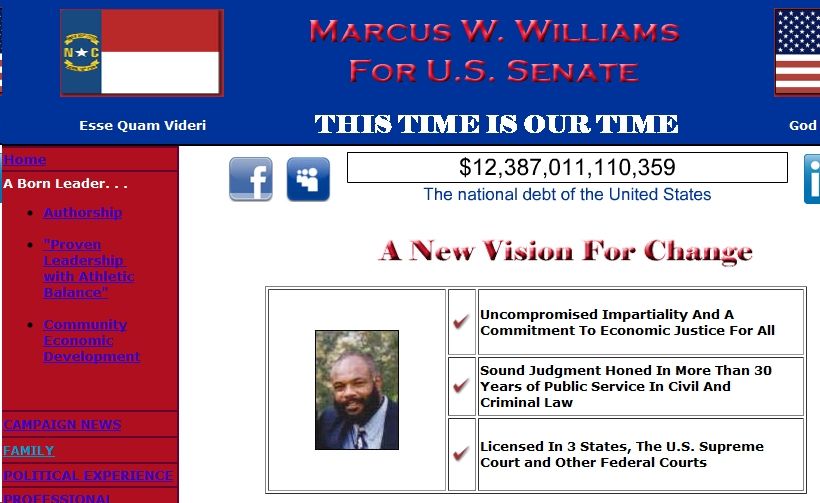 The Dem Primary is not that far away (May 4 with early voting starting on April 15). Now is the time for these U.S. Senate candidates to let the LGBT community know whether they want their votes (and their dollar) to make it to the finish line so we can defeat Richard Burr and place an open, fair and responsive advocate for our rights on the Hill.
***
2010 NC Dem U.S. Senate candidates agree to liveblog on the Blend
Now I have some excellent news to report: Lewis, Marshall and Cunningham have all agreed to participate in liveblogs on Pam's House Blend. Where things stand as of this AM, since these folks are on the home stretch:
Ken Lewis was the first to sign up (confirmed the day after theFO forum). Blenders will be able to ask him about his positions on the issues during a Cover It Live session on April 1 at 8PM ET.

Elaine Marshall: Mike Nellis is working with the scheduler to coordinate a date asap. I'm sure we'll see a response show up in the comments…

Cal Cunningham: After meeting with campaign aide Alex Dadok at the forum and passing on the liveblog info via email yesterday, they are working on a date. Cal reiterated to me at the forum that he's looking forward to doing the liveblog.
So Blenders, we're keeping them honest, as AC would say. I do appreciate the responsiveness this time around; the next Senator to represent North Carolina needs to be a person ready to represent all North Carolinians, something Richard Burr has no interest in.