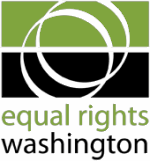 In an e-mail to supporters, Dr. Shilpen Patel, Co-chair of the Board of Directors for Equal Rights Washington announced that Josh Friedes will be the new Executive Director of Equal Rights Washington.
Full disclosure, Josh is a friend of mine. We worked closely together on the Washington Families Standing Together to Approve Referendum 71 campaign that brought the historic expansion of LGBT rights to Washington families last November.
Josh was the Campaign Director. I've never seen anyone work so hard for our community. He almost never slept. He was constantly planning, and it was clear he felt the gravity of the responsibility on his shoulders. Over 5000 families depended on his leadership to mobilize the community to vote to approve the expansion of rights for LGBT families for the first time in United States History.
And mobilize the community he did. The campaign built one of the largest (if not the largest) coalitions in state history. With the partnership of Campaign Chair Anne Levinson, he built a team, with some of the state's best political minds and strategists. This coordinating committee, which I was humbled to be a part of, worked together better than any team I've ever been a member of. Josh and Anne deserve the credit for setting the tone early on that allowed us to function so well together.
I can only imagine how our opponents must feel knowing Josh is not going anywhere any time soon. If my joy and optimism for our future is any indication, they are probably wondering how they will ever compete against us again.
Josh is the first to admit that we are not quite ready for marriage equality in this state. We need to continue to have positive conversations with our friends, families, neighbors, and co-workers about equal rights. We need to invite our straight allies to come out in support of us. As Josh has pointed out, we need to do this before we are in campaign mode.
Once we have our friends lined up, I'm confident that Josh will lead us to victory once more. In fact, if our opponents are smart, they will stay out of the way. Progress is inevitable. Equality is inevitable. With Josh guiding us through our political landscape, that inevitability will be as soon as possible.
Congratulations Josh! I'm proud to have you as a friend, and I'm even prouder to work with you to bring our future closer to a reality. Let's make history once more.
cross posted on Step Forward on SeattlePI.com