OMFG. The Navy doesn't know what it just did — Elaine Donnelly is going to have an horrorgasm over this news.
Secretary of Defense Robert Gates has notified Congress of plans to allow women to serve aboard submarines, a Defense Department official said Tuesday.

The change was recommended by the chief of naval operations and the secretary of the Navy in addition to Gates, the official said, adding that there was no opposition to the move among Navy leaders.

A phased approach is being considered under which officers — who already have separate living quarters — would be the first to go co-ed, followed by crews, with the women bunking together, the official said. Crew space would have to be modified prior to that happening, the official added.
The main hurdle was apparently reconfiguring the vessels, ostensibly (but not stated in the CNN report) regarding bathroom facilities. The Chief of Naval Operations, Adm. Gary Roughead, said he is "very comfortable addressing integrating women into the submarine force." Under the plan, officers would be first to go co-ed, with women bunking together, and larger, nuclear-powered missile subs would be the first to carry women.
Check out some of Elaine's rants about women in the military: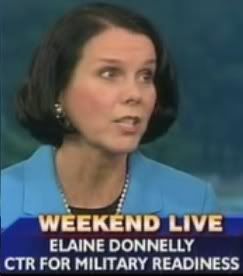 * Elaine Donnelly Blames Abu Ghraib On Women In The Military
DONNELLY: Ok, now how are we going to deal with four different sexual groups, say in Special Operations summaries. How's that going to work? Or are we going to have the kind of military – and he clearly suggests this – he says yes, we have women in the military. We all support women in the military. However, he says that everything has been going on just fine without incident. Umm, what was that Abu Ghraib scandal all about? It started out as misconduct between men and women and then it steadily deteriorated into abuse of prisoners. The common denominator is lack of discipline. Once you break down discipline, good order and discipline and morale, everything that's required for unit cohesion, you undermine the culture and the strength of the armed forces. This man obviously doesn't get that.
* The Army's Gender War – A new policy is unfair to both men and women soldiers (Elaine: "The nation is proud of our women in uniform, but that is no excuse for forcing unprepared female soldiers, many of whom are mothers, to face the physical demands of violent close combat and a higher risk of capture than exists today. ")

* Women in Combat:
Matters of privacy and matters related to sex, including harassment/fraternization and pregnancy, directly affect morale, discipline, deployability, and readiness in our armed forces. Vacancies cause hardships for everyone else.
Sound familiar?
***
Of course one of the first things that comes to mind is DADT repeal and its implementation. You have to wonder when we'll get there, because in today's hearing, the leash was jerked again — Sen. Carl Levin of Michigan, who is the chair of the Senate Armed Services Committee, says he favors a moratorium on discharges (keeping DADT in place) rather than repealing it at this time. (The Advocate):
Levin, who chairs the committee, kicked off questioning on the gay ban by asking Secretary of the Army John McHugh and Army Chief of Staff Gen. George Casey, Jr. whether they would "object" to halting all discharges under the policy while an implementation plan is being formulated….Gen. Casey advised against that tactic, saying it would "complicate" the implementation review process that Sec. Gates had set in motion. "We would be put in the position of actually implementing it while were studying the implementation," he said.
And McCain was his usual pissy self.
In his final comments, McCain bemoaned the inclusion of LGBT measures in defense funding bills.

"Unfortunately last year, we put hate crimes on the defense authorization — for the first time in history, we put legislation that didn't have anything to do with the defense authorization in on an authorization bill," he said, "and I'm greatly concerned about what could be put in this authorization bill since the precedent was shattered last year by the majority."