Elaine Donnelly and pals 'inform' CPAC about the dangers of DADT repeal at presser
NOTE: Also read Chris Geidner's piece at Metro Weekly, "Holding on to Discrimination:Anti-gay activists at CPAC attempt to hold the line against openly gay military service, even as Dick Cheney and others voice support for repealing DADT."
The Conservative Political Action Conference is the perfect venue for the batsh*t defense of DADT, since the constituency for such arguments as mass man-on-man rapes will suddenly occur, or lesbians in the military will begin peeping in and molesting their fellow female service members is limited to the fringe.
HRC shot video of the religious right press conference by some of the professional gay haters and bible beaters in DC who showed up to embarrass their cause, including:
* Elaine Donnelly, President, Center for Military Readiness (you may remember her for a, shall we say, lackluster performance before the U.S. House last year)

* Tom Minnery, Vice President, Public Policy, Focus on the Family (he praised Donnelly for that Congressional testimony, saying that 'Don't Ask, Don't Tell' was a "last gasp of sanity that keeps sexual tension away from men's barracks and women's barracks")

* Tony Perkins, President, Family Research Council (he says ending the failed policy would "sacrifice real lives " in order to score political points)

* Frank Gaffney, President, Center for Security Policy (he says repeal of DADT would "mortally damage " our armed forces)
The highlight of the presentation was the actual use in the background of Elaine's positively insane "flow charts" of fantasy about what will happen if the ban is lifted. How that adds credibility of any kind to the presser suggests these people have no idea how off the rails they look. Well, at least for today, they are among friends. And even at CPAC, I'm sure a good number of conservatives don't believe in DADT — and that goes for Dick Cheney, who received a standing O during his appearance on Thurs.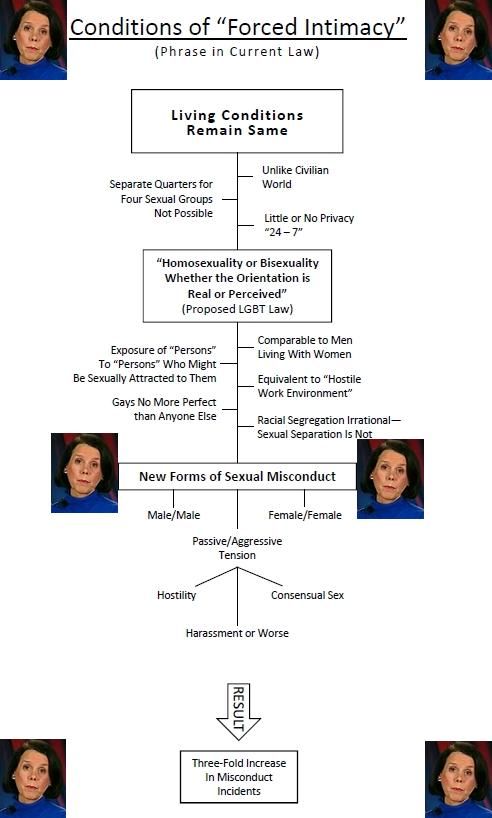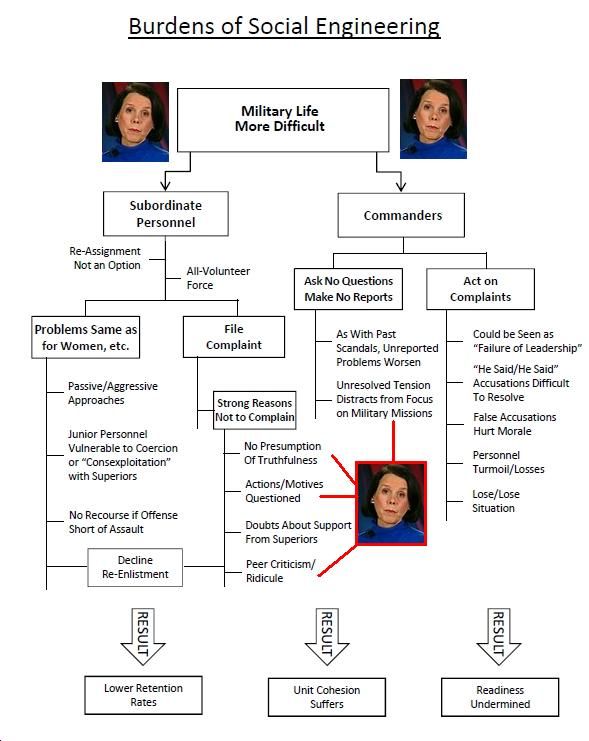 Related:

* Elaine Donnelly goes off the rails and over the side of the mountain with her new 'report' on DADT