And the doyenne of discrimination includes flow charts of "analysis" that you will not believe. And do NOT click on the link or the icon at right — or go below the fold — without protecting your keyboard. Remember that I warned you.
When DADT is finally repealed, I have no idea what Ms. Donnelly is going to do with herself. There will not be enough psychotropic drugs available to calm her after reading this tripe — and the aforementioned homo-obsessive, anal flow charts that will blow your mind.
From her report (you can also check out her breathless column at The Corner – The National Review):
In 1993 then-President Bill Clinton attempted to lift the ban on homosexuals in the military. Following months of intense debate, Clinton proposed a plan to accommodate homosexuals in the military if they did not say they were homosexual.

Members of Congress considered Clinton's "Don't Ask, Don't Tell (DADT) proposal, but after twelve legislative hearings and field trips they realized that the concept would be unworkable and indefensible in court.

Contrary to most media reports at the time, Congress rejected DADT and passed a law clearly stating that homosexuals are not eligible for military service. The 1993 law-technically named Section 654, Title 10, U.S.C. but usually mislabeled "Don't Ask, Don't Tell"- passed with veto-proof bi-partisan majorities in both Houses. The only "compromise" allowed the Clinton administration to drop "the question" about homosexuality that used to appear on induction forms, but that inquiry can (and should) be administratively reinstated at any time. (A Secretary of Defense seeking a more "humane" way to enforce the 1993 law should stop the recruitment of people who are not eligible for military service.)

The 1993 Eligibility Law codified long-standing Defense Department regulations. It includes fifteen "Findings" recognizing that the military is a "specialized society" and "fundamentally different from civilian life." Unlike civilians who go home after work, military personnel must accept living conditions that are often "characterized by forced intimacy with little or no privacy." The purpose of the law, which Federal courts have upheld as constitutional several times is to protect "high standards of morale, good order and discipline, and unit cohesion that are the essence of military capability."

Rep. Patrick Murphy (D-PA) and others are co-sponsoring legislation (H.R. 1283) that would repeal Section 654, Title 10, U.S.C. and replace it with an open-ended, radical "LGBT Law" that would forbid discrimination based on "homosexuality or bisexuality, whether the orientation is real or perceived."

The following charts summarize the consequences of replacing Section 654, Title 10 with the proposed new "LGBT Law." More information is available from the Center for Military Readiness at www.cmrlink.org.
I warned you…
And this is her prediction of what will unfold if gays and lesbians are allowed to serve openly. Reality- and science-based, of course. I didn't make these up, btw — I just embellished to put Elaine's full batsh*t stamp on them.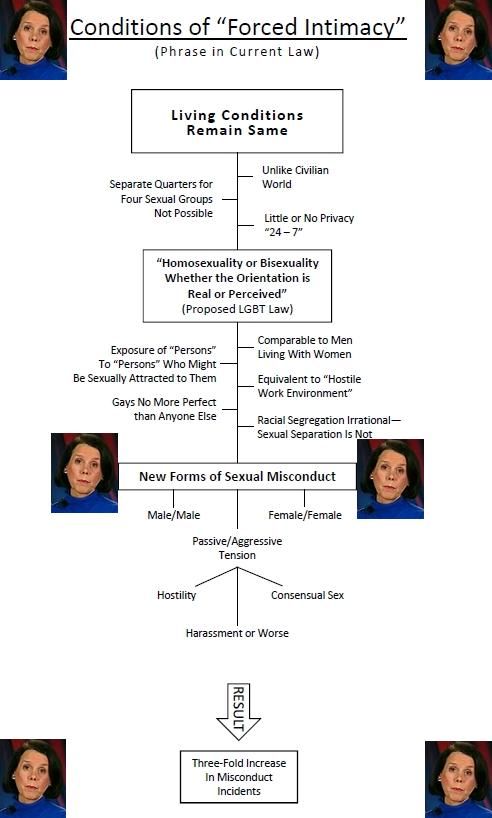 But wait…why should we burden our country with this sort of social engineering!?