Southridge High's Respect Humanity: Uganda March and Rally draws 800, Part 2
Part 1 of this diary provided coverage of the march and the first half of speeches from the January 23rd Respect Humanity: Uganda March and Rally in Beaverton, Oregon. Most of the speeches recounted in Part 1 were given by political figures. Here in Part 2 you will hear more from the students themselves, as well as from community leaders and organizers.

Southridge High School women's basketball team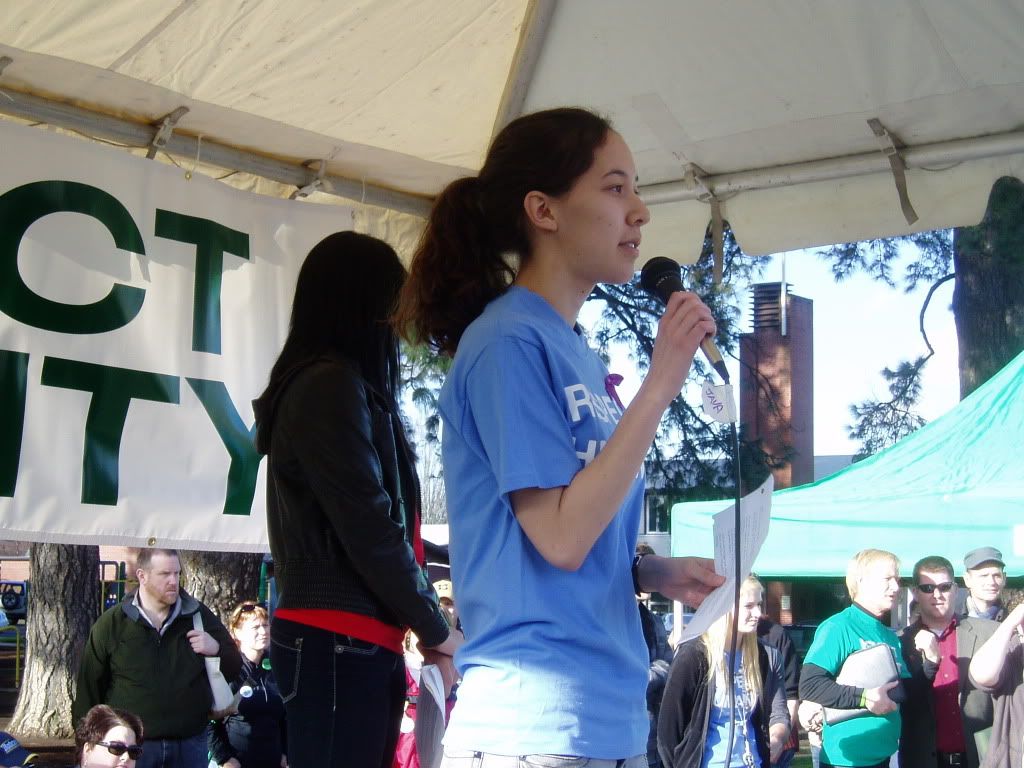 Rina Sundahl, Co-President of the Southridge HS Gay-Straight Alliance
My name's Rina Sundahl, and I'm co-president of the Southridge Gay-Straight Alliance, and I've been actively involved in the GSA for 4 years.

As an ally, I feel it is crucial for everyone to fight for the rights of minorities regardless of whether or not we ourselves are members of a minority.

If you're taught in school from a young age that all people are equal, it makes sense that we can't expect fair treatment unless we treat others fairly. Yet here in the United States, many adolescents don't feel safe or comfortable in school because of the way their peers treat them for their sexual preference or gender identity. And we still struggle with legal issues such as the ban on gay marriage, the Don't Ask Don't Tell policy of the military and discrimination in jobs and housing.


Southridge HS senior Rina Sundahl discussing the issues with Bill Bradbury, gubernatorial candidate and fmr OR Secretary of State. Photo credit Esther Griffin

Many of us here today disagree over the politics of gay rights, but we are all here today because of the extremity of this bill in Uganda is absurd and intolerable under any conditions. In Uganda, the issue has become the right to live free, or even just to live at all.

Our rally today is significant because we are standing up for those who are in a vulnerable position. And we are representing Americans who oppose this proposal to eradicate sexual minorities, though it was Americans who imposed

it upon the Ugandan government to begin with.

I want to thank you all for being here to support and advocate equality for all humanity. Thank you.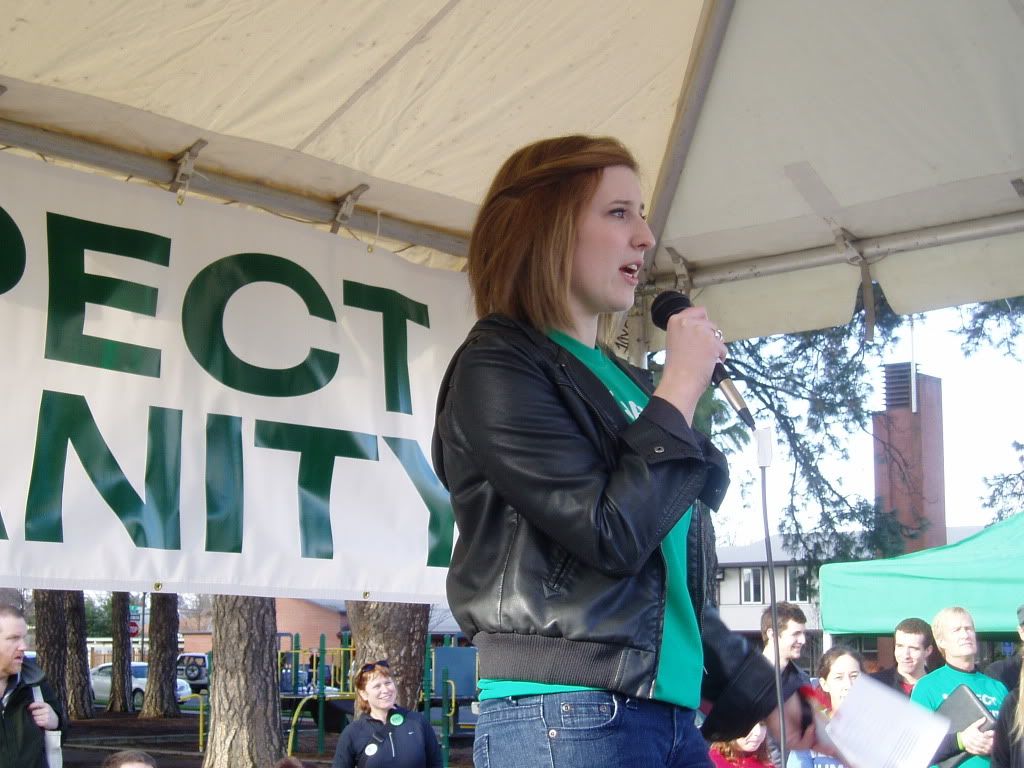 Morgan Woods, Southridge HS senior.
Alright, so I'm really good at behind the scenes stuff, but this is not my specialty, so don't laugh. I want you all to look around at the people next to you and think about what you see. Ok stop looking at people, it's creepy!

Ok, so you probably see hair, you see clothes, you see people with two eyes and a nose. But you all know you can't see what's on the inside of these people. You can't see who has divorced parents. You don't know who's gay or straight. And that's the point. You can't put down people for what you don't know and what you can't experience.

So, I want us to think about how we're standing up for people who can't protest, and that don't have a voice over their own rights. And I want you all to fee proud and know that you're making a difference. Not only in their lives, but in showing how the students have a voice, how we can come together for one cause and make a difference. So I want to thank you all for being here.
Chelsea Pfeifer, Southridge HS senior and member of the GSA and Uganda clubs
Hello everyone. My name is Chelsea, and I'm also a senior at Southridge. Having always felt a passion about human rights, I was instantly motivated to join my classmates and teachers in the organization of this march and rally.

Over the past month, we've all worked like crazy behind the scenes, Morgan and Seta especially, to make this event as big and as meaningful as possible. Just about a week ago, I was given the contact of a blogger who goes by "Gay Uganda" to protect his identity. Now this man, as you may have guessed, feels very strongly about this legislation, as he's gay and from Uganda. Seeing him as a connection between both the African and homosexual perspectives, I contacted him immediately. Although he wasn't able to come and speak, he allowed me to read parts of his blog today. So, I pieced together some powerful passages that he has included over the past couple of days concerning this bill. And this is mainly pulled from his post called "Frothing", and it was posted on Wednesday.

I am guilty of not being able to understand my enemies, and friends. Of course there are plenty of people who don't share my point of view about my sexuality. But, since it is my sexuality, I would rather that they leave me alone instead of threatening me with prison and death.

Pretty Hitlerish. All those things of a Master Race and a Master people. Cleansing. The UN AIDS chief says legislation like this just makes closets more cozy for us homosexuals. So, despite those believing that the bill is an HIV prevention measure, it will help the virus spread.

Frothing is a word. It does mean something. Frothing at the mouth does mean something too. I was commenting on my state of anger which seems to be kind of perpetual. I cannot imagine that I am fighting for my right to be alive, because my countrymates believe they have a right to kill me.

There are others who plain don't see the sense of killing me because I am homosexual. And, they are standing up and voicing their point of view. A high school in the US has brought me to tears. The unsought-for kindness of strangers is one of the many blessings, silver linings that I am seeing in this fracas and debate about my life and liberty. Southridge High School is staging a march against the bill. My heart, my thanks are with you people. Thanks again.

This man's awesome. To read more of his blog go to blogspot.com, and he's called GayUganda. His words here reveal a great amount of honesty, and I'm sure his fear and frustration is very real to a lot of people right now. This fear doesn't stop with this issue either, extending to the disastrous Haitian earthquakes and other global issues also worthy of attention.

During today's rally, Southridge acknowledges there are several other important causes. But this in particular touches our hearts because of Southridge's immediate connection to Uganda.

Fortunately, I myself have had the opportunity to travel to St. Andrews for 2 weeks in the summer of 2008. Aside from witnessing terrible poverty, I was able to meet amazing people and keep in touch with them via the internet. Their openness and excitement to share experiences, thoughts and ideas with me was unforgettable.

Their dedication to the community and people in their lives is so important. We know the people who will be affected by this legislation. Over half of the students I met had one or both parents die of AIDS complications. This bill will turn community members against each other, destroying the trust and support they desperately need. Here at Southridge, we don't want to see that happen.

Today we have the honor of hearing from someone from Uganda who helped to establish the connection between Southridge and St. Andrews, and who often travels back and forth between here and his home country, with his wife and children. Let me introduce a man who's bravely offered to speak despite the complications that may arise from protesting the Ugandan government. Ladies and gentlemen, here we have Mr. Thomas Lwebuga.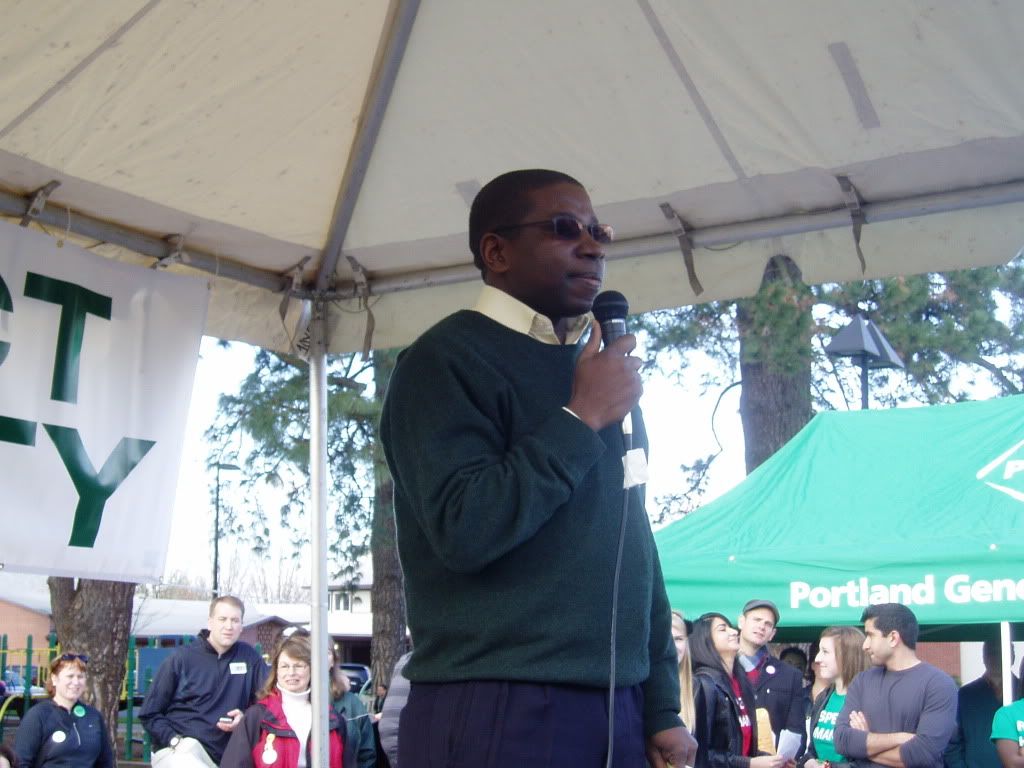 Thomas Lwebuga
Good afternoon. C'mon, good afternoon. Thank you for being here. My name is Thomas Lwebuga. I am from Uganda, I grew up there, and I've been here a while.

And first I think I want to thank the student organizers and teachers at Southridge High School for having taken the time to organize this rally and the protest against the legislation that has been proposed in the Ugandan parliament.

When we started the Southridge-St. Andrews sister school program, the intention of the program really was to get young people here excited about issues that take place in other countries. That those of us who live here in the United States, in Oregon, the life we have is not the life that people around the world live. That was my intention in working with the teachers of Southridge to start the sister school program.

On the Ugandan side, my interest was to work with the teachers and students at St. Andrews to give the kids at St. Andrews the view that the world is bigger than their village. And in that regard I think we're succeeding. And it's a testament to that vision the young people at Southridge, the students are here and organized and brought you all here this afternoon. So lets give them a hand.

This legislation, as I said, shows the connection of how the students at Southridge have taken that vision and they answered the call on an issue that impacts human rights.

I think I want to give you a little bit of context about the Ugandan political system. When this legislation was proposed – let me start again. The President of Uganda, Yoweri Museveni, has been in power since 1985. Let me see hands of people who were born after 1985. So, the president of the country has been in power since the before the majority of people standing here were born.

He took power as a soldier. It was a great [inaudible] to the population given where Uganda was at the time. The older people who are here probably know Idi Amin, so, those of you who know Edie Amin let me see your hands. So, Idi Amin had brought Uganda's economy to a standstill, the population was in fear, and when Museveni came to power it was a new hope, it was a new beginning. And he's done an incredible job in some of those areas.

But I think what happened, for people who are understanding the political process, Museveni has used this legislation tp put a blindfold to announce that he's going to run again in 2011. So elections are coming up in 2011, and his intention of putting this legislation was to take away both the international community and the Ugandan press from focusing on the issues that he's going to run again after being in power for 25 years. And he doesn't think that there is anybody else who can be able to lead that country. So I think that is the first big piece of what is going on in the Ugandan setting, in the political climate.

I don't think that the legislation will be passed. From what I'm reading, and from what I'm hearing, I don't think the legislation will be passed. But that doesn't mean you should stop the work that you're doing. I think it is important to continue the work, because I think as speakers before me have said, when government proposes legislation that targets a group of people, I think that is wrong whether in the United States, whether it's in Africa or any other place.

So whether you support gay rights or not, this is a human rights issue, this is a freedom issue. And as Americans, this is a country that stands for freedom. We have I think the obligation to help, to publicize this issue. So when you leave here, the young people who brought us here, don't leave the work here. Go back home, write your senators, write to the elected representatives both at the state and the national level. We need this issue to be at their desk. And the sharing that this is not right, that the U.S. government (inaudible) the Ugandan government to make sure this legislation does not go into law.

When this legislation passes, if it is passed, it would remain, the way it is right now phrased, if I live next door to somebody who is gay, I have to go and report them. Otherwise, I'm guilty as them, and I'm going to jail as well. So, it is more reaching than I think – so it will create an instability in the country to create distrust among the people. I don't think it's the right thing, so continue the work.

I thank you for organizing the protest, but remember I think this is just part of the political game going on in the country. As younger people continue to educate yourself about that political process, and learn about it, and meet your representatives, meet the senators. You know, write them emails, write them letters. They have websites where if you write, they will respond. This issue needs to be at their fingertips.

By the way, one other piece of information. The Ugandan government's budget – about 2/3 of the Ugandan government's budget comes from other countries, and the U.S. is a big part of that donation that runs the government. So if Washington decides to use that muscle, this legislation will fail.

Thank you.
Seta Kavianian, Southridge HS senior: "I wanted to let everyone know that we're going to be handing out these yellow papers with contact information of different senators, representatives that you can contact with your words and your opinions on this issue.
Also I just wanted to say, you already know because I've said it ten times today: I'm so happy for this event to take place. I challenge other GSAs, other high school students, and other leadership people to put on an event to speak for Uganda, because you will achieve the greatest happiness I feel you have ever felt."
TAKE ACTION TO HELP UGANDANS

TAKE ACTION TO ERASE HATE

Follow this link to contact your Congressman. Pressure must be put on the Ugandan government to stop the passage of the "Anti-Homosexuality Bill of 2009" and contact your Senator or Representative directly:


| | |
| --- | --- |
| Senator Ron Wyden: 503-326-7525 | Senator Jeff Merkley: 503-326-3386 |
| Rep. David Wu (Bvtn, Wash Co): 503-326-2901 | Rep. Earl Blumenauer (Ptld): 503-231-2300 |
| Rep. Peter DeFazio (District 4): 541-465-6732 | Rep. Kurt Schrader (District 5): 503-577-1324 |

Did you know that although being homosexual in Uganda has already been illegal, the passage of this bill will put gay people to death or face life imprisonment? In addition, people are being forced to turn in known gays or face imprisonment. No one can help, medically treat, or even voice support for gays under penalty of imprisonment. Safe-sex practices cannot be taught under penalty of imprisonment. This bill turns Ugandans against each other out of fear. Although this bill is being promoted as the way to deal with the AIDS/HIV epidemic in Uganda, it is in reality an attempt to eradicate fellow human beings. It is especially shameful that the roots of this bill can be traced to religious conservatives here in the U.S.

Please call or write your congressman NOW. Ask them to do everything they can to pressure Uganda's government to stop this bill from becoming law. This barbaric treatment of human beings cannot be allowed.

Stand up for Ugandans! Stand up for Humanity!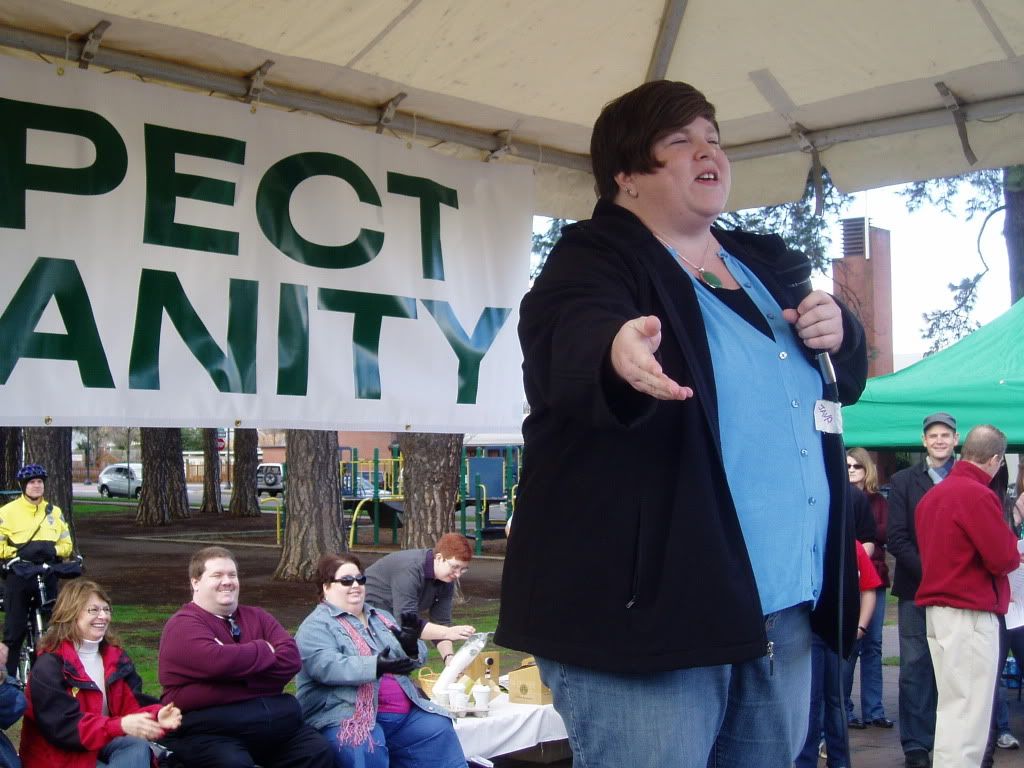 Jeana Frazzini, Executive Director of Basic Rights Oregon
Hello! Wow, so this is intense, and really amazing. So kudows to all of you for being here. I have to say I'm incredibly honored to be on this stage, to share this stage with all of these folks. But it's really standing out there among you that I get pretty choked up and feel like this world is changing for the better.

So, I just want to comment on some of the signs I see out there:

"We Do Have a Voice"

"Don't be Silent"

"Choose Love"

"Be the Change"

This is incredible. There's even a beautiful rainbow, which is all we need.

So as was mentioned I work with Basic Rights Oregon – I'm what you'd call a "professional gay", which means that I am a lesbian and I also have the honor of working professionally day in and day out for and with my community.

One of the things that struck me about what Rena was saying earlier is how important it is to be an ally. So whether you are gay or transgender, whether you are black, white, hispanic, asian, we all have a roll as an ally. And I think that unfortunately so many of the messages that we receive in this country are about "me" and "what I want" and "what I need" and it's kinda hard sometimes to look outside of yourself and look around and think about the needs and the hopes and the dreams and the desires of people who surround you, who all have a different experience, and may have a very different experience depending on their culture or their orientation or their gender identity, or any of these things. And that's one of the things that I hope you all will take away from today is how critical it is to be an ally.

At Basic Rights Oregon we were absolutely thrilled to work with so many of you to pass the Safe Schools Act this last legislative session in 2009. The Oregon Safe Schools Act puts in guidelines, provides more support in the schools to insure that no matter why a kid might be getting bullied or hurt or harassed at school, that someone is there to put a stop to it.

And with so many of you having raised your hands that you were born after 1985, being in school day in and day out I know you see it, I know you hear it, and the silence and fear that maybe keeps you from doing something about it is the seed of the silence and fear that leads to the legislation in Uganda, that leads to the hate crimes that we still see in this country, that leads to policies like the amendment in the Oregon constitution that says that some families don't get to fully be recognized as families.

And there's a lot of work to do right here in our own country. There's a lot of work to do in the world, and I'm so thrilled to see you all taking a stand today and taking the steps to have your voice heard on what's happening in Uganda. But every day in the halls of your high schools, of your middle schools, of your elementary schools, use your voice. Take care of one another, and we can build a world where we don't see this kind of legislation ever again.

So thank you
Seta:

"Alright you guys ready to do the chant one more time, we gotta get you all pumped for the last time. You know what to do. What do we want?

Human rights!

Where do we want it?

Uganda!

What do we want?

Human rights!

Where do we want it?

Uganda!

What do we want?

Human rights!

Where do we want it?

Uganda!"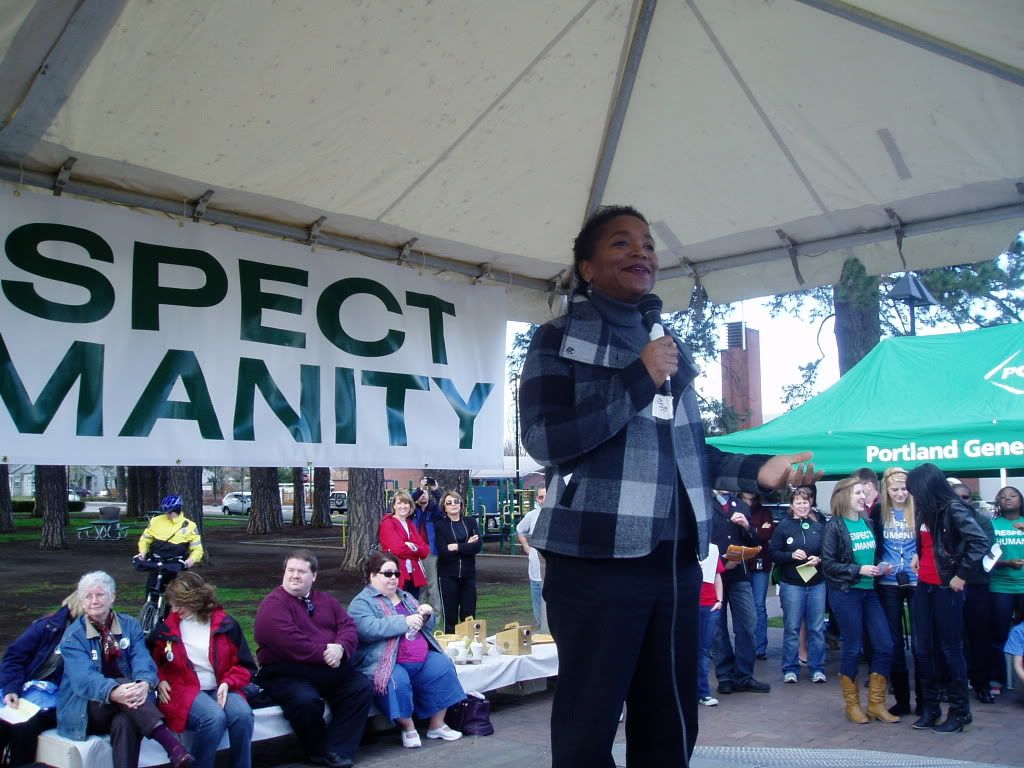 Kendall Clawson, Executive Director of Portland's Q Center


Thank you, hi everybody! How great you look out here! I'm so excited to see you. I'm Kendall Clawson. I'm the executive director of our local Q Center. That is, our LGBTQI community center.

The main reason I wanted to come here is, actually, sort of two things. Do you guys all know about the whole notion of bearing witness to things? So, you know you have choices where when you're witnessing things, you can witness them in silence and sit back and say nothing and have it church your body up. And you know in your gut is that it's not right. And what we're witnessing right now isn't right. And the advantage to everybody to everybody that's coming out to this rally today is that you're making decisions to not sit back in silence. That you can bear witness, and speak up, and say: what I'm seeing is not right.

And the other thing – you know I woke up this morning and I was trying to think about well, ok, I could write a bunch of things down, or I could just talk to you from here. And you know, I'm a person like Jeanna that does work every day involving the LGBTQ community. I get to live in the gay bubble, it's very exciting, it's very glamorous I will tell you. But being in that kind of universe – sometimes we need to step outside of that and see people who don't see things through our eyes. Who may have the advantage of being a straight ally and you can walk in the world and not worry, and not be afraid.

But today you're challenging yourselves to put yourselves in someone else's shoes to experience, what would this be like if I got up in the morning, as we heard earlier that my neighbor called the police and said that person that lives next to me is gay and they deserve to die. Could you get up and do that if that was the law? Would you accept that as the law? No, of course not.

And what's important about this is you are making choices. There were some of us who were around to see the civil rights movement in our country. And seeing black people who have the blood of Africans running through their veins, that's me. And so when I hear this word from Uganda that black people who have experienced slavery, who watched their families get wrenched from their arms and get put into the bellies of ships and get carried off to a strange country, where they then were hung from trees and chased by dogs and murdered on the streets – we've experienced that in this country. And because of that, we've a responsibility to speak out and to say, I may not be gay or I am gay, and what you're doing is not right. What you're doing isn't right.

So whether you are a young person or a senior, whether you are an L a G a B a T a Q an I or an SA – ok somebody's gonna work on some rhyme for me on that – I'm gonna use that later – wherever you fall in that spectrum, you have a responsibility to speak out and say what is not right.

So just wanted to thank all of you for coming and thank all of you for putting this together. We are so proud of you. You give us hope. You really do, you give us hope. So in these times when we start to wonder do people care – do they care enough to leave the Wii, and to put the Play Station down? You're proof that all of that stuff doesn't matter, that you're strong, you're smart, you're powerful and you're not going to sit back in silence. So thank you so much.
Tualatin City Councilor Joelle Davis, Human Rights Council of Washington County
Hi everybody. My name is Joelle Davis. I'm a city counselor in Tualatin, and I'm running for state representative in house district 37. But I'm here today in my roll as a board member of the Human Rights Council of Washington County.



We are delighted to be part of this great event today, and we commend the students of Southridge High School, who started this ball rolling into the show of force and support that we see today for the Ugandan LGBT community.

As Harvey Milk once said, hope will never be silent, and you have been far from silent today.

The mission of the Human Rights Council is about four things: communicate, educate, collaborate and advocate. Together today we have done all of those things to urge the government of Uganda to turn away from the holocaust they are creating to honor the value of every single human being and regardless of their orientation, and most of all to repeal this terrible injustice of a law.

Let me tell you the story of my friend Stephen. Fourteen years ago Stephen and I worked together in Salem selling eyeglasses, and he was a wonderful, beautiful, black gay man. Stephen had a terrific personality, a special light in his eyes, and the most infectious laugh you've ever heard.

We talked often about the difficulties he experienced about being gay and black in Salem, and how it was even harder for him in the small town in Texas where his deeply religious family was from.

One day after Stephen took another job for greener pastures, he came to visit me at my office. And I knew that there was something wrong, and I asked him about it repeatedly, but he just shook his head and said that everything is going to be ok – don't worry about it.

But I worried about it and I was right to worry about it because the next day in the newspaper there was a story about how my friend Stephen had jumped from the Marion Street bridge and taken his own life. He left only his backpack behind.

The strain of the injustice and the intolerance he experienced was too great for him to bare. And the separation from his family was too much. And no one should have to experience that. Not in Uganda, and not here.

So as we look to Uganda today to urge them to do the right thing to prevent the light of other Stephens from dying, let us also look at ourselves, our own country, and at our own state. And know that while we think we may have come far, we have a long ways to go.

We want to insure the rights of everyone. Every American, every Oregonian and every Stephen. We will stand beside you in that fight, and I will champion this cause because it belongs to every single one of us. Whether we are gay or straight, black, hispanic, asian or white, man or woman, it belongs to all of us.

My name is Joelle Davis. I'm running for house district 37, and behalf of the Human Rights Council of Washington County, thank you so much for what you've done today.
Comedian and LGBT activist Belinda Carroll
I hate to disappoint everybody, but I'm not going to be very funny. I know. But it's great to be here and it's great to see this. Because, when I was a kid, I came out in 1992, and when I came out there was no such thing as a gay-straight alliance. Absolutely not. I think there was one school somewhere that we heard about that may have had one. So it's awesome to see this show of support.

I became an activist in 1992 and I was 16. I was largely the same age as the people of the gay-straight alliance here that put on this rally. And back then we were fighting a measure called Measure 9, which a lot of your that have been in Oregon for a long time will remember. And it was put on by the Oregon Citizens Alliance, which was the sponsor of it.

ANd basically what Measure 9 would have done is create a situation where the government couldn't put monies toward anything that promoted homosexuality in our schools. Luckily it was defeated. The second in command of the Oregon Citizens Alliance at that time was Scott Lively.

So now it's 18 years later, and now Uganda is facing a law that would create a situation where you would be punished by the death penalty if you were actively homosexual. Also that your neighbors, if they find out that you're gay, as someone else mentioned, that they would be sentenced up to three years in prison. The person that is behind this law is the person that wrote The Pink Swastika, and that is Scott Lively. So this bill have very very strong Oregon roots. I was absolutely livid when I found out that Scott Lively was behind this bill.

I really believe that we intrinsically believe the repercussions of this law. We understands that it creates a situation in which our gay brothers and sisters in Uganda who already cannot, under current law, seek things like openly seek things like health care as a gay and lesbian. The cannot get care for HIV or AIDS, they cannot love who they love openly without it being illegal. This would further oppress them and further drive them into hiding, and also create a situation where their friends and family are in a conspiracy that is fabricated, in essence.

My call to you guys today is to understand that this law affects everything, and it affects everyone. It's not about Uganda, it's not about Africa, it's about everybody. And this really opens the door, if passed, to other countries passing the same sort of law. Nigeria actually passed a similar law in 2009. There's currently 7 countries that punish by the death penalty for being gay and lesbian, and this would make the 8th.

So we're really fighting against this sort of hatred, and this sort of draconian measures being spread throughout the world. So I thank you guys for being here, and thank you for the gay-straight alliance for having the courage to speak out against this. Thank you.
Rev. David Randall-Bodman, Bethel Congregational Church of Christ
Thank you. We are a neighborhood church. And in fact if you look at this little house here on the corner, and then look past it, that's our church. I bet you've been by 100 times, right? It's on Watson Ave just one block south of here.

And you've probably been by it like many churches and thought, oh, it's a church. And one of the reasons I'm here today – first I want to thank the Southridge students – anybody here from Southridge? Would you say anything differently if you knew my son went to Liberty? Just testing, just testing. No, thank you for the leadership team that put this rally together. If it wasn't for your courage, we wouldn't be here today. So, thanks to your student leaders for making this happen.

I'm here primarily to let you know that there are people of faith who call themselves Christian who welcome people regardless of sexual orientation, regardless of skin color, regardless of dialect to worship with us because we believe that God's love is intended for all people.

Now, some of you may be familiar with the Christmas carol that goes "Oh come, all ye faithful". Ever notice that it doesn't say "Oh come, some of you faithful"? All. You are all welcome. If you are a person who has never been welcomed into a church, you may have good reason to be suspicious of faith communities, but give us another chance because there are some of us who believe that Jesus' love was so radical that it could not be confined by any particular religion, or any faith community.

I also want to bring you a message which I've kinda heard some of the other speakers say, that the legislation in Uganda is absolutely disgusting. It is despicable. There is nothing that's Christian about it, and it absolutely enrages me to think that any person who sees themselves or understands themselves to be Christian could encourage this kind of legislation. I'm here to say that not all Christians believe that way.

I also have been to rallies before, and I know that you can some to a rally, you can get excited, you can get enthusiastic, your skin can crawl when you hear people speak, but talk is easy. Changing lives is much more difficult. But brothers and sisters, the world will change when we change.

So don't walk away from here just thinking wow, this was a wonderful event, I'm so glad I did this. Because we have to change for the world to change, and together we can do it. And you are a fabulous source of inspiration for everybody in this community. And I hope that people that are driving by know that you are speaking up for human dignity for all people. And I thank you for that. And may God bless ALL of you.
Rich Matkins, Southridge HS teacher and GSA adviser
Wow. Thank you, thank you everybody for showing up today. I've drempt of a sky like this for weeks. Just look around, this is Oregon, January 23rd.

I've a lot of things to say and I don't have a lot of time. I'm a Southridge teacher, I happen to be the gay-straight alliance adviser, and it has been amazing working with our leadership team, our administrators, Len Case our principal, who's been behind us on this project – thank you Len.

I can't say enough about Esther. Esther where are you? Come up here real quick. This woman has stood at my side so many times over the years at Southridge with the GSA club. She is a parent volunteer, they don't pay her for the after-school club. So Esther and I, I've said it's like herding cats trying to get this group of kids to come together. And my Partner Paul just said, and he's like a little bit younger than me, but he said you know what, this is like what they used to call a teach-in in the '60s. you guys have just been schooled. This is 2010 and you've been at a teach-in. Those of us in the '60s, you remember those? Oh see there are some of us around. Thank you.

Alright, so I'm going to go down this list. Esther again, I call you the energizer bunny, so thank you for everything that you've done.

Esther: "We're so proud to work with the kids that we do, and one group of people that I wanted to thank who sometimes get forgotten, are all the parents who raised you up right from the start, right at home before you ever even got to school, to treat other people with respect and kindness and dignity, and to be their friend when they had no friend on the playground. You already got to school knowing that stuff. Your teachers reinforce that, but so many kudos to the parents who taught you at home."

Thank you Esther. So here's a list of corporate sponsors. Look around, we see PG & E. They provided us some free shelter that we really didn't need. So thank you PG & E. We'd like to thank K-Mart and The Mill End Store – we had a hard time finding two other sites that would take high school kids parking their cars and then walking into Beaverton, so thank you to those two businesses. Also thanks to a Portland coffee business Veneto's Coffee, it's on north Williams. All of us Beaverton are like 'oh that's Portland, that's scary', but there is a Portland on the other side. SO go have coffee over there, because they brought us this free sound system.

You know, this has been an ongoing learning experience. We've had Beaverton High School students come over for the planning meetings with some of their club members, thank you, thanks you. You know the intelligence in the Beaverton school system, I am blown away that there are so many activists, so many kids that are learning things about the world, and just you showing up today just makes me proud to be working for Beaverton.

In the back here we had some free coffee that the Democrats, the Young Democrats party provided our dignitary speakers, and I don't know if they've had any, so if there's any left you can rush the back stage to get free coffee.

And then finally I want to thank, now there's probably others but, the Mayor's office has been amazing. We have talked to this woman Erin, and I wish you were here – she's not here – she's a sweetheart. Between students and – she works really hard, everybody's been calling her. So thank you. The Police Department 100% shout-out, thank you.

So, many of you have probably heard of a woman by the name of Margaret Mead. Margaret Mead once said "A small group of thoughtful people could change the world. Indeed, it's the only thing that ever has." These bright Beaverton school district students have proven this today. At Southridge our motto is 'The world is our classroom". Today demonstrates just that. The world is our classroom.

I was just told moments ago that this piece was referenced on BBC America, on television, that you guys were coming together for this event. And you know how things hang onto the internet. When you're like 50 years old, google "Southridge Uganda" and I bet you'll be able to remember just by reading all the things that our press has written. Which reminds me, thank you press, all of you that have been writing about this event for weeks. Thank you so, so much.

So this is where i get teary and it's hard. When up drove up to school today, and looked at the front of the school it was like oh my god, they showed up. And it's Saturday! Wow. So, I know some of you were kind of nudged along by your PE coaches because you like skipped class and you get extra credit for walking, so that's ok. I know to graduate at Southridge you have to earn 60 hours of community service, and so some of you said I'll volunteer, I get a free shirt, I'm gonna get some hours. Awesome. Hopefully you came away today with a heck of a lot more than a free shirt. Hopefully you came away from this place with a full heart and a realization that we truly are a global community.

So thank you. Thank you for showing up, thank you for living big, and I love you all so much. Keep up the good work.
Rev. Chuck Currie, United Church of Christ
Thank you all very much. As a proud graduate of the Beaverton school district I am glad to join all of you here today. I went to Sunset High School. I know it's not as good as Southridge High School, but I'm glad to be here.

Brothers and sisters, fellow Oregonians, as a minister in the United Church of Christ I stand with you here today to condemn the legislation in Uganda that would criminalize homosexuality, and even punish gays and lesbians with the death penalty.

I condemn this law as a Christian, and as an Oregonian embarrassed that some of the same people from our state who spent their entire careers trying to harass gays and lesbians here in Oregon, are the ones promoting this legislation in Uganda. Oregonians are better than this. Ugandans are better than this. And Christians are better than this.



But let me be clear. I am not the only Christian to condemn this legislation. You heard my colleague David speak a moment ago, and there are members of the United Church of Christ here representing congregations – you see them in the back there – representing congregations from all over the metropolitan area.

But this past December, during the holy season of Advent, I joined in signing a letter with leading mainline Christians, Roman Catholics and Evangelicals from all across the United States, which loudly proclaimed in a united voice, our Christian faith recognizes that violence, harassment and unjust treatment of any human being is a betrayal of Jesus' teachings. Of his commandment to love our neighbors as our selves.

As followers of the teachings of Christ, we must express profound dismay at the bill currently under consideration in Uganda, the Anti-Homosexuality Act, which would enforce lifetime prison sentences and in some cases even the death penalty for homosexual behavior, as well as punish citizens for not reporting their gay and lesbian neighbors to the authorities.

As Americans, some may wonder why we are raising our voices to oppose a measure proposed in a nation so far away from our home. We do so to bear witness to our Christian values, and to express our condemnation to an injustice in which groups and leaders within the American christian community are being implicated.

We appeal to all Christina leaders in our own country to speak out against this unjust legislation. In our efforts to imitate the Good Samaritan, we stand in solidarity with those Ugandans who have been beaten, and left abandoned by the side of the road because of hatred, bigotry and fear. And we pray that they are comforted by God's love.

We have together, my friends, in this modern age witnessed times where Christians, Jews and Muslims have been targeted for violence because of their faith. We have witnessed times where women have been [missing audio segment], whites and blacks have lived in segregated and unequal societies in America, and during a time when Apartheid reigned in South Africa. And we live in a time now when the caste system in India still scars that society, and when gays and lesbians are discriminated against across the globe.

But we have also witnessed moments in our history when the light has broken through the darkness. The Rev. Dr. Martin Luther King, Jr. once wrote,

"We will have to repent in this generation not merely for the hateful words and actions of the bad people but for the appalling silence of the good people."

So let us, regardless of our faith or our citizenry, use our voices in coming days to protest the proposed Anti-Homosexuality Act in Uganda. And to pressure our government to take appropriate action, including trade sanctions, if this legislation is passed. Let our voices be heard in Beaverton. Let them be heard in Portland, in Washington, D.C. and in the nation of Uganda. SO that in the words of the prophet Amos of the Hebrew scriptures, we can all together envision a time when justice rolls down like waters, and righteousness like and ever-flowing stream.

God bless you all, God bless America and may god bless the people of Uganda. Thank you all for coming today, thank you.
Morgan: Alright, so that concludes our speeches. I just want to let you all know these yellow papers are being handed out, so please contact them and share your words and thoughts, and Seta's gonna close for us.
Seta: I just want to remind everybody that came from Southridge to sign your name under the green PG & E tent to get your service learning hours and tell the school you were at this event.
I want to thank everybody for coming here and being a voice for those who are forced to be silent in Uganda. And I want to remind you guys to be safe on your journey home. Thank you so much.

TAKE ACTION TO HELP UGANDANS

TAKE ACTION TO ERASE HATE

Follow this link to contact your Congressman. Pressure must be put on the Ugandan government to stop the passage of the "Anti-Homosexuality Bill of 2009" and contact your Senator or Representative directly:


| | |
| --- | --- |
| Senator Ron Wyden: 503-326-7525 | Senator Jeff Merkley: 503-326-3386 |
| Rep. David Wu (Bvtn, Wash Co): 503-326-2901 | Rep. Earl Blumenauer (Ptld): 503-231-2300 |
| Rep. Peter DeFazio (District 4): 541-465-6732 | Rep. Kurt Schrader (District 5): 503-577-1324 |

Did you know that although being homosexual in Uganda has already been illegal, the passage of this bill will put gay people to death or face life imprisonment? In addition, people are being forced to turn in known gays or face imprisonment. No one can help, medically treat, or even voice support for gays under penalty of imprisonment. Safe-sex practices cannot be taught under penalty of imprisonment. This bill turns Ugandans against each other out of fear. Although this bill is being promoted as the way to deal with the AIDS/HIV epidemic in Uganda, it is in reality an attempt to eradicate fellow human beings. It is especially shameful that the roots of this bill can be traced to religious conservatives here in the U.S.

Please call or write your congressman NOW. Ask them to do everything they can to pressure Uganda's government to stop this bill from becoming law. This barbaric treatment of human beings cannot be allowed.

Stand up for Ugandans! Stand up for Humanity!
Southridge High's Respect Humanity: Uganda March and Rally draws 800, Part 2
Part 1 of this diary provided coverage of the march and the first half of speeches from the January 23rd Respect Humanity: Uganda March and Rally in Beaverton, Oregon. Most of the speeches recounted in Part 1 were given by political figures. Here in Part 2 you will hear more from the students themselves, as well as from community leaders and organizers.

Southridge High School women's basketball team