Cindy McCain poses in pro-marriage equality ad
No, the ad is not the image at right; the real deal doesn't have the senator's grim visage on it…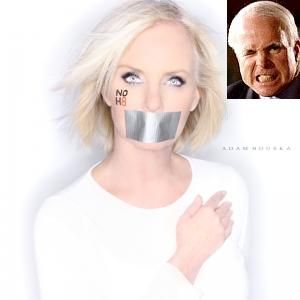 Senator John "get off of my lawn" McCain has to be incensed at his wife for this one.
Cindy McCain, the wife of 2008 Republican presidential nominee John McCain, has posed for an ad endorsing pro-gay marriage forces in California.
…John McCain's office issued a statement saying the Arizona senator respects the views of members of his family but remains opposed to gay marriage. It says McCain believes "marriage is only defined as between one man and one woman."
Given the Senator's hot temper, and the fact that he called his wife a "trollop" and "you c*nt" in front of a consultant and campaign aide during the 1992 campaign, and after 2008's failed presidential bid, this was a nice "screw you" for picking that dimwit Palin and derailing the campaign.