Californians Against Hate launches ad targeting Mitt Romney and Mormon Church's anti-gay activities
NOTE: In related news, the LDS came up in the Prop 8 trial today, in what Julia Rosen of The Courage Campaign calls explosive goings on as the attorneys argued how much information about the church's backing of Prop 8. "The LDS Church intentionally worked to hide behind the scenes to disguise their involvement in the public realm. The LDS Church is well aware that the general public does not have the most favorable opinion of them. Attention on their involvement could have hurt their cause, namely passing Prop 8." (H/t Towleroad)
---
Fred Karger of Californians Against Hate has launched a full-out assault on Mitt Romney (a potential 2012 GOP Clown Car occupant), focusing on his Mormon faith and the Church of Jesus Christ of Latter-day Saints' discrimination against the LGBT community, most widely revealed in its bankrolling of support for Prop 8. The site is called Rights Equal Rights:
As a national political leader and influential member of the Mormon Church, Mitt Romney could persuade Church leaders to end their 15 years of active involvement, including their massive financial support, to oppose equal rights for Gay and Lesbian Americans.

The Mormon Church and its members have spent tens of millions of dollars in 31 states to ban gay marriage and hurt so many people.

Mormon Church Leaders should take a vow of political neutrality on gay rights, similar to their stated practice in partisan elections.

According to the official Mormon Church website, "The Church's mission is to preach the gospel of Jesus Christ, not to elect politicians."
A banner ad will run tomorrow in The New Hampshire Union-Leader, The Boston Globe and The Salt Lake Tribune:
The Politico received this reaction from Romney's camp:
A Romney spokesman declined to comment on Karger's effort, though during the presidential campaign, his aides asserted that his stances never shifted on gay issues. They pointed out that he had long been on record opposed to same-sex marriage, as well as discrimination against gays.

But Karger charged Romney had "flip-flopped. The new Mitt Romney would be a disaster for the gay community as president."
Of course the Mittster has flip-flopped on the homos. The paper trail is quite long.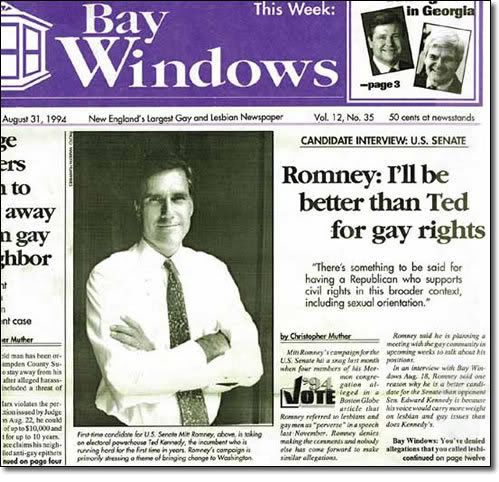 Related:
* Mitt was for homos before he was against them — on the record
* Romney Not Anti-Gay Enough For Peter LaBarbera
* Hartline: Mitt Romney's beliefs disgrace the birth of Christ