Anti-equality pastor to keynote Durham's Fifth Annual MLK Celebration Thursday
UPDATE: The Blend has obtained a copy of a response from the County, and the canned response is simply a dodge around the facts of the matter. It's below the fold.
---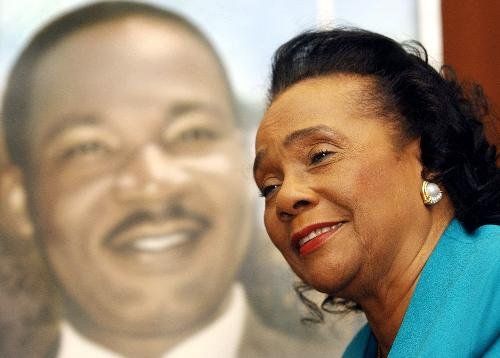 You'd think that a ceremony celebrating the life and work of
Dr. Martin Luther King, Jr.
would be an event with participants who believe in equality for all. That would normally be true in Durham, NC, a deep Blue city where its City Council last year
unanimously approved a resolution in support of marriage equality
.
Unfortunately, someone didn't get the memo and invited an anti-equality pastor to keynote the Fifth Annual City-County Martin Luther King Jr. Celebration. His name is J.D. Greear of The Summit Church, and to say he is a poor selection for this particular event is an understatement. Now don't label him anti-gay — homosexuals are welcome in his church — they are sinners by default, no better or worse than gluttons, for example.
Those who say we should not worry about what other churches in our association do should simply switch the scenario a little: How would they feel if we gave our money to help a church that taught that all Christians should be swingers as a way of demonstrating the "openness" of Christ? Or maybe if some church encouraged pedophilia as a demonsration of the elder's love for the younger?

…Now, some ask, "Why single out this sin [homosexuality]?" The answer is: we don't. Or at least we try not to. If someone is in clear rebellion against God, refusing to surrender to Scripture, it does not matter what is their rebellion of choice-be it wife abuse, gossip, homosexuality, cheating on their taxes-they could not be a part of our church. The church is a group of repentant sinners, changed by Christ, struggling against the flesh to live the resurrection. But Christ can't resurrect what you won't call dead. Why not make a statement about gluttony or pride? Because there is no controversy about those in the church. If there began to be a large movement to sanction gluttony as an alternate lifestyle, I hope we'd make a statement about it, too.
So this is the man who will keynote tomorrow's event. Read this description of it:
This Thursday, Jan. 14, employees from the County and City of Durham governments and Durham Public Schools, will come together for the Fifth Annual City-County Government Martin Luther King, Jr. Celebration.

The annual celebration commemorates Martin Luther King, Jr.'s legacy while focusing on the importance of justice, diversity and multiculturalism. The City-County Government Martin Luther King, Jr. Celebration will last approximately one hour and include remarks from local elected officials.
Yes — justice, diversity and multiculturalism.
Not knowing who invited Greear to participate (it turns out that it is an employee-sponsored event), I wrote Mayor Bill Bell and the rest of the City Council to ask them politely to have Greear step aside and to make a strong positive statement in support of LGBT equality rather than not attend.
An excerpt of my missive is below the fold, along with a man-on-horse pitch for one-man, one-woman marriage by Rev. Greear.
Dr. Martin Luther King never spoke on the issue of gay rights, but he never declared that any specific group of people should be denied basic civil rights in this country. His wife Coretta Scott King, who carried on his legacy, was a strong and unfailing supporter of LGBT rights, including the right of gays and lesbians to marry.

Pastor J.D. Greear has sadly represented the the opposite view, castigating the LGBT community as sinners and undeserving of civil rights in this arena. Moreover, he conflates the issue of religious and civil marriage. One example of many from the pastor's own blog: "California's Gay Marriage Law and Praying for our Country":

Thus, when you redefine marriage as something other than between one man and one woman, you distort your view of yourself and your view of God. Even though no marriages are perfect, and divorce and immorality skew the picture God intended to give us, the structure of marriage itself is a compass that adds definition to our lives.

Furthermore, there has to be SOME definition of marriage we are operating on. If we begin to say that same-sex marriage is ok, what stops us from polygamy? What about an older man and a consenting adolescent? How about a man and a horse? I'm not trying to be silly, I'm just saying that at some point somebody has to define marriage. The whole "lowest common denominator" thing won't work very long.

Government has not seen it to be their role to define marriage. What "marriage" is, is written into natural law as well as spelled out in God's word–both of which are the basis of our societal laws. Government doesn't, and never has, define marriage, it recognizes the definition written into natural law.

He's not even telling the truth of the history of civil marriage here. Of course the government has, as recently and significantly as 1967, done so with the landmark Loving v. Virginia, which struck down bans on interracial marriage. He is entitled to his views on religious marriage, but to say that his particular view should govern civil marriage is not misguided, to be kind.

As I said, there are many blog postings of this nature by J.D. Greear on his site, and it reflects badly on the Bull City to commemorate the memory and work of Dr. Martin Luther King with J.D. Greear as its keynote speaker. Dr. King worked side by side with the openly gay organizer of the March On Washington, Bayard Rustin.
Not long after I sent this off, I received an email from local blogger Kevin Davis of Bull City Rising, so news travels fast in these parts, and I forwarded my email to The Durham News. We'll see what happens…
---
UPDATE
: When
Bull City Rising's
post went up today, the organizers of the event went into damage control mode to craft a response if questioned about Greear. It's wholly inadequate and off the mark.
Commissioners,

If you visit today's postings on Bull City Rising, you will see the article titled Spaulding raises red flag over City-County MLK Jr. celebration pastor selection over gay rights. This article discusses Pam Spaulding's disapproval of the teachings of J.D. Greear that are related to gay rights. Greear is our speaker for the Fifth Annual City-County Martin Luther King, Jr. Employee Celebration. Pam Spaulding is of the nationally-renowned Pam's House Blend, a Lesbian Gay Bi sexual and Transgender(LBGT) focused blog.

The City-County Martin Luther King, Jr. Employee Celebration Planning Committee has decided to avoid discussion with the media about J.D. Greear's teachings. We have also agreed to the following statement to the media if inquires arise:

"J.D. Greear was selected as the keynote speaker because we identified a person that services our community. We did not select Mr. Greear based upon his teachings. None of our speakers have been selected based upon their teachings. Our selection is driven by our belief that the keynote speaker will deliver a message based upon Dr. King's ideals that align with the responsibilities of both City and County workers. These are beliefs that focus upon public service to others."

We have agreed that all conversations with the media should be staged outside of the building facing Liberty Street. This location will not disturb the foot traffic at our event.

In our discussion, we also discussed how our LGBT employees may present an issue regarding the selection of our speaker. Our employees will receive the same response given to the media as the speaker has truly been selected for the reasons stated above. In addition, Marqueta Welton has been made aware that there may be internal complaints.

Please contact me if there are any questions about this email.

Thank you,

Dawn D. Dudley

Public Information Specialist

Durham County Manager's Office
I specifically addressed not just Pastor Greear's religious teachings, but his public statements on his blog about CIVIL marriage, not religious marriage, and his opinion of LGBTs, which would include the very LGBT employees that he may be speaking to.
You see, Pastor Greear gets trapped in the quicksand of saying there should be a standard definition of marriage, yet he says government has nothing to do with changing the institution, which is preposterous. In his mind, just whose religion or denomination for that matter, should determine what marriage is as a civil institution? I'll just reference a snippet from my keynote speech at NCPride last year:
When you encounter someone who cites their religious beliefs to justify opposing the civil right of gay and lesbian couples to marry, ask them a couple of questions.

1) Do you realize that unless the couple has obtained a marriage license issued by the state, a religious marriage means nothing in the eyes of the law?

2) Do they truly believe that there isn't separation of church and state in this matter? If so, they are effectively asking the state not just to prevent us from marrying on that basis, they are also affirming state discrimination against the churches and denominations that DO want to marry those same couples. That's discrimination based on religion and I hate to break it to them — that is unconstitutional.

Those opposing equality haven't any other card to play except to say it will "change" the definition of marriage, as if it hasn't changed over time. Years ago, marriage meant women were the property of men. And then the definition of marriage changed.

Several generations ago, blacks couldn't marry a person of the same race (because we were property), let alone someone of another race — and the bible was used to justify that. And then the definition of marriage changed.

It's painful to see people of faith cite passages in holy texts to justify oppression of LGBT people when the same public admonitions are rarely delivered to the adulterers, thieves, and fornicators sitting in the pews, or worse, the person standing in the pulpit.
What's preposterous is that Greear will likely say he's not being political at the event when his presence itself is political, given his views.
This is ironic because Dr. King himself was well aware of the symbolism. It's impossible to toss out that argument given the event we're talking about.